In an attempt to use up some ingredients in the house plus make something hearty and warm for dinner, this mild curry was perfect. Simple ingredients + a few spices and you've got a comforting meal ready to eat in about 30 minutes.
Ingredients:
1 1/2 tablespoons extra virgin olive oil
1 medium onion, chopped
2 garlic cloves, minced
1-inch piece of ginger, peeled and grated
1 teaspoon curry powder
1 teaspoon cumin powder
1/2 teaspoon coriander powder
1/2 teaspoon paprika powder
1/4 teaspoon turmeric powder
1 teaspoon sea salt (or to taste)
2 large sweet potatoes, peeled and chopped into large cubes
4 cups fresh spinach, washed well and trimmed
1 red bell pepper, chopped into large pieces
1 cup of water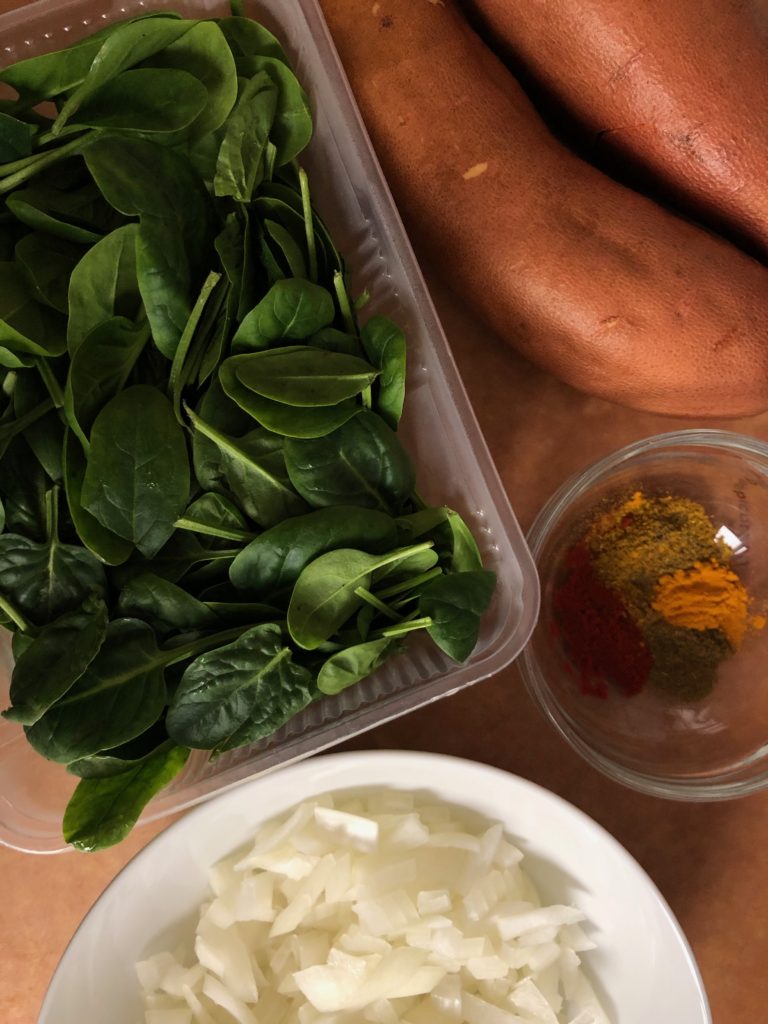 Method:
1. Heat a large saucepan and once it's hot, add the olive oil.
2. Add in the onion, garlic, and ginger. Stir to coat the onion. Cook for 5 minutes or until the onion is soft and light brown in color.
3. Add the remaining spices along with 1/2 a cup of water. Stir so that all the spices blend well together.
4. Add in the chopped sweet potatoes and red bell pepper plus the remaining 1/2 cup of water. Stir well to ensure the sweet potatoes are well coated. Cover the saucepan and cook for 10-15 minutes on medium-low heat until the sweet potatoes are tender. Stir and check periodically to ensure the sweet potatoes don't overcook.
5. Once the potatoes are cooked to your liking, increase the heat slightly and add the spinach in batches. Stir until they're just wilted. Taste and season according to your preference.