The other day I found myself stuck at home waiting for a furniture delivery. With a timeframe of 9am – 4pm, my usual routine of my morning gym & yoga session had to be put on hold. As annoying as that was, I knew that I didn't have an excuse to miss my workout for the day – particularly since I had this selection of at home bodyweight circuits to choose from.
These exercises don't need any equipment and need very little space. You can modify the exercises to suit your level of fitness (always exercise with caution, if anything starts to hurt while doing a movement – stop!).
The chart below has 8 circuit options. Each circuit is an individual workout. Within a workout, complete the given circuit 3 times, with just 1 minute rest between circuits. The exercises are listed in a specific order and the number of reps to be completed corresponds with the order in which the exercise is mentioned.
For example: Circuit 1
Do 30 jab/crosses per side, then 25 squats, followed by 20 lunges per leg, 15 leg raises, 10 glue bridges, 5 burpees, and a 30-second plank hold. Once you complete this round, rest for 1 minute and start the cycle again. Complete 3 rounds in total.
All the exercises mentioned are fairly common, except for the ones mentioned in Circuit 7, which are more jiu-jitsu related for me.
If you really push yourself and work hard, you'll see that you can work up quite a sweat with these simple circuits.
Warm up before you start, cool down once you finish, and stay hydrated. Again, work carefully and modify moves as needed.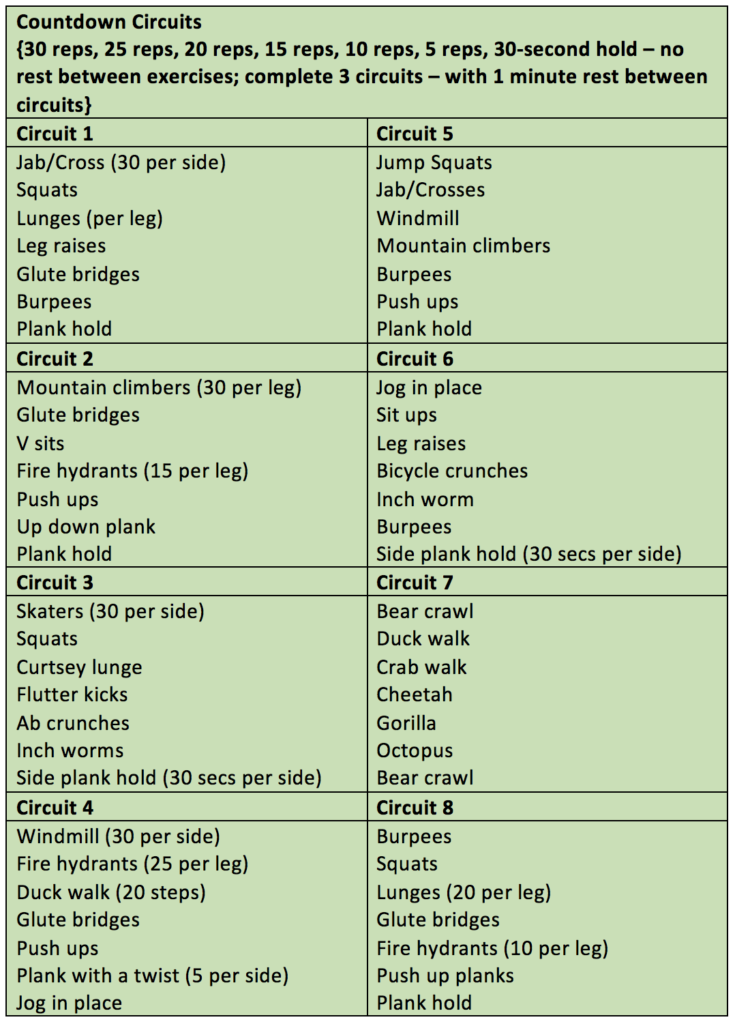 countdown circuits
These workouts work great while doing the Whole Life Challenge. Completing 3 rounds usually takes 10-15 minutes, which coincides perfectly with the 10-minute daily exercise requirement of the challenge. Want to learn more about the challenge or are looking for a team to join? I'd love to have you with the Worldwide Warriors. Feel free to get in touch if you have any questions. You can sign up for the challenge via this link or by clicking on the image below.