We decided to end our Bhutan trip with a few days in Paro, which is also where we were going to be flying out of since it had Bhutan's only international airport. The town itself was small and more than wanting to visit anymore monuments or buildings we just wanted to enjoy the scenery and atmosphere. Paro was definitely the perfect place to wind down from our trip.
DAY 4: DRIVE TO PARO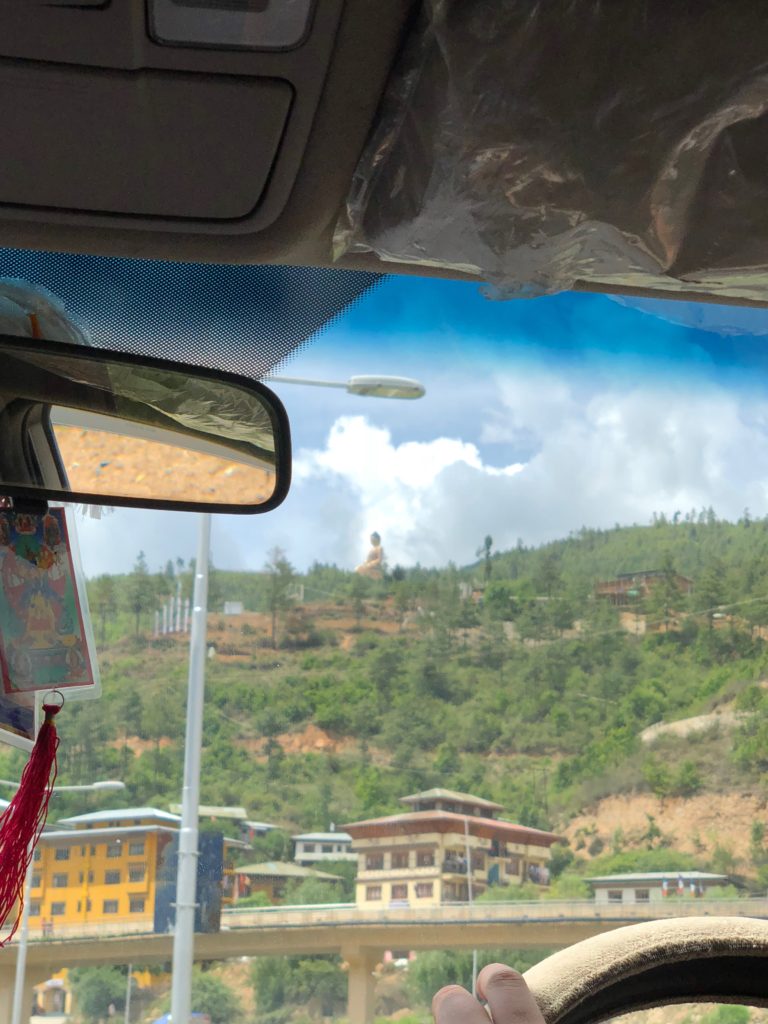 leaving Thimphu – you can see theBuddha Dordenma statue up to the right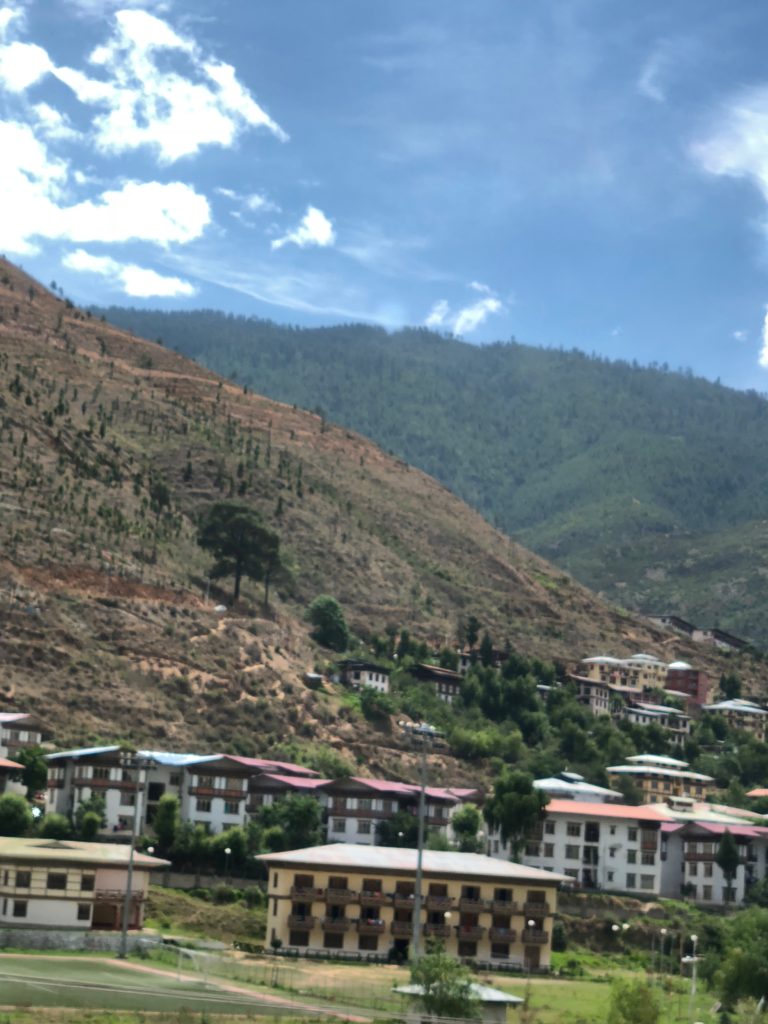 views along the drive
First Stop: National Museum 
The National Museum was quite small, which was actually nice given that many museums are too big to cover in one day or enjoy thoroughly.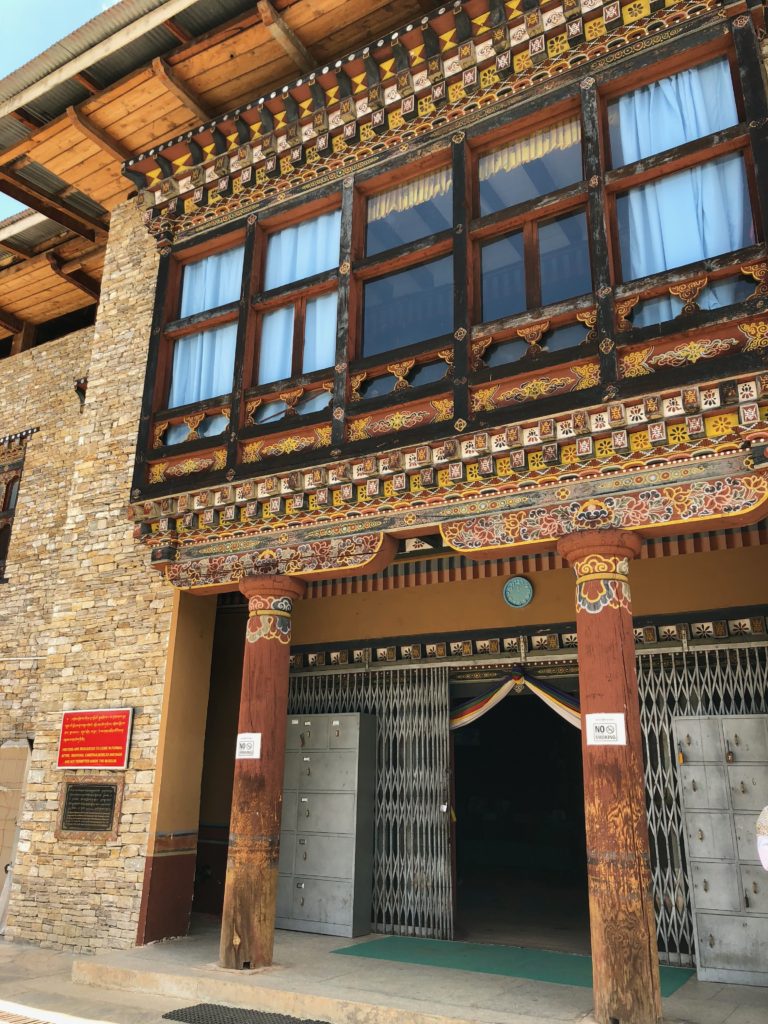 national museum – unfortunately no pictures were allowed inside,
which is unfortunate as the mask display was really terrific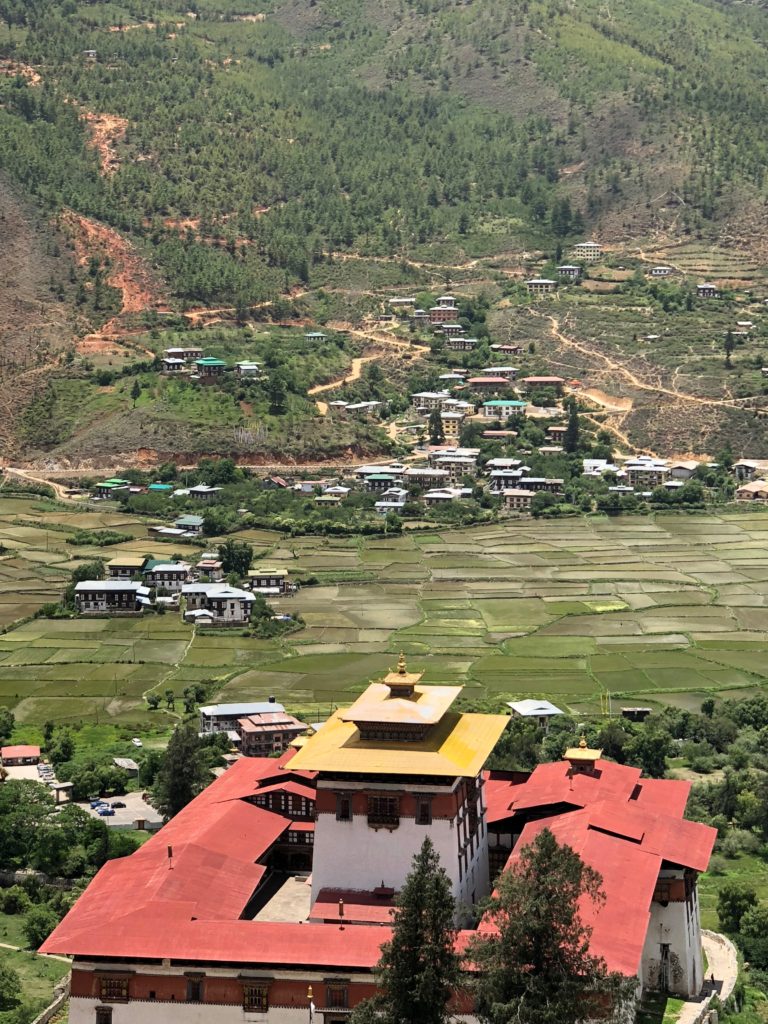 view of Paro Dzong from above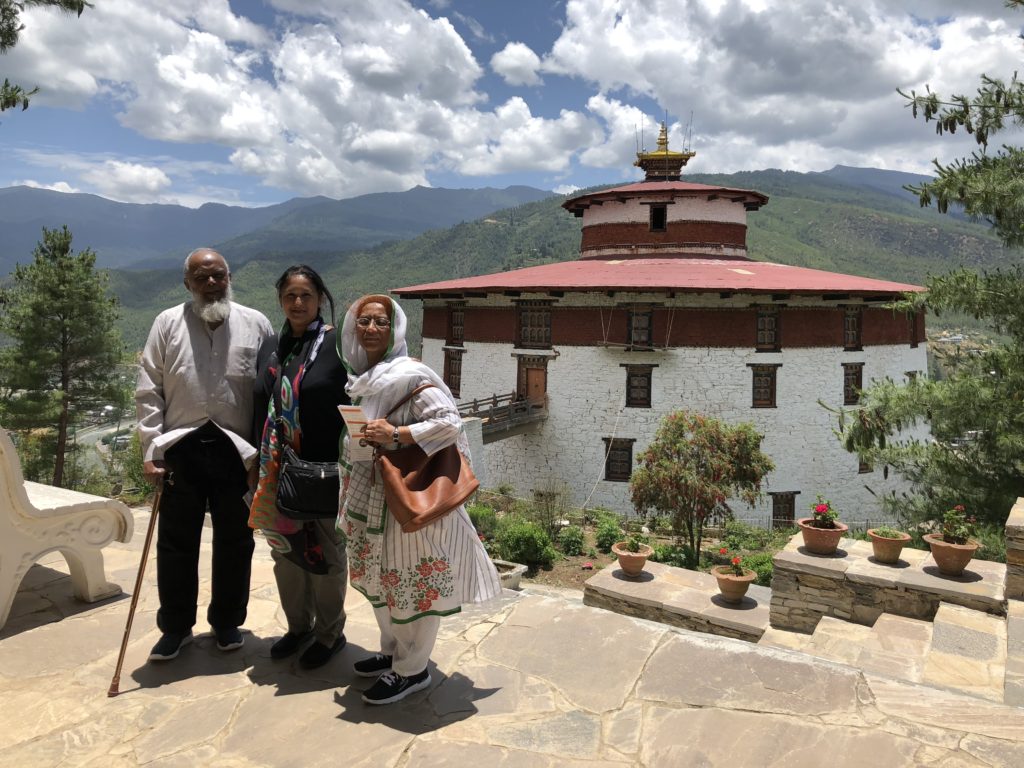 the original museum (built in 1649) is pictured behind us – it was damaged in an earthquake and is now being renovated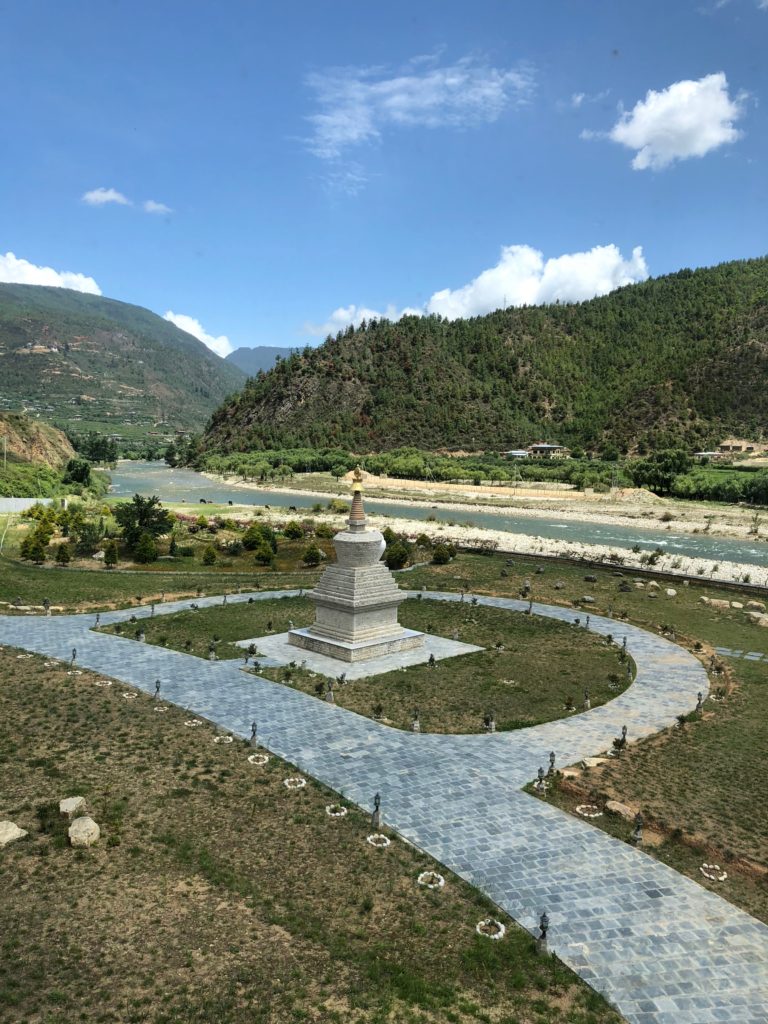 view from my hotel room window — I didn't want to leave this spot
could not get over this view

panorama of part of the grounds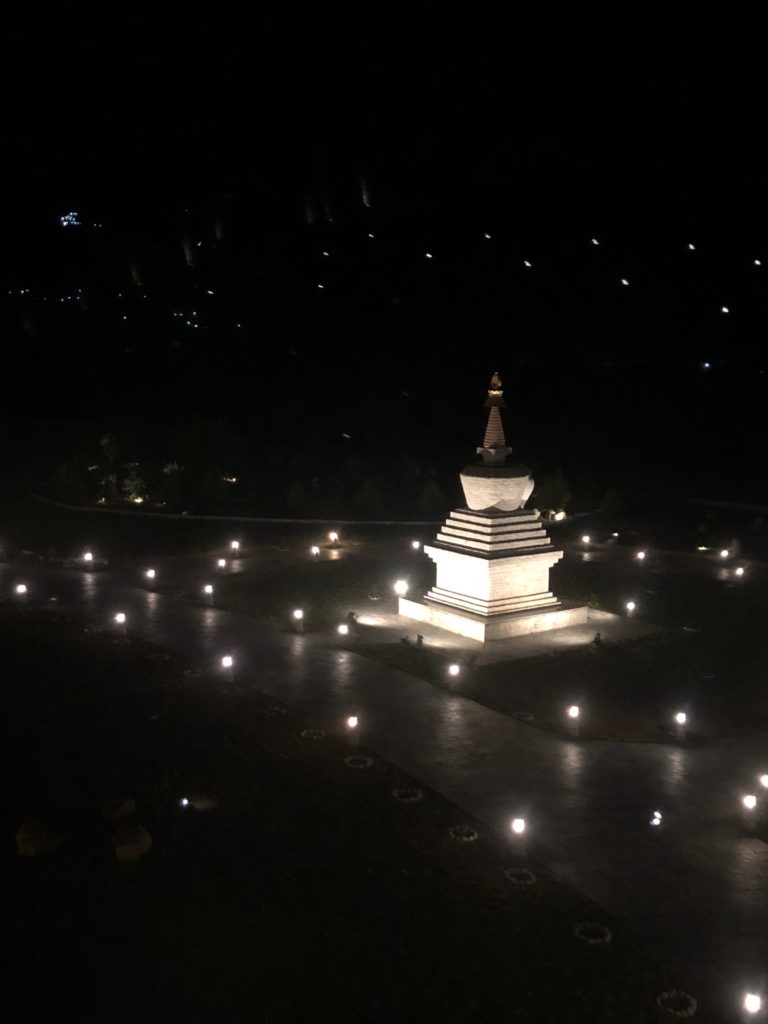 night lights around the stuppa
DAY 5: CHELELA PASS & HAA VALLEY
First stop: Chelela Pass
The drive to Chelela Pass took about two hours. The road was incredibly windy. That along with the altitude of 13,000 ft definitely had me feeling a bit car sick. Once we got to the top, however, and inhaled the fresh mountain air, it was soon forgotten.
Chelela Pass is the highest motorable pass in Bhutan. It connects Paro to Haa Valley. From the top of the pass there were breathtaking views of the surrounding mountains. Also at the top were hundreds and hundreds of prayer flags.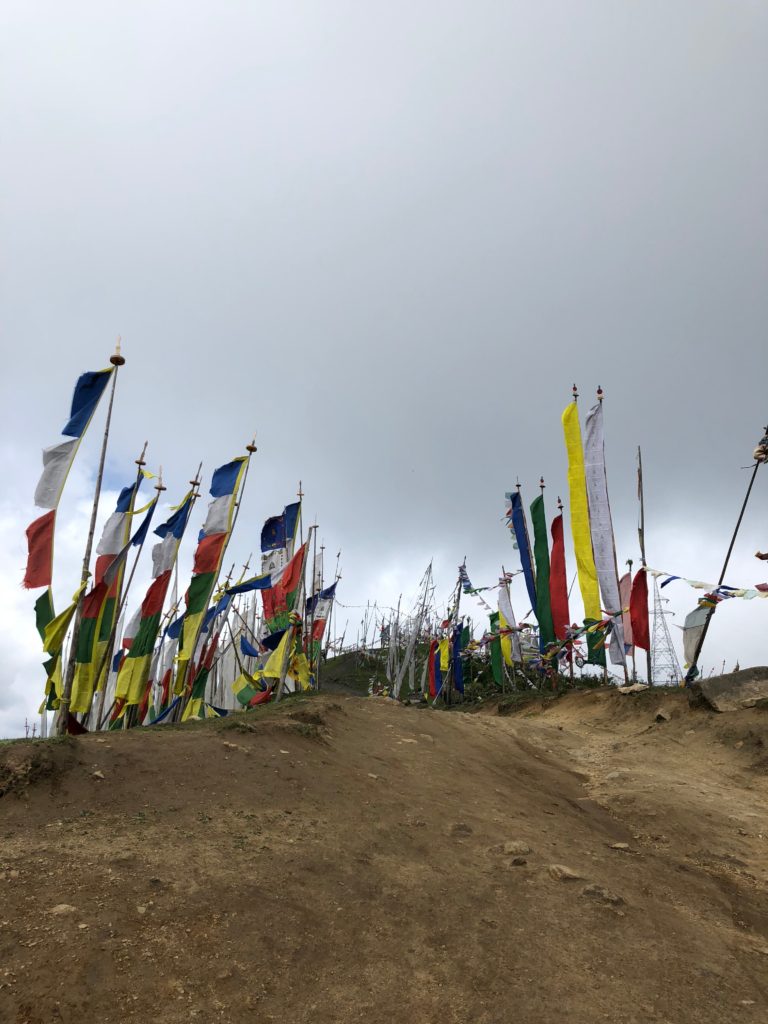 prayer flags lined the paths along the peaks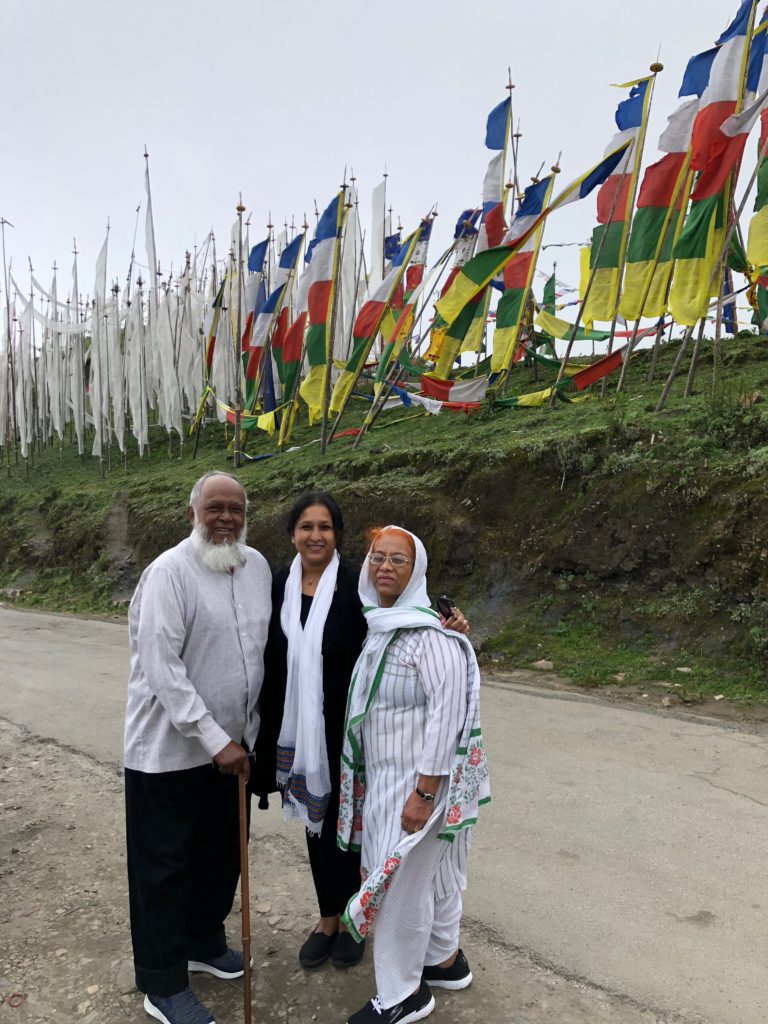 my parents and I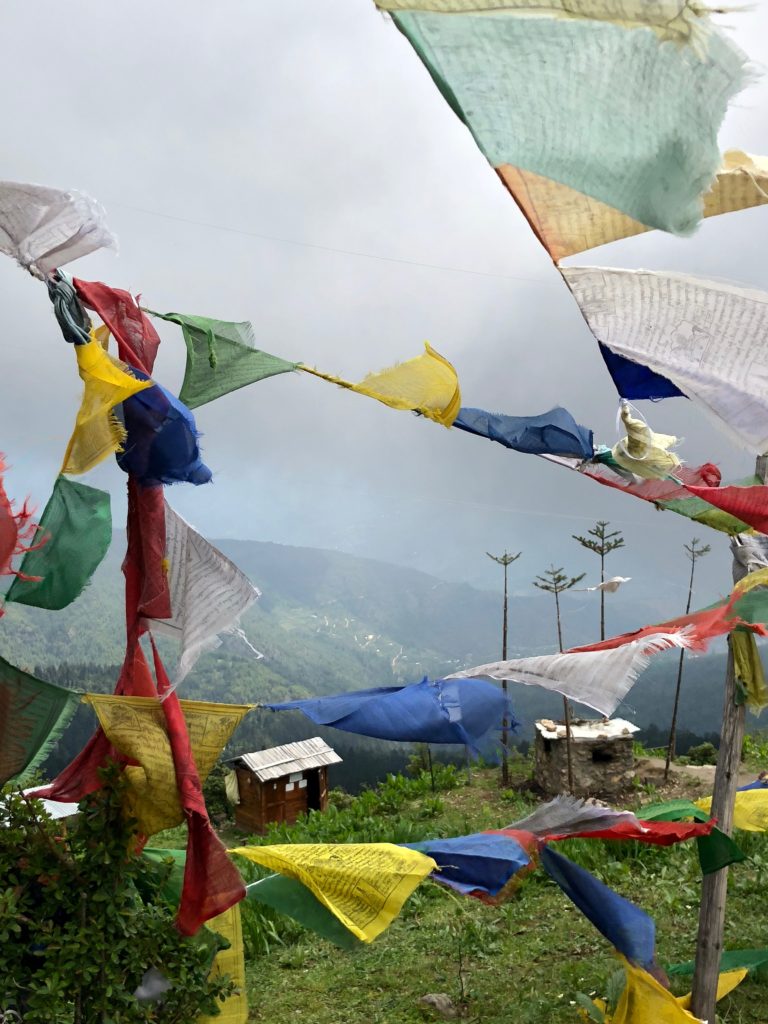 while prayer flags can be hung or posted anywhere, it is believed that the higher, the better; the prayer flags are hoisted to bless surrounding areas – thus the windier the place the better as the prayers will be carried further
the five colors of prayer flags represent the five elements – blue: sky and space; white: air and wind; red: fire; green: nature; yellow: earth
Second stop: Haa Valley
Haa is one of the 20 districts in Bhutan. It's a small village, with less than 2000 houses. The valley is surrounded by one of the most environmentally protected areas … and you could tell by the lush forest surroundings. We didn't stay in the valley for long. We visited a local temple and then walked around the village before heading back to Paro.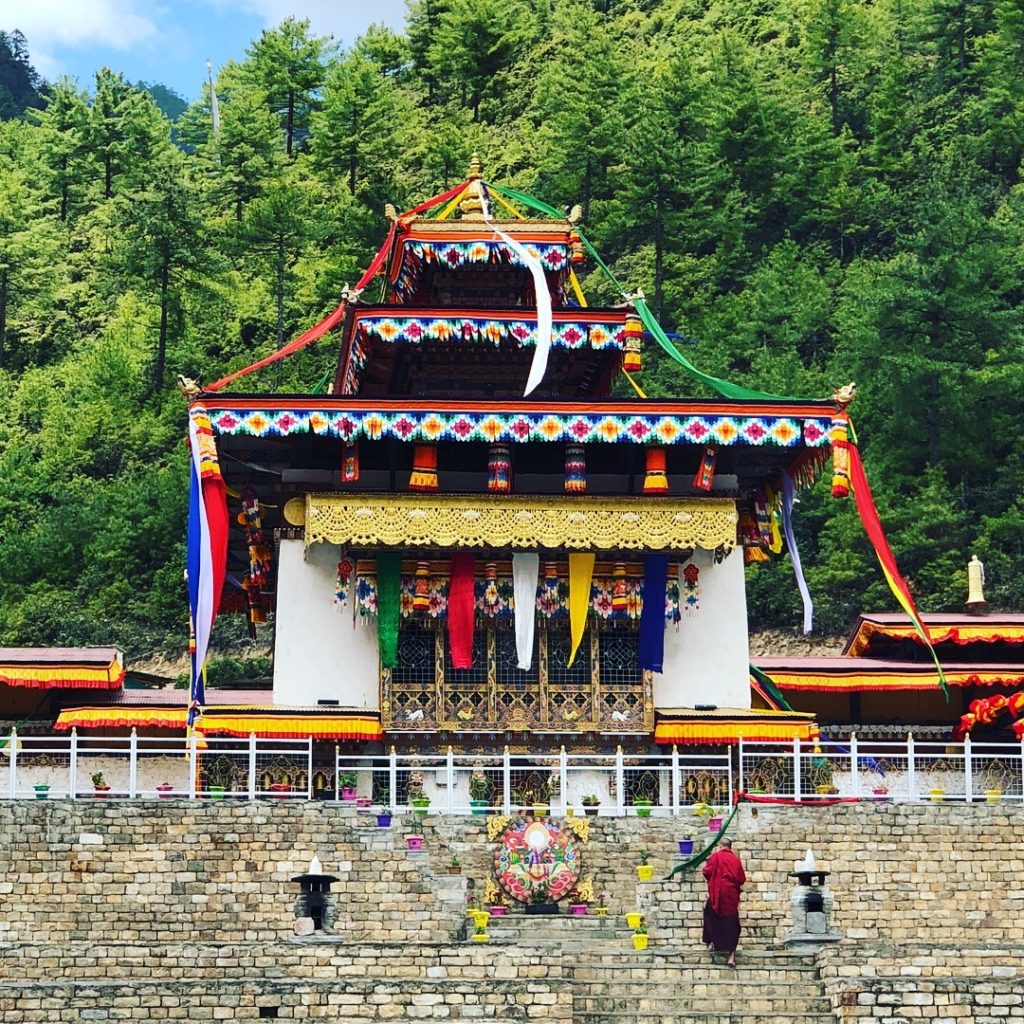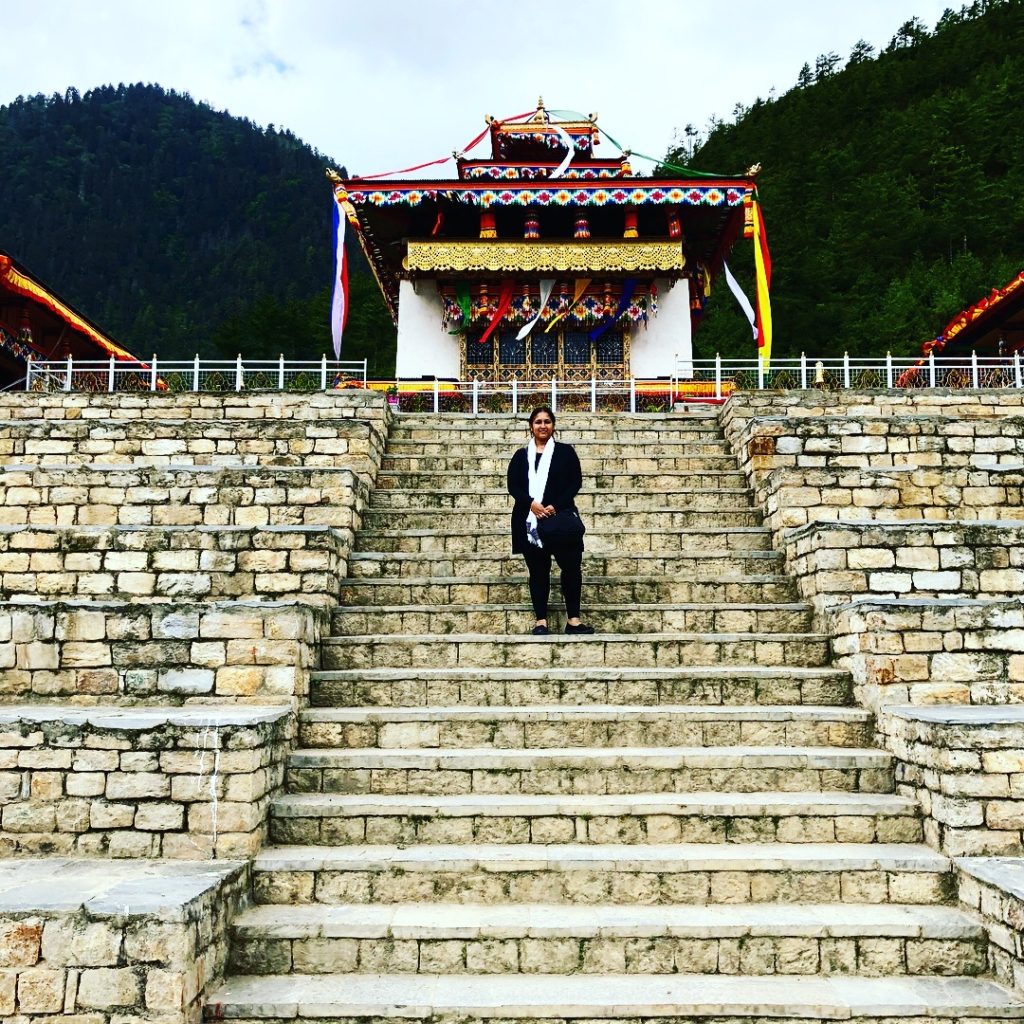 Along the way … 
Spending over 5 hours in the car going up and down windy mountainous roads can feel leave you feeling a bit queasy … however, witty road signs along the way kept us quite amused and entertained.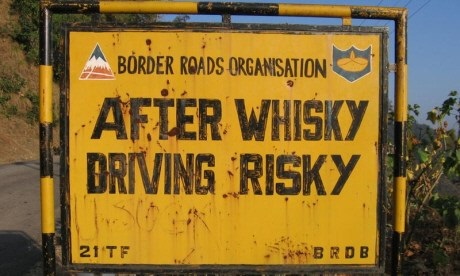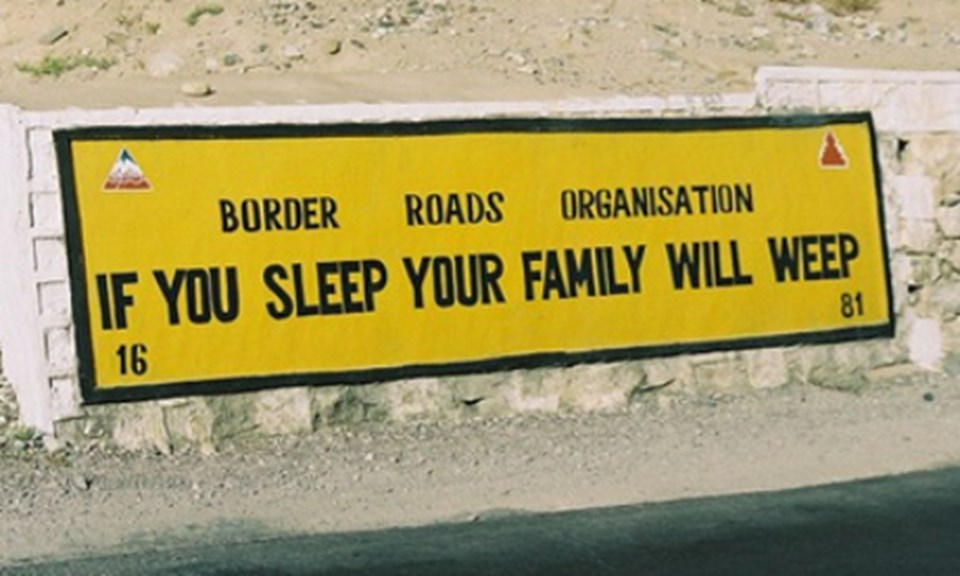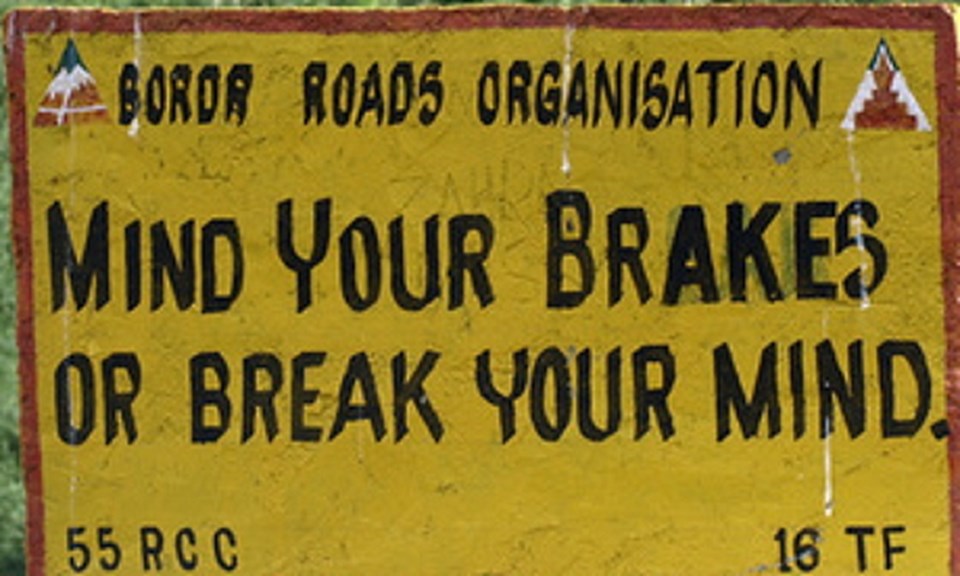 Day 6: Hike to Tiger's Nest
When we decided to plan a visit to Bhutan, I started exploring things to do and places to visit. The one thing that kept popping up as a 'must do' was a hike to Tiger's Nest Monastary. I am not an outdoors person let alone a hiker, but I thought it would be nice for me to take on a challenge. It was definitely a challenge! I've written about my experience in detail in this post.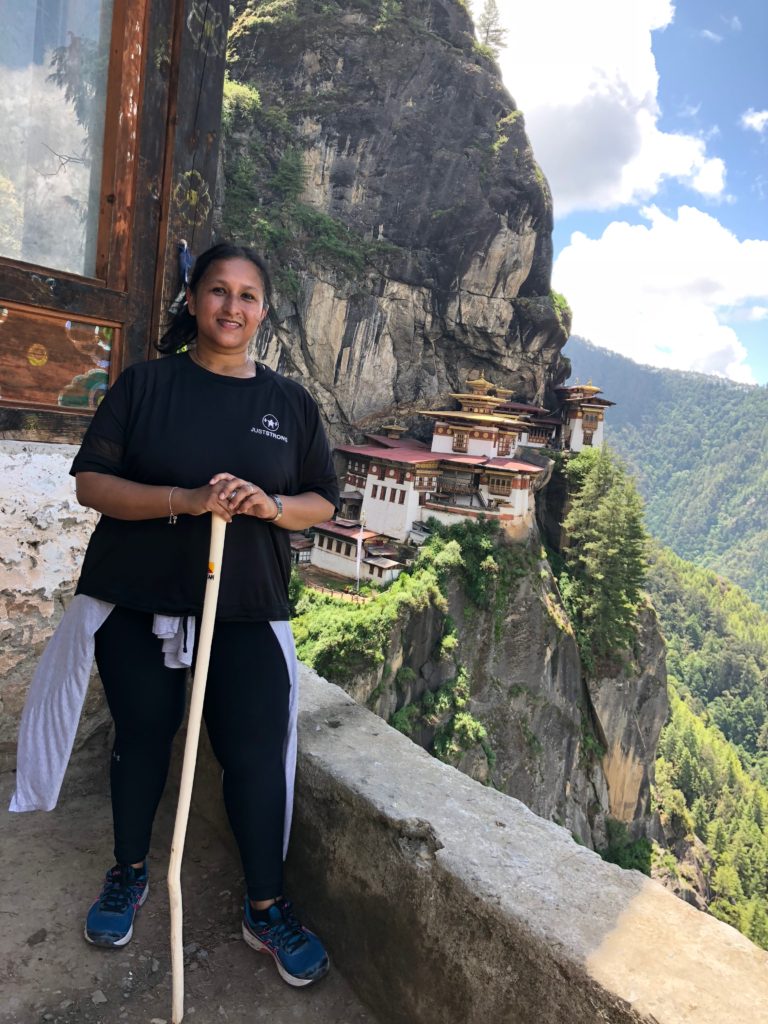 at the parallel point – not there quite yet, but had to stop for one of the best views (and photo op) before continuing the hike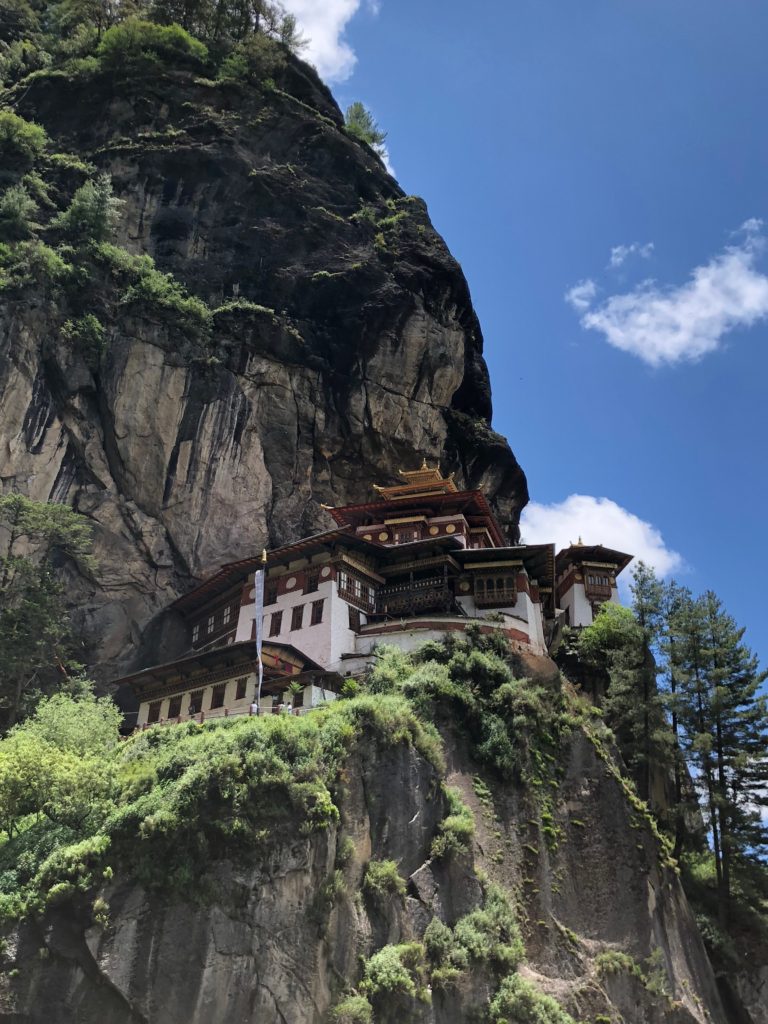 the spectacular monastery perched on the edge of the mountain
Day 7: Farewell Bhutan
We had only wanted to stay in Bhutan for 5 days, but given that there was only 1 flight a week to/from Dhaka, we didn't have a choice but to stay for a whole week … and we're glad we did. Actually, we would have really loved to have stayed an extra day in Paro to just relax and take in a bit more of that fresh mountain air.
Overall, the trip was exactly what we needed. My parents and I needed some time together. We missed Ahmed greatly. Every photograph taken was done with difficulty and emotion as we knew there was someone missing from the photos — but we still took those pictures. We needed to. Although we did cry several times during the trip, we also felt an enormous amount of gratitude for the experience and were happy to explore a new country and be surrender to the beauty of this world.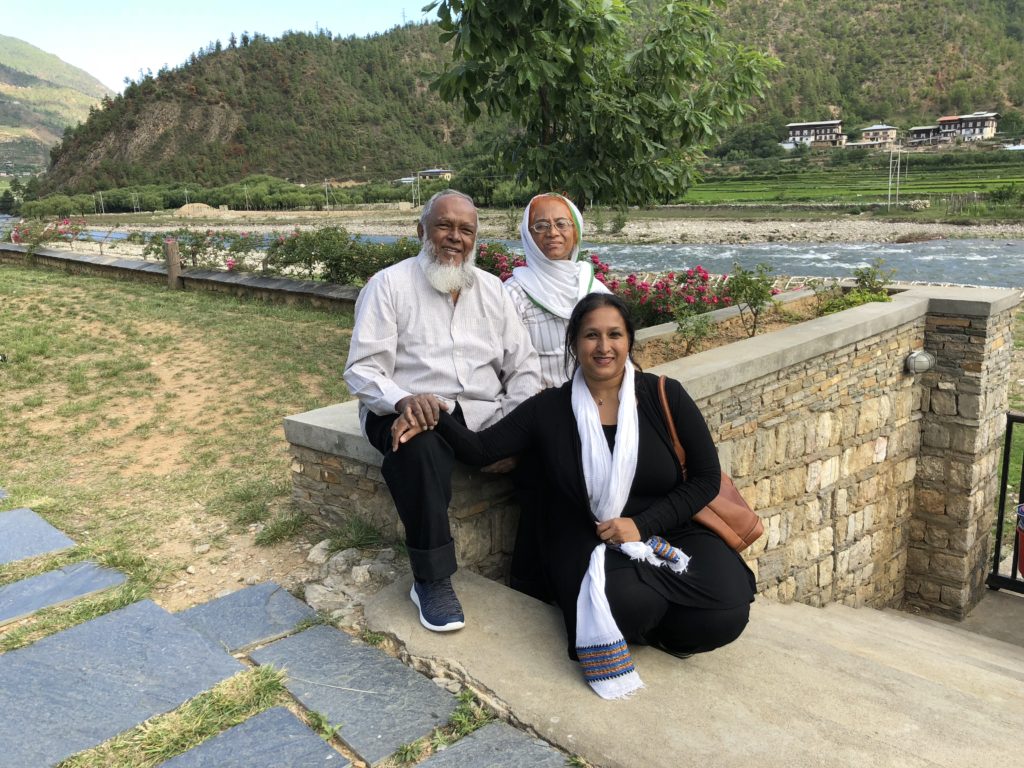 mountains in the background, river by our side, and Ahmed in our hearts