The date of June 5, 2018 was hanging over me with a sense of impending doom. As the date approached everything inside me felt heavier. I really have made a conscious effort not to get caught up in dates and anniversaries — yet inevitably, every Monday my emotions intensify, every 5th of the month I miss him more. My frame of reference of time revolves completely around his death – it either happened before he died or after. It was either something we shared or something we didn't … and as the 1 year anniversary of his death approached, I didn't know what to expect.
Would the pain of losing my brother feel worse?
Would I be able to handle it?
What was going to happen?
————————-
I think the anticipation of Ahmed's death anniversary was worse than the actual anniversary. I'm not saying I didn't feel anything — of course I did. The thing is, I didn't feel anything different. I just felt more of the same.
Continued heartbreak.
Continued devastation.
Continued feeling of loss and confusion over what has happened.
In the end, June 5 was just another day of grief.
————————
The main difference was that June 6th was going to mark the first day of a year where there would be no reflections or connections with Ahmed for the year before.
Even on June 4th 2018 I could say — last year, I messaged Ahmed.
Now, June 6th 2018, I have reached a point where he was no longer present a year ago. A year ago, he was already dead. It hurts my heart so much to write that, say that, think that. Yet that is reality. Somehow my life is going on and he's not here.
I think it's hard for people to console those who are grieving, after all, we each handle things differently. So many people have said to me – he's in a better place … but to be honest, you don't know that. They've said to me – he'd want you to go on/be happy/live life … but to be honest, you don't know that. They say – he's looking down on you … but to be honest, you don't know that.
People have said, hold on to the memories … but to be honest, reminiscing feels like torture to me. I don't like remembering. I don't like looking at his pictures. Every time I do that it is followed by the reality that he is no longer alive … and that means he dies all over again. Then the instant replay begins – the phone call in the middle of the night, that woman's voice, hearing the news, the dreaded flight out there, seeing his body … burying him …
No, a year has gone by and although I am doing my best to continue my life and try living, the heartache, devastation, and feelings of loss and confusion continue.
In this past year, more than talking, connecting, or reminiscing, the main thing that I have found to be healing is sitting in silence. It was during a period of deep meditation that I realized that the hole in my heart was not meant to be filled. It is meant to stay empty – a space only reserved for my brother. My challenge is to figure out how to continue living with that hole in my heart.
A year has gone by … and now another year continues.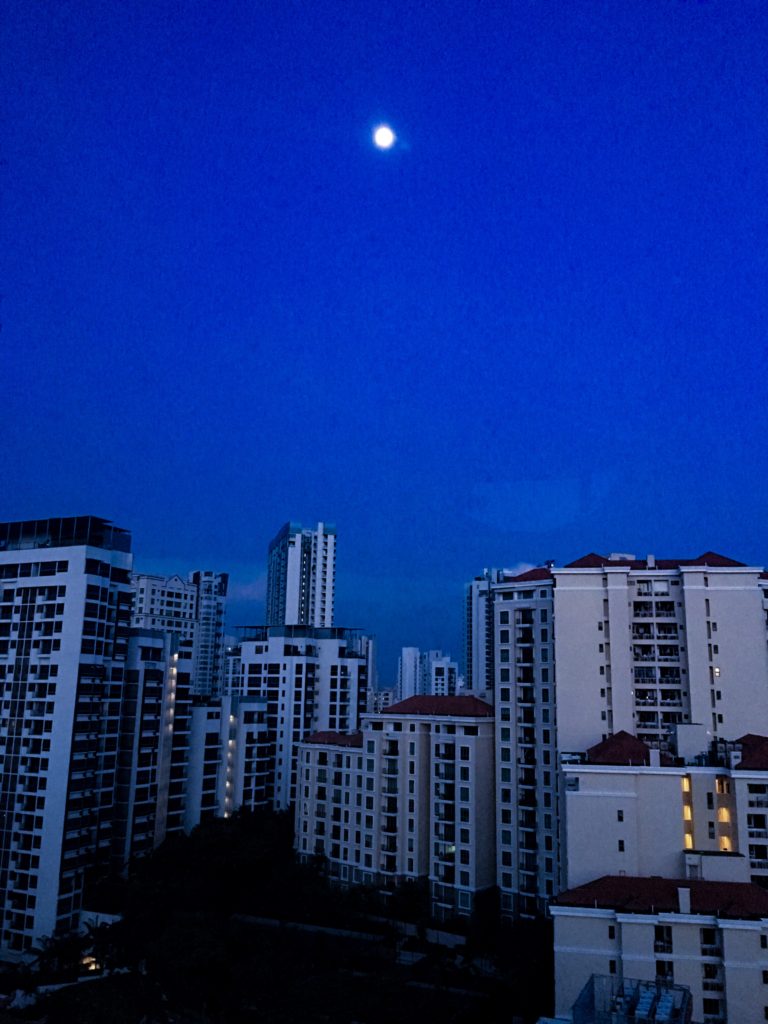 this photo is one of the last one's he took – a view of the solitary moon against the gorgeous night sky (Singapore 2017)