This week feels like a blur for me. I had a lot of stuff going on and I didn't quite feel as connected with what I was doing — it was more just a matter of getting things done. I had a number of social occasions/obligations planned throughout the week which meant that my meals were not going to be as consistent as they normally are. I did not do my usual Sunday meal prep, even though I did take time to at least buy several compliant foods and ingredients to make sure that whenever I did prepare something, they'd be on hand.
The one thing I know, I didn't like feeling flustered and not having a set plan. Having at least an outline of a plan (back up options, back ups to those back up options) did help though.
Aside from extra time constraints this week, I also felt a lot of anxiety and restlessness. Part of it has to do with feeling like I haven't yet found my stride after moving back to Kuwait. Of course I big part of it is also dealing with the intense grief of losing my brother … it just hasn't gotten any easier. Yes, the days are passing, but I still cry each day. I still feel the intense pain. I'm learning how to cope with it and just taking it one day at a time.
Overall, fitness and health-wise, it ended up being a relatively good week. The biggest excitement for me is that I am at the cusp of breaking a 1 year weight-plateau! Recovering from my surgery last year and dealing with that weight gain has been tough … but I'm finally inching closer to breaking this barrier. Just 1 lb left. My vigilance has definitely been turned up a notch!
Last week I set my specific goals for Week 4 in this post — here's how it went:
My goals for Week 4 were:
Create and start a walking plan to prepare for a hike up to Tiger's Nest Monastery in Bhutan.

This wasn't actually worded right as I had already created the plan (you can read about it

here

). It was more about implementing the plan and staying consistent with the training program. I'm happy to say that I have managed that. I'm actually really loving the plan. I had always wanted to complete the C25K running program, and as many times as I tried, I just didn't enjoy it. I was forcing myself to do something I didn't like … and I'm not really sure why. The significance of doing something you enjoy was really made apparent to me with my dedication to this walking plan. Before, I would make any excuse to skip doing the C25K program – I don't have time, I'm already tired, I've already worked out for an hour … However, now, the same circumstances exist, particularly since I usually walk after I've lifted for about an hour, but I'm getting it done. Sure it takes a bit of discipline and self-motivation to get myself on the treadmill, but once I do, I actually enjoy it! Now walking for about an hour each time hasn't felt bad. I'm loving getting in the extra movement, and I do believe it has helped me work towards breaking my weight plateau. I've started my 2nd week on my program where the inclines are getting steeper … it's definitely tougher, but so satisfying too!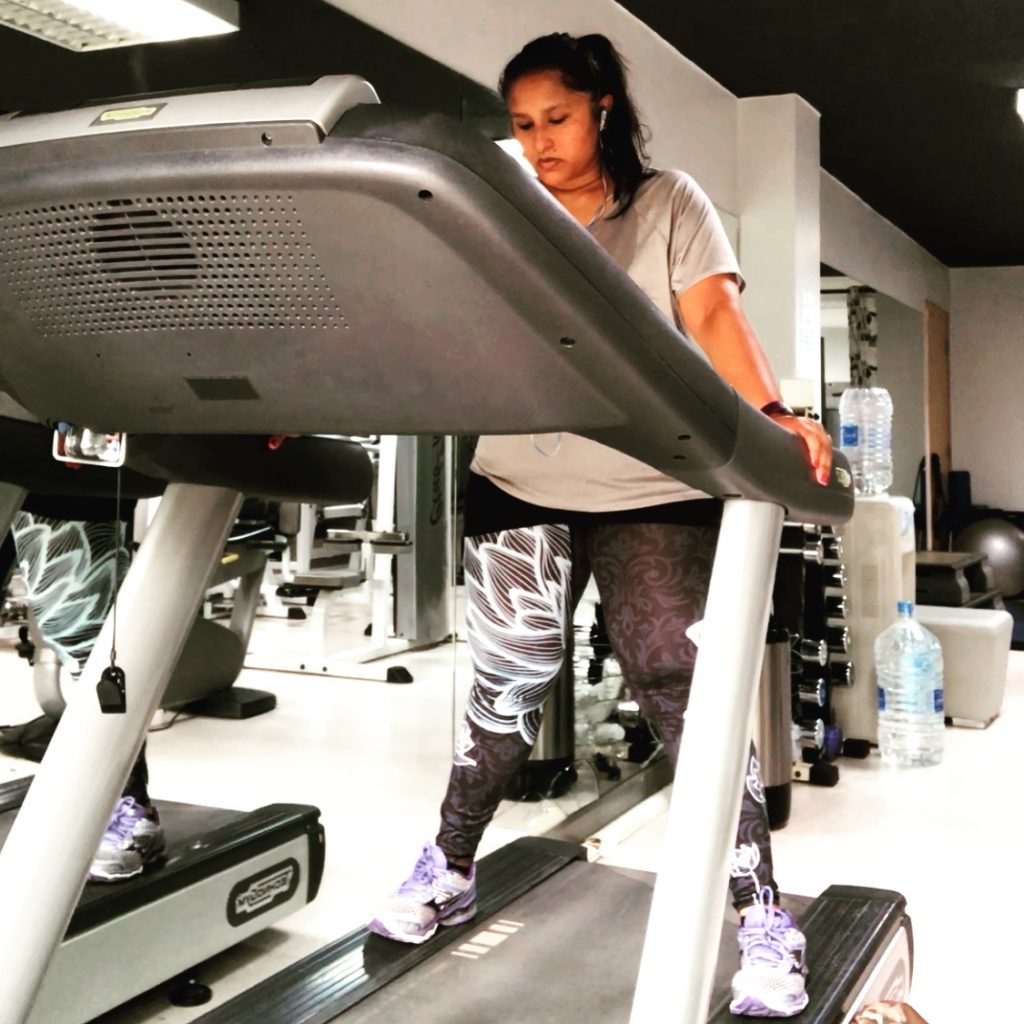 that sweat is no joke
Wrap up the semester. Although I finished teaching last week, there was still a lot of admin work to do. It has been so tedious. However, I got it done! On to the next task …
Complete 2 lifting sessions. 

In an ideal world, I would love to lift 4x a week. However, with yoga, jiu-jitsu, and now this walking program, I just don't have the time or energy. So, I'm trying to do what I can when I can and just make sure I put in focused effort each time. This week I did landmine exercises for the first time. I loved them! The different dynamic with the bar was a lot of fun. My strength is coming along and I'm actually able to see a tiny bit of definition in my arms and feel my back getting stronger. It feels amazing. Definitely motivation to keep at it.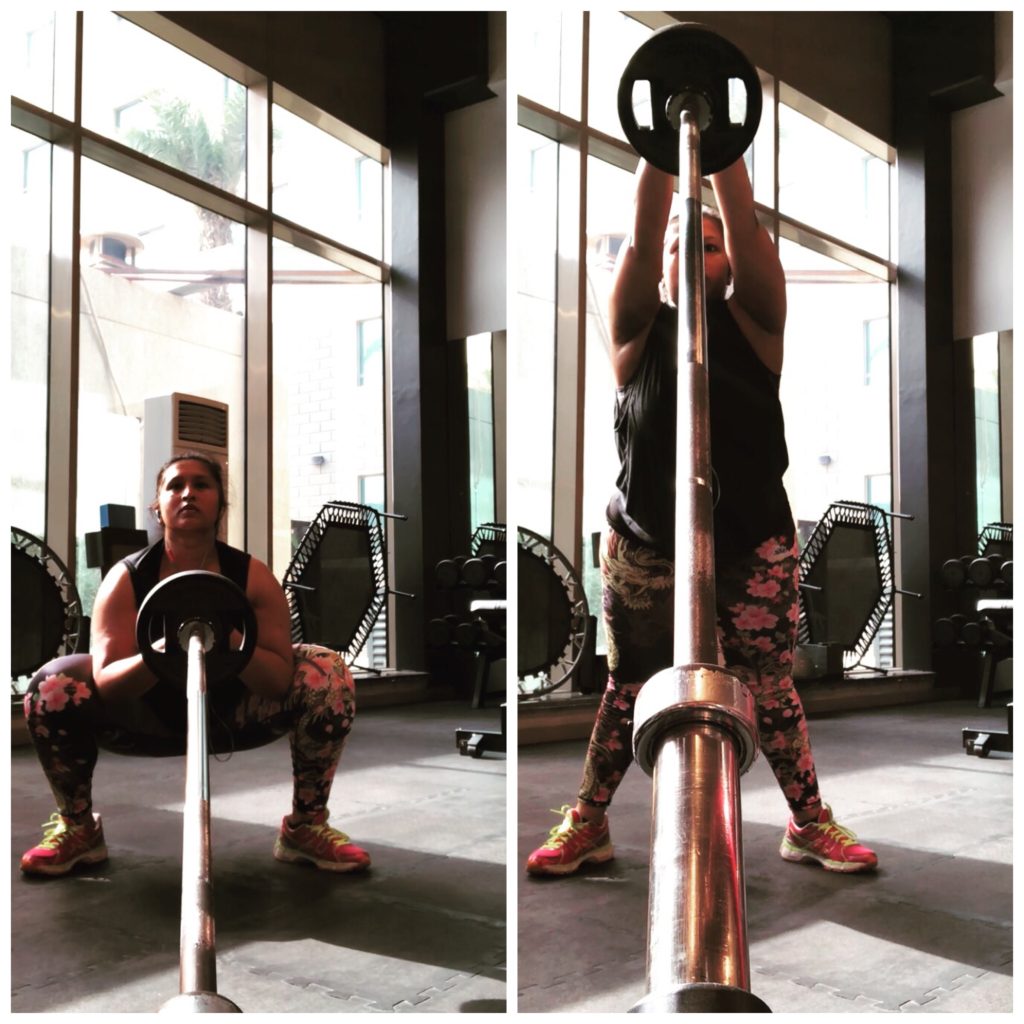 landmine squats and overhead raises
Comment on every Worldwide Warrior's reflection. With a team of 200, this was a big one … but, I got it done and it was worth every moment. I wish I could comment on everyone's post each day, but that would take hours. So, I do what I can and this week I broke it up throughout the week and managed to get to everyone. I love seeing the enthusiasm and determination. I love the resilience in people. I love the stories and experiences each person brings. It always makes me happy to comment on reflections with the hope that it helps in some way.
Don't give up on consistency.

On Thursday morning, even though I had woken up at 5 a.m., I stayed in bed until 5:40, which is when D gets up. By that point I was actually ready to go back to sleep … but I literally kept repeating to myself: consistency, consistency, consistency. With that word on my lips I got out of bed and headed to the gym. No number of motivational memes, inspirational quotes, or fabulous training shoes is going to get you out of bed and get to the gym unless YOU want to do it. You have to be your own motivation. You have to push through all the excuses and hesitations and just get it done. It's the only way.
Only two weeks of the Whole Life Challenge left — they've got to be great!
Specific goals for Week 5:
Continue with my walking program.
Get in three jiu-jitsu sessions + 1 session sparring with gloves.
Find a positive or nurturing way to get through May 14th.
Create a writing routine.
Be consistent!