At the end of my Week 1 reflection, I wrote down the main tasks that I wanted to complete for Week 2. Just writing those few specific tasks down really helped me focus this week. I felt like I was finding my stride.
My goals for Week 2 were:
Complete video 2/6 of my jiu-jitsu practice. DONE!!! There was a point 2 weeks ago when I was in tears on the mats thinking that I just couldn't do it … but I did! I'm so happy! The bad news — in the midst of franticness of the test, I fell badly during one of the techniques and injured my collarbone. It has made everything this week much more difficult.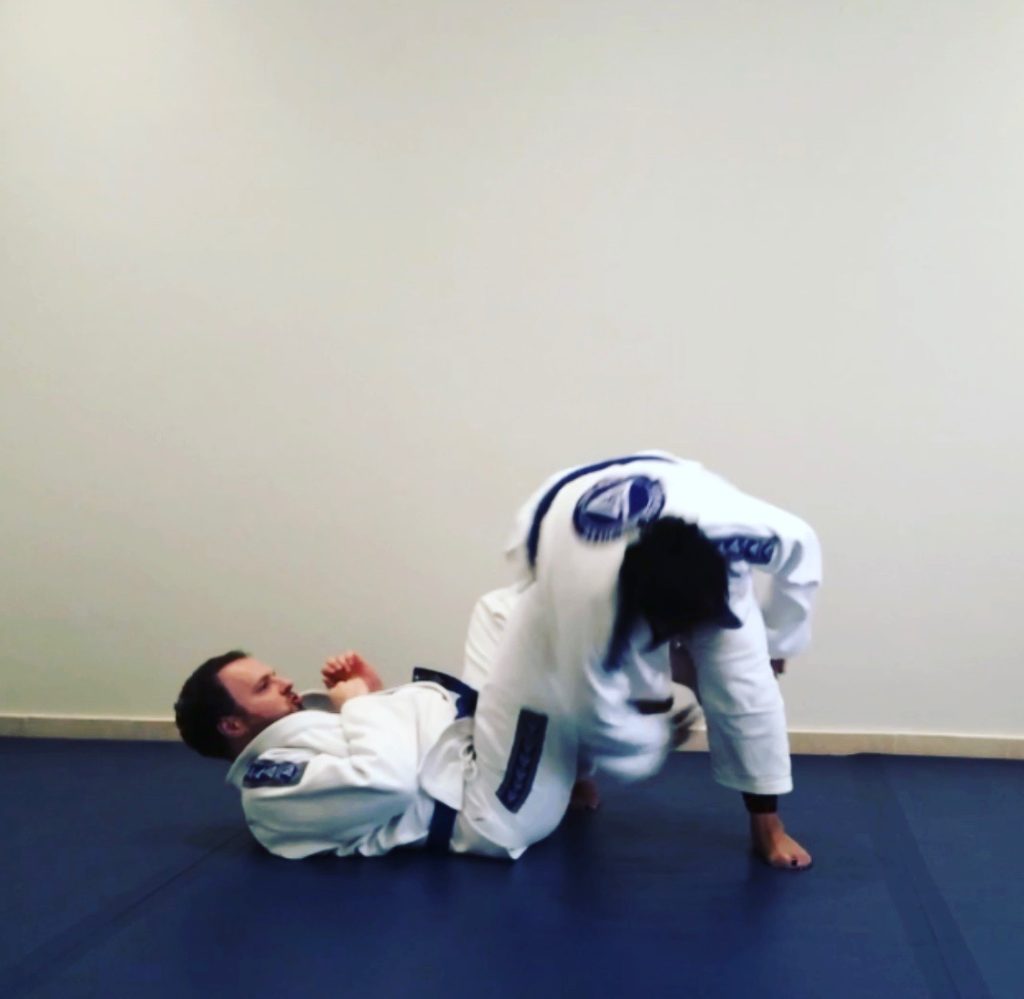 the moment before I injured my collar :/ — a diving toe hold gone wrong
Do a calorie and macro breakdown of my meals. I started to do my breakdown, but it was taking a lot of time. Even though I truly believe that when you follow the WLC guidelines (particularly at Performance), you don't have to worry about macros and calories, I have a particular weight loss goal I want to hit, so I really want to do this. I didn't manage to complete this task — so I'm going to move it over to Week 3.
Hit my minimums. I just about hit my minimums this week. Work + my collarbone injury made everything difficult and stressful for me. It was frustrating. I'm trying to remind myself that it's just one week and that I'll be able to make up for it next week. Still, the disappointment of an average performance is lingering … I need to shake it off and just get on with things.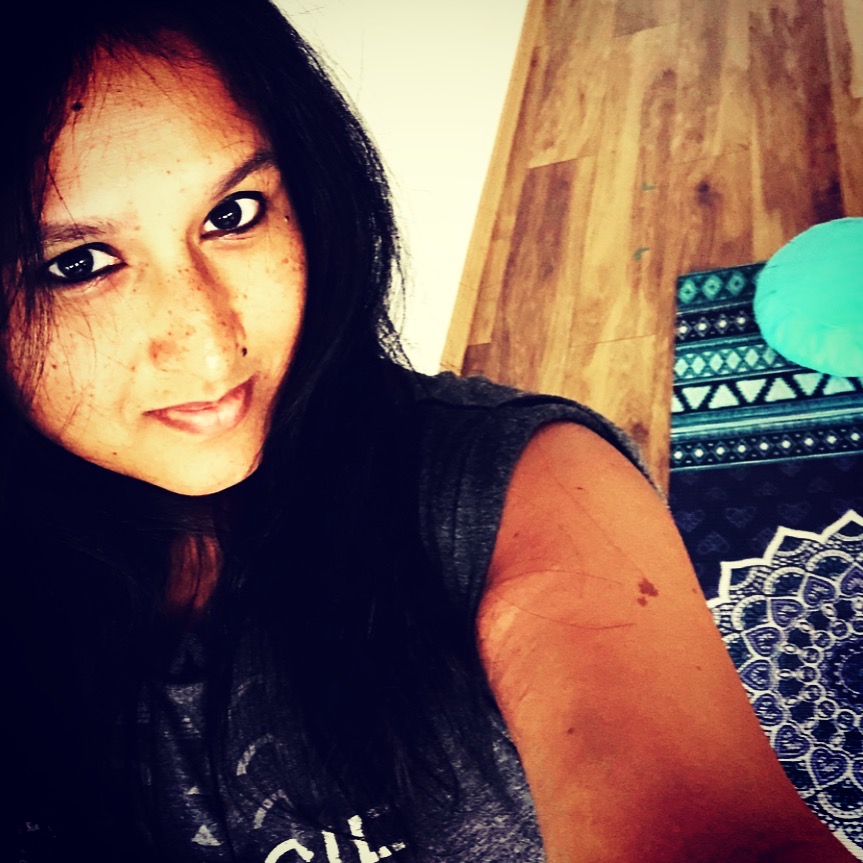 I did manage to go to yoga 3x this week, though again, the injured collarbone made so many of the moves difficult. No chaturangas for me this week! 
Finish grading student research papers.

Students thing they're the only ones who have it rough during the last few weeks of a semester. Teachers have it rough too! I had to really will myself to sit down and get the grading of these papers done. I was so relieved once I completed the final paper, I almost cried! Two more graded assignments left for this semester and then it's over. One. More.Week.

Try a new recipe. I made overnight oats this week. They were delicious. (Vegan + Compliant on Lifestyle and Kickstart levels of the Whole Life Challenge.) I had to use 2 indulgence tokens for these because I didn't realize oats weren't allowed on Performance … but it was worth the sacrifice!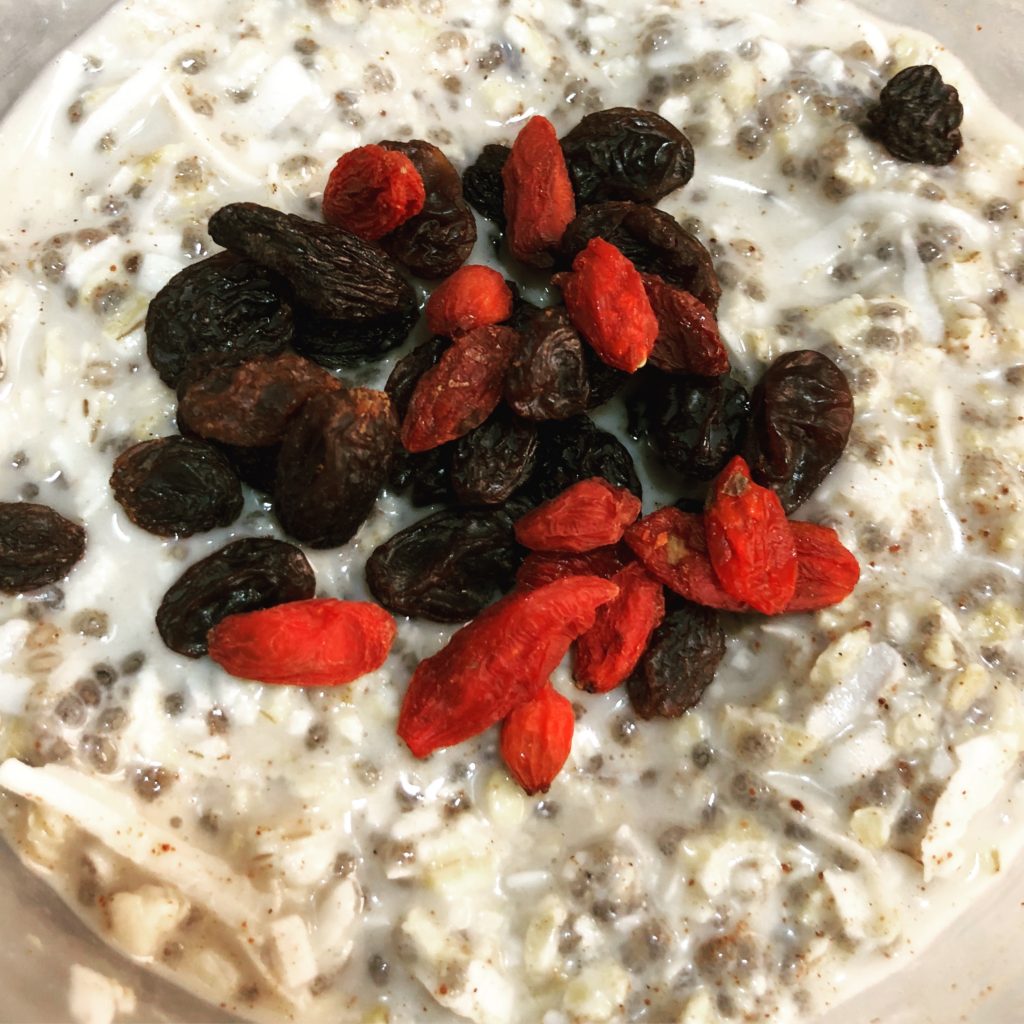 Keep focusing on my theme of consistency! My consistency was definitely challenged this week. I felt myself distracted by work and stumbling through the week just to get things done. Even though I had back-up plans, I feel like my stress got the best of me. This is something I will have to continue to work on.
Highlight of my week — 
April 26th was the 6 year anniversary of CrossFit Q8, which is where I did my first ever CrossFit session that sparked my whole movement towards health and fitness. I was there on their first day … so it marked my anniversary too! I went down to the Box – which has since moved, been upgraded and expanded … and did a workout there. Although all the faces, except for the head coaches, were new, it was great to be there … hopefully it will mark a new phase in my health and fitness!
Specific goals for Week 3:
Hit 10,000 steps 3x this week.
Try a new recipe.
Complete my macros breakdown.
Well-being practice — areas to de-clutter (1) kitchen cabinet (2) office drawer 1 (3) office shelf 1 & 2 (4) photo envelope 1 (5) university papers (6) wardrobe cupboard 1 (7) t-shirt drawer 1
Keep focusing on my theme of consistency!