The most challenging meal for me for the past several years has been breakfast. There's really no reason for it. It's laziness and the silly crankiness that accompanies having to wake up and already start doing something — even if that something is just making breakfast. I just want something that's prepared and ready to eat. No heating or extra steps involved. Enter overnight oats! I had heard about overnight oats before, but to be honest, I'm not a big fan of oats. They never really agreed with me and I always felt like they were a waste of calories.
This recipe, however, has changed my mind. It's simple and it's tasty.
I made 4 bowls of this to get me ready for the week ahead. Then, when I sat down to write up this recipe, I checked with the WLC nutrition list to make sure everything was compliant on (vegetarian) Performance … I was so gutted to find out that oats were not allowed on Performance. They are allowed on Lifestyle and Kickstart. I was kind of annoyed to have to use two indulgence tokens for oats (for OATS!!), but I'm the one that chose to play at Performance.
There were many positives to this dish for me:
Easy to make.
Quick solution to breakfast – grab a spoon and you're good to go.
Filling – I had the oatmeal after my morning workout (around 10:00 a.m.) and didn't feel hungry until almost 3 p.m., which was great.
No digestive issues – major win!
So the big dilemma for me will be — do I give up this idea breakfast solution for me just to save points? Hmmmm … we'll see.
Here's the recipe: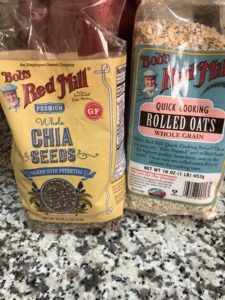 Ingredients: 
1/4 cup rolled oats
1 tablespoon chia seeds
2 tablespoons shredded coconut
2/3 cup almond milk (or milk of your choice)
1/4 teaspoon cinnamon (optional)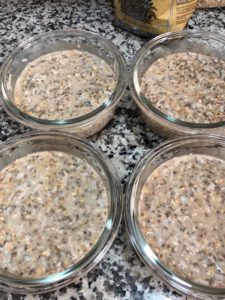 Method: 
Mix the rolled oats and chia seeds with the almond milk.
Stir in the coconut and cinnamon if using.
Cover and place in the fridge overnight to thicken.
Enjoy with toppings of your choice. I've been having it topped with raisins and gogi berries.