Want to know what you can eat even after you take away grains, sugars, and most dairy products? Well, here's a list of over 70 recipes that follow those guidelines. Depending on the products you buy, they can all be made without any preservatives or artificial flavors too!
Most of these recipes were created when legumes were still compliant on the Performance level. What I've found is that you can easily substitute peas or string beans (the two most common legumes I cook – though string beans aren't considered legumes by everyone, so you can probably still use string beans) with asparagus or zucchini.
Although I don't follow the traditional labels of 'breakfast', 'lunch', and 'dinner', I've used those as my headings. You can, of course, have any of the following for any meal of the day. Be creative – have vegetables for breakfast and a smoothie for dinner – explore, modify, have fun 🙂
I've done my best to label what level each recipe is appropriate for – as well as whether or not it is vegan. If you find any errors, please let me know.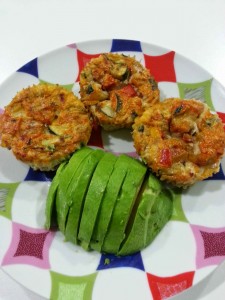 Breakfast
Breakfast 'lasagna' (compliant on all levels; omit the chicken to make it vegetarian)
Eggs over a Medley of Vegetables (compliant on all levels)
Sweet Potato Toast (vegan + compliant on all levels)
Coconut Pancakes (compliant on all levels)
Banana Almond Smoothie (vegan + compliant on all levels)
Pear Bowl (compliant on Kickstart)
Renergy Sandwich (compliant on all levels)
Banana Pancakes (compliant on all levels)
Carrot and Pumpkin Muffins (compliant on all levels)
Banana Muffins (compliant on all levels)
Granola (vegan + compliant on all levels)
Egg Muffins (compliant on all levels)
Glowing Green smoothie (vegan + compliant on all levels) [recipe link in post via Vitamix]
Coconut Zucchini bread (compliant on all levels)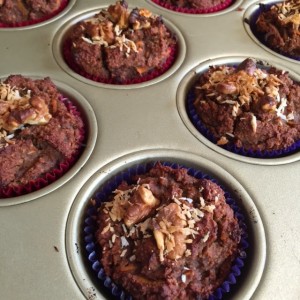 Lunch
Aubergine toast (vegan + compliant on all levels)
Cauliflower toast (vegan + compliant on all levels)
Tuna Fish Salad (compliant on all levels)
Chicken and Roast Tomato Salad (compliant on Lifestyle and Kickstart)
Lettuce Wraps (compliant on all levels)
Fish and Vegetable Burgers (compliant on all levels)
Brown Rice Burgers (compliant on Lifestyle and Kickstart)
Brown Rice and Vegetable Bowl (compliant on Lifestyle and Kickstart)
Tuna Avocado Cups (compliant on all levels – read the variations)
Fish Burgers (compliant on Lifestyle and Kickstart; omit the peas to make them ok for Performance)
Chick pea patties with Broccoli (compliant on Lifestyle and Kickstart)
Quinoa Salad (compliant on Lifestyle and Kickstart)
Bean Salad (compliant on Kickstart)
Cauliflower Soup (compliant on Lifestyle and Kickstart)
Quinoa with Veggies (compliant on Lifestyle and Kickstart)
Lentils with Veggies (compliant on Lifestyle and Kickstart)
Avocado Tuna Salad (compliant on Lifestyle and Kickstart)
Roasted Cauliflower Soup (compliant on all levels + vegan)
Lettuce Tacos (compliant on all levels + vegan)
Antipasti (compliant on all levels + vegan)
Grilled portobello caps (compliant on all levels + vegan)
Bell Pepper Toast (vegan + compliant on all levels)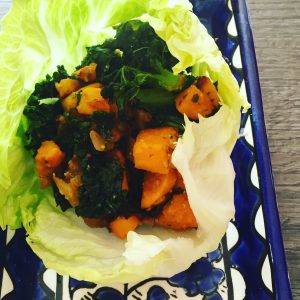 Dinner
Cottage Pie (vegan + compliant on all levels)
Lamb tagine (compliant on all levels)
Turkey with Roast Vegetables (Thanksgiving dinner) (compliant on all levels)
Tandoori Chicken (compliant on all levels)
Baked Fish over Cumin Spiced Rice (compliant on Lifestyle and Kickstart)
Chicken with Bell Peppers (compliant on all levels)
Shrimp Coconut Curry (compliant on all levels)
Turkey Meatballs over Zoodles and Boodles (compliant on all levels)
Lemon Paprika Chicken (compliant on all levels)
Chicken and Gravy (compliant on all levels)
Salmon and Vegetables (compliant on Lifestyle and Kickstart; if you replace the string beans with asparagus, it's compliant on Performance)
Fish and Vegetables (compliant on Lifestyle and Kickstart; if you replace the string beans with asparagus, it's compliant on Performance)
Burgers and Fries (compliant on all levels)
Fish Loaf (compliant on Lifestyle and Kickstart; omit peas to make compliant on Performance)
Baked Mahi Mahi with Vegetables (compliant on all levels)
Coriander Chili Chicken (compliant on all levels)
Coconut Fish Stew (compliant on all levels)
Baked Salmon and Puy Lentils (compliant on Lifestyle and Kickstart)
Chickpea Curry (compliant on Lifestyle and Kickstart)
Turkey Stuffed Bell Peppers (compliant on performance)
Baked Fish with Tahini sauce (compliant on Performance)
Lamb Tagine (compliant on Performance)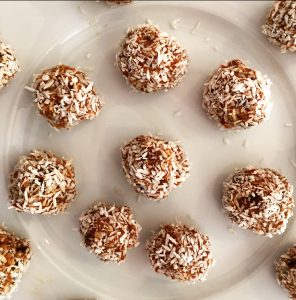 Dessert
Banana Bread Squares (compliant on all levels)
Date Chocolate (compliant on all levels)
Chia Seed Pudding (compliant on all levels)
Apple Cake (compliant on all levels)
Lemon Pound Cake (compliant on all levels)
Date Paste (essential ingredient for all the desserts – compliant on all levels)
Peanut Butter Date Balls (compliant on Lifestyle and Kickstart)
Carrot Halwa/Pudding (vegan + compliant on all levels)
Carrot Cake (compliant on all levels)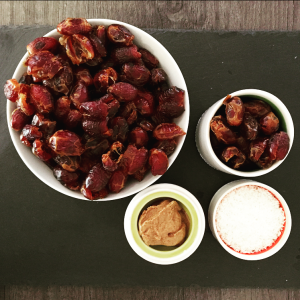 Snacks/Sides
Turkey Potato Patties (compliant on Lifestyle and Kickstart)
Healthy Snacks (compliant on Lifestyle and Kickstart)
Socca (compliant on Lifestyle and Kickstart)
Cauliflower Dip (compliant on all levels)
Guacamole (compliant on all levels)
Salsa (compliant on all levels)
Spicy almond crackers (compliant on all levels)
Deviled eggs (compliant on all levels)
Cucumber stuffed tuna cups (compliant on all levels)
Salmon bites (compliant on all levels)
Looking for a super-supportive WLC team? Come join the Worldwide Warriors! We'd love to have you! You can join us via this link: http://www.whole.lc/wlc1807/pt/worldwidewarriors
(Although the challenge has already started, there's still plenty of time to make positive, healthy lifestyle changes … and there's still room on the Worldwide Warriors team! Make the most of the remaining 3 1/2 weeks and join us today!)