One of the biggest changes in my life since doing the WLC for the first time in 2012 has been not eating bread on a regular basis. In fact, I haven't owned a toaster since 2014 and I could probably count on one hand the times we actually bought a loaf of bread and brought it home. Sure I've had bread since doing the challenge, but not having it on a regular basis and not having it in the house has been a major win. As convenient as it can be, I know that overall it does not make me feel good.
Here are some alternative options to toast. While all the options below are vegan, they are all modifiable to incorporate your topping of choice.
Sweet Potato Toast
I remember some time ago there was a video going around of putting sweet potato slices in an actual toaster. I never tried it (I don't have a toaster), but I found that this alternative works just as well. I just cut the sweet potato into 1/2 inch slices, lightly coated with extra virgin olive oil and baked each side for 20 minutes. The topping pictured below is of sautéed mushrooms and onions.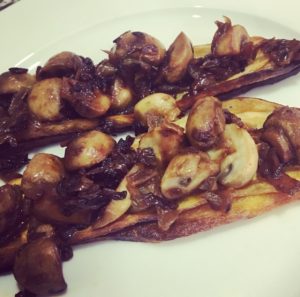 Aubergine Toast
Aubergine (eggplant) has been my latest obsession. This open-faced 'sandwich' is roasted eggplant with cauliflower dip, spinach, and grilled cherry tomatoes.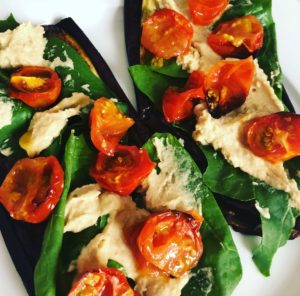 Cauliflower Toast
I never thought I'd be having cauliflower in so many different forms! From mashed to pureed to roasted to riced … it's been such a great substitute for so many things. In this case, I just sliced a thick chunk out of the middle of a cauliflower head. I roasted it for about 40 minutes – until it was cooked but still had quite a bit of bite. I then layered it with veggies that I had on hand (mostly from working on this post!).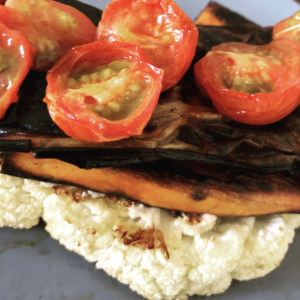 cauliflower slice with sweet potato, aubergine, and cherry tomatoes
Portobello Mushroom Toast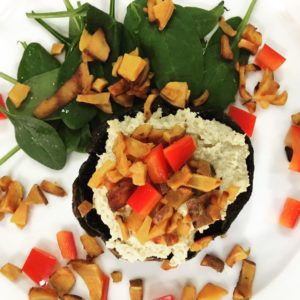 Talk about versatile! This is probably the most substantial form of 'toast' that I've had. The texture is meaty and firm. The hollowed portobello cap allows you to fill it with your favorite ingredients. One cap has always been enough for me so I haven't tried making an actual sandwich with two caps, but I can totally see it working. Click here for the recipe.
Bell Pepper Toast
I think this one is my favorite bread alternative. It holds well. It's filling — and you can be so colorful with your food!! This sandwich had grilled aubergine (eggplant) and courgette (zucchini) + spinach + sauteed mushrooms and cauliflower dip (I'm seriously getting addicted to this dip).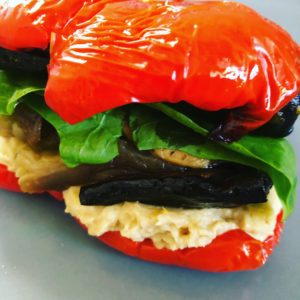 I also grilled zucchini to make into toast (pictured in the main photo), but I didn't get a chance to test it out. I will do in the near future though!
The Whole Life Challenge begins on January 19th. To join my team, follow this link or click on the banner below.