Last WLC, I had really wanted to blog on a daily basis, recounting my day, my choices, and my thoughts. I got off to a good start, but I couldn't keep it up. Life just got in the way and the hour or so it would take to sit at my computer and blog each day had to be sacrificed for something else. Anyway. This time around, I'm planning to blog on a weekly basis – it should be more manageable and it should help me stick to my focus word for this round of the challenge: consistency.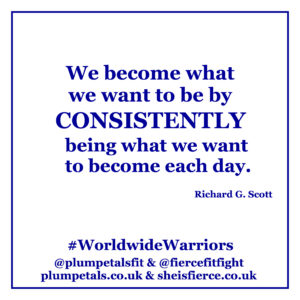 Even though this round of the Whole Life Challenge doesn't begin until April 14th, (to find out more and join, click here) I wanted to start my weekly blog from today since the key to succeeding at the challenge is preparation … and that starts long before Day 1 begins!
So this post is about what I'll be doing this upcoming week to prepare for the challenge. For the week leading up to Day 1, I have a few specific tasks that I want to tackle:
Goals. Now that the WLC is only 6 weeks long, I need to make sure that the goals I set are actually achievable within that time frame. I've learned the hard way – there's no point setting unrealistic goals. I'm hoping to set 2-3 big goals and a few smaller, what I like to call 'no matter what' goals. 'No matter what' goals are bottom lines that I want to make sure I hit. For example, 'No matter what, I will meet my hydration requirement every single day' or 'No matter what, I will score no lower than 3 nutrition points more than twice a week' or 'No matter what, I will log in and enter my reflection regardless of what I scored that day'. You get the picture. Although there are thousands of us around the world playing this game at the same time and scoring ourselves based on the same scale, it is important to remember that each person is different and that you should play this challenge in a way that does push you a little but also allows you to succeed. Choose your 'No matter what' goals – they will help you stay focused and consistent with your efforts.
Profile. There are 3 phases to the WLC profile. Phase 1 covers the basics, Phase 2 has a few more details and requires you to upload a 'before' photo – which will be kept private (you get a bonus indulgence token if you complete this phase), and Phase 3 requires a few more details, such as you blood pressure and cholesterol levels. You do not need to require anything other than Phase 1. However, I won't deny that it's nice to start the challenge with an indulgence token!
Water. The WLC water requirement is to drink the ounces of water equal to your body weight (in pounds) ÷ 3 on a daily basis. If you're not used to drinking water, it can take some time for your body to adjust (several bathroom trips during the day!); however, if you start early, your bladder does learn how to adjust! [Note: Water, coconut water, and herbal tea count towards your daily requirement. Coffee, other caffeinated beverages, and alcohol do not.]
Sleep. Sleep used to be so elusive for me, but thanks to the WLC, it is the one major change in my lifestyle that I have been able to maintain, and it has made all the difference. Nowadays I schedule in my sleep first and then work in everything else. Doing this has helped me learn how to prioritize all my other tasks and errands. Making sure I get enough sleep has given me energy to tackle everything else during the day; I wake up feeling rested and in a good mood. I also feel calm throughout the day. I came to realize that I needed to find a balance between sleep and productivity. It really came down to streamlining my tasks and being better at time management. The last thing I wanted was to get 7 sound hours of sleep and then rush through my day so that I go to bed exhausted. I don't always get it right, but it's something I strive for daily. When setting your sleep goal, make sure it is reasonable and attainable, but also a bit challenging. Even an increase of rest 15 minutes a night can add up. Adjusting your bedtime routine can also help (e.g. promising not to look at your phone after 9 p.m. or brushing your teeth right after dinner so that you don't have to linger on that just before you get to bed). Minutes add up!
Exercise. I workout regularly, but over the past 2 months I feel like I've had more 'back-up' workouts than actual planned workouts. I want to set up a proper workout plan to follow over the 6 weeks of the challenge – and that includes backups (and sometimes back ups to those backups). My basic workouts are strength training + cardio, jiu-jitsu, and yoga. I need to figure out how many of those things I can realistically do each week while also working in recovery time. I also want to set up a few basic fitness targets, such as a daily step count goal or a specific exercise I want to practice (e.g. plank hold or push-ups). My most important thing, though, is to set up a few back-up plans. Even though I don't want to rely on them too much, they are important. I hope to map out what I will do in case I don't make it to the gym or if my time is limited/rushed on a particular day.
Mobility. Lately I've been going to yoga class regularly, but I realized I still need to do focused mobility exercises – particularly with a foam roller and an smr ball. I just need to figure out when to fit it in. I was mobilizing regularly in the morning, but my new work schedule threw that off. I don't like getting it in at random times. So, this coming week I hope to set up a specific time for my 10 minutes
Nutrition. Luckily my out of town guests will be leaving just before the start of the WLC which means that I will be free to focus on what I'll be eating. I want to plan my whole menu (which includes scheduling prep and writing my grocery list) for the first week. The first weekend is always the trickiest for me so I have to be prepared for that.
Home. A few junk food items have entered the house this past week – I definitely need to get rid of those (preferably not by eating them all). I've only been here for 3 months so the kitchen needs a few tweaks. I want to get all the necessary supplies (pantry ingredients, storage containers, zip lock bags etc.) this coming week.
Community. I've found that it really helps me to let my close friends and those I see on a regular basis know ahead of time that I'm on the challenge. Enlisting their support is a great way for me to include them in what I'm doing and also make it less of a shock for them if they plan a social event and I show up with my own food, lol. Having the right kind of support through the challenge makes such a difference, so spreading the word is definitely something that I'll be doing this week.
Mindset. Having the right mindset is everything. I have spent many years being down on myself for … well you name it — for gaining weight, for not losing weight fast enough, for eating too much, for not eating enough, for being lazy, for being inefficient … bottom line, I've gone down the unkind, pessimistic route. Having a more positive, enthusiastic, and determined attitude will make all the difference. For the last couple of challenges I've started off by making a few promises to myself. These are different from goals — they're more about attitude and mindset. This week before the challenge, I am going to focus on getting mindset right so that I start off on the right foot.
So there you have it! Those are the 10 things I will be focusing on this week to help me prepare for Day 1. About a year ago I wrote a similar post that outlines a day-to-day prep schedule. You can check out the post here. I will be writing an update in a few days to share what I've come up with. I hope that these prep steps will help you get ready for a successful challenge.
——————————–
I've been Whole Life Challenge ambassador for six years now and I've been running an international, virtual team called the Worldwide Warriors. My goal as Team Captain – provide a supportive, non-judgmental, highly encouraging space where people can work to do their very best. I have been through several struggles and have been working steadily to come through them. I hope that the experience I bring can help you have an amazing WLC experience. To join my team, click this link or the banner below. You can also join our Facebook page here and follow us on Instagram. If you have any questions, please do not hesitate to get in touch!