I'm just about finishing a month of eating vegan – something that I decided to do just off the cuff. I was reevaluating how I was eating and I realized that whatever meal I ate, it was always the vegetables I enjoyed the most. So, I decided to make a more concentrated effort and see how eating vegan made me feel. I have to say, a month on and I feel pretty good. Overall, my energy levels have been good and I haven't felt hungry. I've been lifting without any trouble and haven't had any cravings for anything.
Aside from eating vegan, I also wanted to try to follow Gracie Diet and Whole Life Challenge eating guidelines as well. All it took was a bit of planning and overall, it's been pretty good. Preparation was key.
Week 1, I went all out. I planed for 4 meals [6 a.m., 10:30 a.m., 3:00 p.m., 7:30 p.m.].
My 4 meals were:
Meal 1: Banana apple smoothie (2 peeled apples + 1-2 frozen bananas — not all are pictured here)
Meal 2: Cauliflower rice, carrot hash, broccoli, and chick peas in tomato sauce
Meal 3: Purple and white cabbage sauteéd with peas
Meal 4: Roasted sweet potato with sauteéd mushrooms, cucumber, and yellow bell pepper.
(I portioned out raw flaked almonds and walnuts to add to my meals if needed.)
I learned a few things:
1) Overall, it was too much food.
2) Dinner was quite light so I felt hungry in the mornings.
3) When I was hungry, I wanted something more satisfying and filling, so I ended up having the cabbage for breakfast (strange, I know) and not always having a smoothie.
4) I ended up having a few meals out so, again, it was too much food.
Taste-wise, it was all delicious!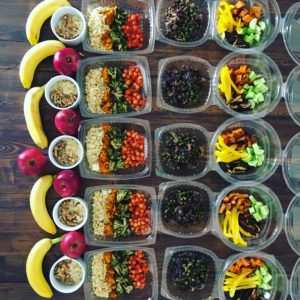 Week 1 Meals
Week 2 I modified my meals. I still planned 4 meals, but I scaled them down a bit.
Meal 1: Sweet potato and broccoli patties
Meal 2: Cauliflower rice with sautéed mixed vegetables (carrots, mushrooms, string beans)
Meal 3: Roasted cauliflower, roasted aubergine, and chickpeas in tomato sauce
Meal 4: (if needed) apple
My observations:
1) I didn't need 4 meals.
2) I love the combination of aubergine and chick peas.
3) The sweet potato and broccoli patties need work. It was too much broccoli for first thing in the morning.
4) It seems like I have at least 3 meals out per week (usually 1 breakfast, 1 lunch, and 1 dinner), so I will modify my meal prep accordingly.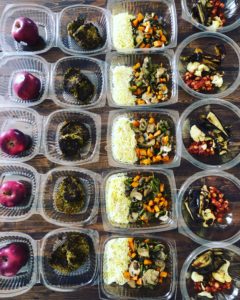 Week 2 Meals 
I had a few social events planned for this coming week, so I did not cook a lot. Planning for 3 meals was much better in terms of food portions. Prepping all the veggies is taking time, but doing it all at once makes the rest of the week so easy.
Meal 1: Apple + banana smoothie
Meal 2: Black bean salad with roasted vine tomatoes, cucumber, carrots, and yellow bell pepper + 1/2 avocado to be added on the day
Meal 3: Sautéed spinach, grilled mushrooms, and baked sweet potato and aubergine plus some red bell pepper for garnish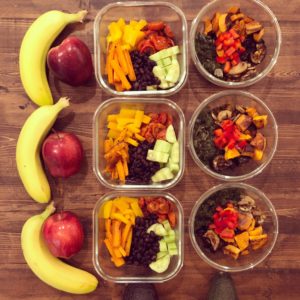 Week 3 Meals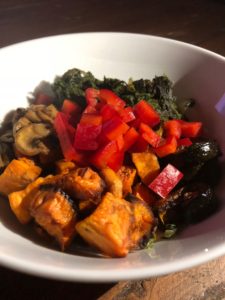 Meal 3 of Week 3 was probably my favorite combination so far. 
I'm currently at Week 4. I've got out of town guests, so there will be quite a few meals out. The only meal I planned this week was lunch. I'm keeping my breakfast super light (maybe some dates or fruit), then this is my post-workout meal, followed by dinner. I feel apprehensive not having things planned, but I'm trying to build confidence and remind myself to take things in stride. This week's lunch was inspired by flavors of the Middle East: aubergine stewed in tomato sauce, vine leaves stuffed with rice, muhammara – which is a chili and walnut mix – plus tabbouleh salad.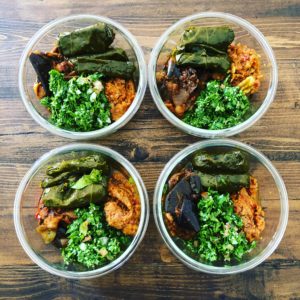 Week 4 Meals 
My overall impression — I have no problem whatsoever continuing to eat like this. I haven't intentionally gone 'off track', but there have been a few instances where my eating hasn't been 100%. Nonetheless, I'm enjoy it all. and I feel like I'm finding my groove. The key really is with meal planning. Now, my meal planning schedule is:
On Saturday I take a look at my routine for the week ahead and plan what I want to eat. I eat the same breakfast, lunch, and dinner each day of the working week.
Depending on my calendar (social dinners out, work lunches, etc.), I figure out how many meals I want to prep.
I make my grocery list according to my menu.
I go to the supermarket early on Sunday morning and shop.
I put on a fun playlist and start prepping my veggies. I usually do a huge sheet tray of roasted vegetables.
Raw veggies don't have to be stored with the complete meal. They can be stored separately with a kitchen towel on top to absorb the moisture.
By Day 5 the food doesn't taste as fresh as Day 1, but it still tastes good so I don't see any problem prepping for 5 days.
Chopping and freezing fruit to be ready for smoothies is a great way to save time.
I spend several hours on Sunday cooking — it's not always easy, but come Monday morning, I know it is definitely worth it!
The biggest decision I have made is that I am planning to do my next round of the Whole Life Challenge at the Vegan Performance level. I'm a bit nervous, but excited as well. To find out more about the challenge and join my team, the Worldwide Warriors, follow this link or click the banner below.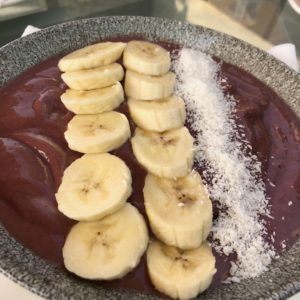 an açai bowl is my weekend treat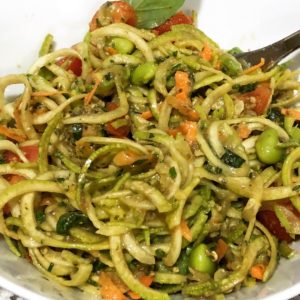 I love that there are more and more vegan options at restaurants, such as this bowl of pesto zoodles.