I was in the process of making a regular cottage pie, but the veggies smelled and tasted so good I thought – why add meat? I don't really know if there really is such a thing as a vegan cottage pie … in any case, this is my version.
Ingredients
1 medium onion, diced
1 1/2 cups mushrooms, sliced
1 1/2 cups string beans, chopped
1 1/2 cups grated carrots
2 medium sweet potatoes, peeled and cut into rounds
1 head of cauliflower, washed and cut into florets
1 teaspoon garlic powder
1/2 teaspoon salt (or to taste)
1 1/2 tablespoons of extra virgin olive oil, divided
1-2 tablespoons of almond milk (optional)
1/2 teaspoon dried oregano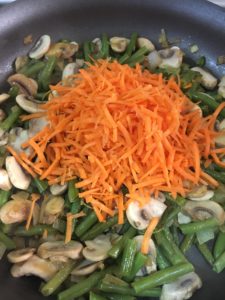 Method
1. Preheat oven to 200 C.
2. Heat a skillet and add 1 tablespoon of extra virgin olive oil. Add the diced onions and lightly brown.
3. Add the mushrooms and string beans and sauté for 5-7 minutes, until soft.
4. Add the grated carrots and continue to sauté for another 5 minutes. Season with salt and garlic powder. (You can other seasonings according to your taste.) Remove from heat once cooked to your liking.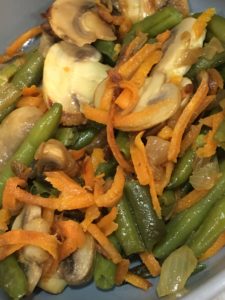 5. Prepare the sweet potato: lightly coat the sliced sweet potato rounds with the remaining EVOO and place on a lined baking tray. Bake for 20 minutes. Flip the rounds and bake for another 15 minutes.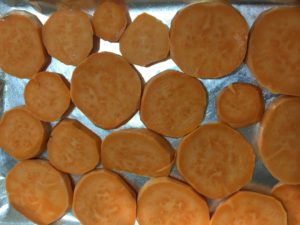 6. Put the cauliflower florets (I left mine rather chunky) in a pot of water and bring to a boil. You can season the water with a touch of salt. Don't let the cauliflower get too soft. Once they've boiled, strain the cauliflower, put the florets in a bowl, and mash. If it's too thick, you can add 1-2 tablespoons of almond milk to help the consistency. I've done the cauliflower mash in a Vitamix, but I found that it became too soft. I prefer to mash the cauliflower using a masher.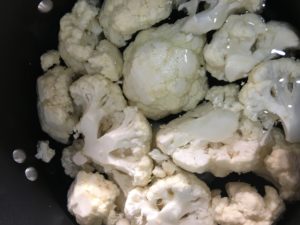 Now to assemble (I made mine in ramekins):
Layer the sweet potatoes on the bottom.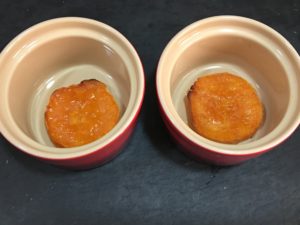 Spoon in the vegetable mixture.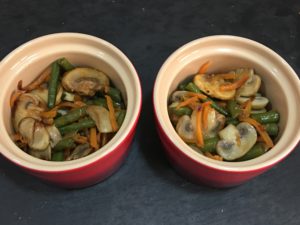 Add another layer of sweet potato rounds on top.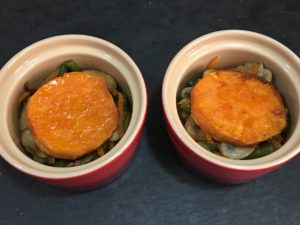 Cover with the cauliflower mash, garnish with oregano, and bake for 35-40 minutes.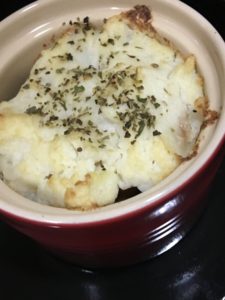 the final product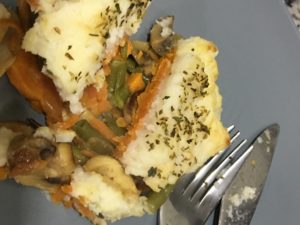 not the prettiest picture — but oh so yummy!