I have been using almond flour a lot in my baking. As much as I love it, I wanted to make something that was a little less dense. I decided to try out these mini loaves with just coconut flour. I have to say, the combination of coconut flour with 6 eggs gave these little loaves a nice light texture. I'm assuming this recipe would work just as well in a proper loaf pan or as muffins. If you try the recipe, let me know how they turn out!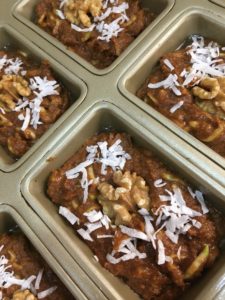 ready to go in the oven
Ingredients
6 eggs
1/4 cup extra virgin coconut oil, melted plus a bit extra to grease the baking dish
1/2 cup date paste
1 teaspoon vanilla extract
1 tablespoon raw cacao powder
1 1/2 teaspoons ground cinnamon
3/4 cups coconut flour
1/2 teaspoon baking soda
1 1/2 cups grated zucchini (courgette) (I peeled the zucchini before grating)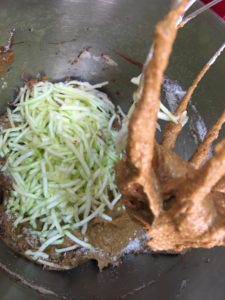 gooey goodness
Method
1. Whisk the eggs well, one at a time until the mixture is light and frothy.
2. Add in the coconut oil and whisk for a minute.
3. Add the date paste and vanilla and continue whisking until thoroughly combined.
4. In a separate bowl, combine the dry ingredients – cacao powder, cinnamon, coconut flour, and baking soda.
5. Add the dry ingredients to the wet mixture. Mix until just combined (don't over mix).
6. Fold in the grated zucchini.
7. Pour out the batter into prepared pans (either mini loaf pans, a whole loaf pan, or muffin pans).
8. Bake in a preheated oven, 200 C, for 15-20 minutes. A whole loaf probably will take a bit longer (25-30 minutes). Check your loaf at the 15 minute mark to see if it is done. I rotated my baking dish halfway through to ensure a more even bake.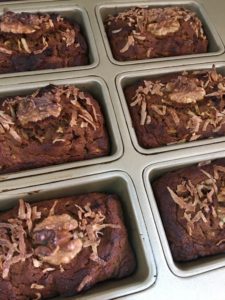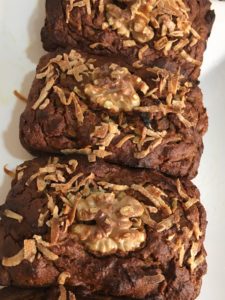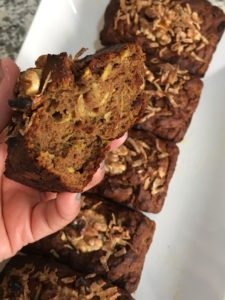 They came out really most and fluffy. At the last minute I garnished the loaves with a bit of shredded coconut and a walnut piece before putting in the oven. Since I'm trying to cut down on how many nuts I eat, I didn't add any walnuts to the batter, but I think it would make a nice addition.