I've moved away from the idea of snacking. After working on maintaining  a 4 1/2 hour gap between my meals, I realized that I could control my cravings and hunger pangs, and that more often than not, my want to eat was a result of boredom instead of real hunger. Restructuring the way I think about meals has helped as well. When I meal plan, instead of writing down a traditional 3 meal, 2-3 snack plan, I write down a plan for 4-6 meals. Yes, that's right meals. These meals are not 600+ calorie meals. Sometimes they're just 200 calories. I've found that when I replace thinking about the way I eat from snack to meal, I am more conscientious about what I'm eating.
I usually eat at 6:00 a.m., 10:30 a.m., 3:00 p.m., and 7:30 p.m. The trickiest meal for me is 3:00 p.m. I'm usually really hungry, but I don't want something too heavy or filling. I also don't want to have to prep yet another full meal at that time of day. I wanted to make sure I had a protein rich food that was both quick to make and eat — and that's when I came up with these salmon bites.
Easy prep; 4 main ingredients; tasty == winning combination!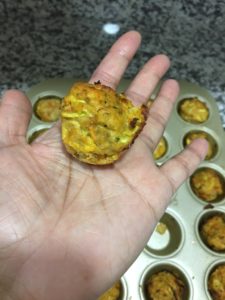 Ingredients:
1 1/2 cups shredded carrots
1 cup shredded zuicchini
500 g. salmon (I used canned as that's all I had on hand)
2 eggs
salt to taste
season with spices to your preference — I used 1 1/2 teaspoons of a cajun spice mix
extra virgin olive oil or coconut oil, just enough to grease your baking dish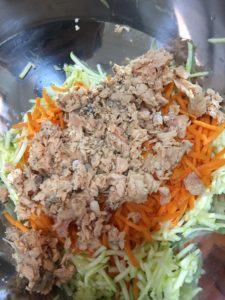 zucchini, carrots, and salmon – just add egg
Method:
1. Whisk the eggs in a small bowl and add your seasonings and spices.
2. Put together all other ingredients in a large mixing bowl. Mix well.
3. Add the eggs and whisk the mixture until just combined.
3. Using a scooper or a teaspoon, portion the mixture into your baking dish. I used a mini muffin pan (24 bites).
4. Bake for 20 minutes at 200 C. [After 10 minutes of baking, I turned the tray for a more even bake.)
They came out so much better than I had expected! I've had them both hot and cold and they work great both ways. It's definitely handy to have on hand for something quick and nutritious. These were particularly handy over the weekend when our traditional meal times vary quite a lot.