I may have gone to bed a bit too early last night, because I was wide awake by 3:30 a.m. and out of bed by 4 a.m. – I just can't linger in bed. I have been sleeping incredibly well, so this early, early start was unexpected. Maybe part of it was that I was trying out a new routine and I was anxious I would miss my 5:15 a.m. alarm and then be late/rushed and throw everything off course? It could also be that I was excited to get in my first workout back at my favorite gym! Who knows.
In any case, it didn't bother me to be up that early. I didn't feel tired, and I always like the dark of the morning before sunrise.
I had quite a bit of work in terms of lesson planning for Monday's class so after doing my morning meditation and breathing that's what I focused on.
On Thursday we learned that I would be able to drive on my old license. I drove for the first time (after 4 years) in Kuwait on Friday – and today was going to be my first solo drive. I dropped D off at work (we're sharing a car at the moment) and then I drove straight to the gym!
It may not seem like a big deal, but driving in Kuwait can be a bit of a challenge. The roads are good, the cars are fast, and the laws are loose – you do the math. Let's just say, it can be a bit frightening on the roads as the driving can be rather reckless. Thankfully the roads weren't bad at all that early in the morning.
Walking into the gym really felt like coming home for me. I had to navigate the new layout – ground floor is basically all resistance/strength training, upstairs there's a small women-only section on one side; on the other side there's a massive studio plus a huge cardio room.
I did my warm-up mobility and warm-up jog in the women's only section.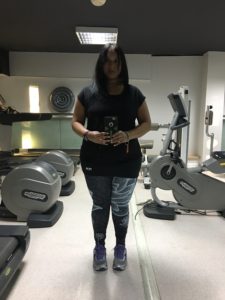 1st gym selfie
I then headed down to the free weight section to begin my workout! I decided to restart the New Rules of Lifting for Women program; it's the plan I followed back in the day when I was just getting started with lifting. The program suited me. I have tweaked the exercises a little based on what I have learned over the years as well as being overall stronger than I was back then (2012/2013).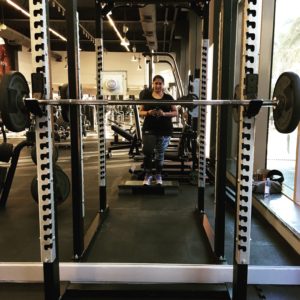 back at the squat bar
I did some core work in the studio upstairs (push ups and prone jackknives).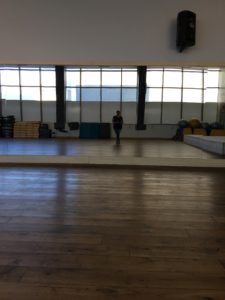 studio time
I then got on the treadmill to continue (again) my C25K program. Instead of starting from Week 1 I decided to go ahead and begin on Week 2. I have to say, the jogging portions felt good. I didn't feel out of breath or achy at all. I was surprised.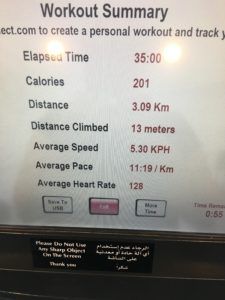 cardio – slow and steady
I then hit the leg extension machine to do my physiotherapy (it's been severely neglected) and then I finished my workout with some cool down stretches back in the women's section (it's attached to the women's locker room so it's a great place to begin and end).
My whole workout took just under 2 hours. I liked not being rushed. It was also great being there so early in the morning as there were only a handful of people there.
The rest of the day was spent working, working, working.
I enjoyed being up and about – and was super pleased to end my day with a 10,000+ step count!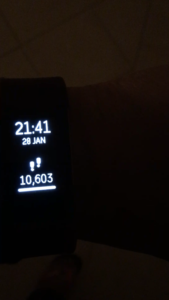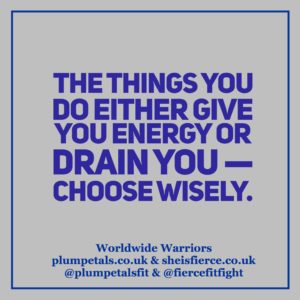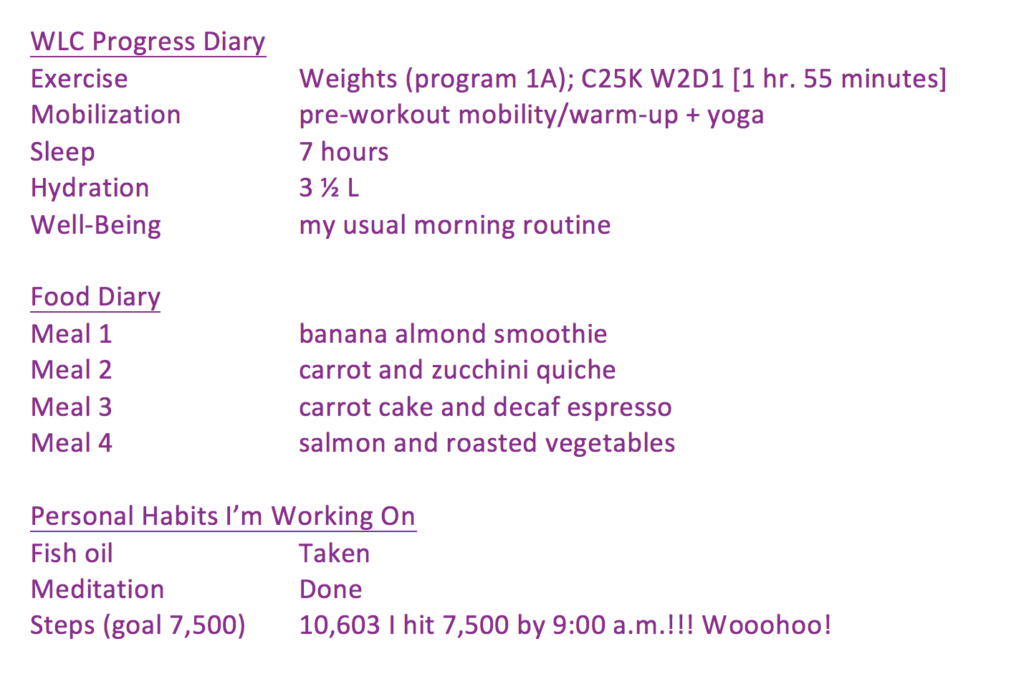 WLC Day 9 Diary