Here we go! The start of Week 2 of the WLC and I'm ready! I had a good night's sleep, but even though I got in 8 hours, I felt like I would need a nap later on. I'm still not feeling 100%. My plan was to just take it easy and listen to my body in terms of what I would do for the rest of the day. I was SO happy that we decided to do our Saturday errands yesterday because I did not want to leave the house at all. I had a busy week ahead of me so I wanted to take advantage of using the weekend to rest as much as possible.
Starting my new job and getting used to the new schedule definitely added to my tiredness. Also, I had created my meal plan for the WLC before I got the job (it literally happened over night) so it needed adjusting.
I did a bit of meal prep today. I made my carrot cake. I'm trying to avoid the habit of having any dessert (compliant or not) while on the WLC. So the cake is mainly for D but it is also something for me to have on hand that is easy to take to work just in case I get hungry. I made quite a few portions so I'm hoping to freeze some as well.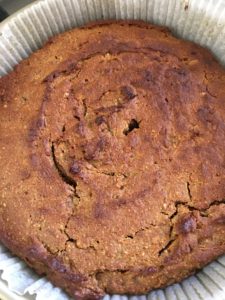 One of the main things I noticed about this past week was that I was feeling quite hungry and I went for long periods (sometimes 6-7 hours) without eating anything. Again, a big part of that was adjusting to my new schedule. I wasn't not eating intentionally. In any case, I didn't like the feeling of being weak or dizzy so I decided to make myself a quiche to have on hand in case of 'emergencies.' This way, instead of having a date or some raw nuts, I would have something more nutritious on hand.
I still had a lot of carrots left as well as some zucchini. I added eggs and some spices and popped it in the oven. Simple! (I'll post a more specific recipe soon).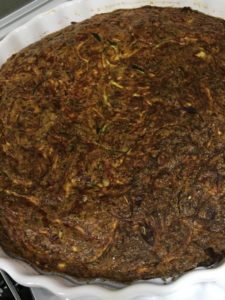 it's a bit over — but I'll see how it tastes tomorrow … 
I was glad to have gotten some food prep out of the way. I'll still have to do some tomorrow, but my meals this week aren't complicated (they never really are).
Aside from cooking, I took it easy for most of the day and felt like I had just enough energy to do some jiu-jitsu. We're training for a specific test (I may have said that before), so our session wasn't long, but it was intense. I followed our training with some foam rolling.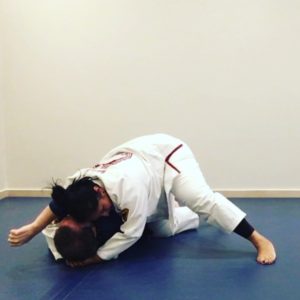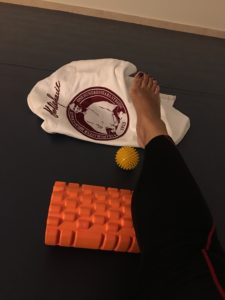 jiu-jitsu … and then foam rolling after training
I'm hoping that tomorrow will be first day at the new gym, which means that I need to sort out a training program. I'm going to ease into it as I figure out how to balance general gym with my jiu-jitsu (it's always been a challenge), plus the feeling of this cold still hasn't gone away so I definitely don't want to overdo it and then fall behind before I've even gotten started.
Dinner tonight – our usual grilled chicken plus a side salad.
Hoping for an early night to help me start off the work week fresh!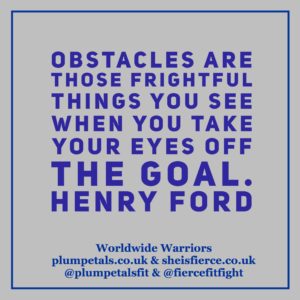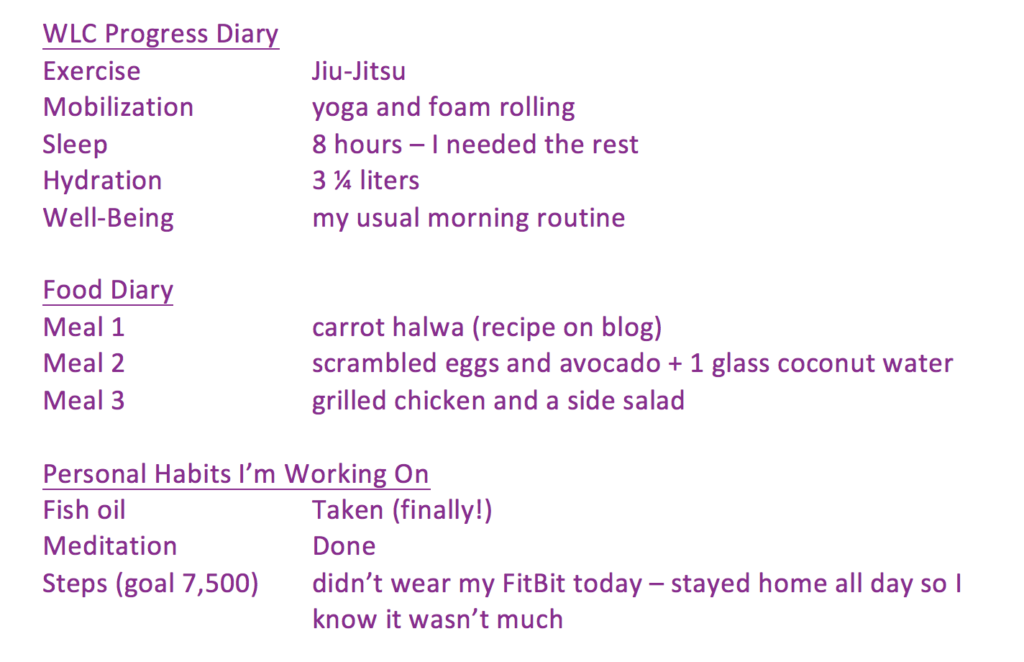 WLC Diary Day 8