I love Fridays. Friday is the first day of our weekend here in Kuwait. D and I had a Friday routine when we used to live in Kuwait before and we've resumed that routine after returning. We go to our same breakfast place – Le Pain Quotidien – where they know us and are always happy to accommodate our requests – from only egg white omelets to what type of oil we'd like to substituting bread for extra salad. My standard breakfast is their scrambled eggs with extra salad instead of bread … this time, however, I skipped the salad and just had half an avocado for some extra healthy fat.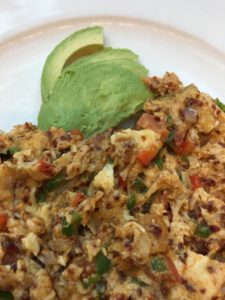 my scrambled eggs with bell pepper + 1/2 avocado
The restaurant is in Kuwait's largest mall, The Avenues. It's convenient for us because we don't live too far away and we can get some shopping done right after breakfast. It's definitely been handy with our move since the mall has quite a few furniture/home good stores. The mall is massive – many people come there to get their exercise in with a brisk mall walk. I'd be curious how long it would take to do an entire loop around the mall – maybe I'll try it out next time. It's easy to spend hours there, but luckily today our shopping was targeted: Vision Express. Muji. Dean and Deluca (my favorite stop). We usually pick up dinner for Saturday night from there as well as our stock of dates for the week. They have some incredible chocolate covered dates – but none for me while I'm on the WLC. Instead I get a few dates stuffed with nuts (while D gets a few of the chocolate coated ones for himself).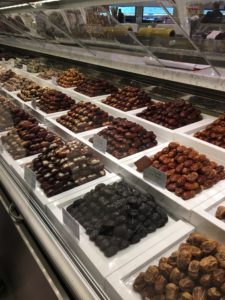 so many dates to choose from
Later towards the afternoon I started to feel a bit ill. I was dizzy and my throat was really sore. It was hurting to swallow and I felt the chills coming on. I did not want to get sick! We were supposed to do some jiu-jitsu, but instead of training we decided to head out and finish our usual Saturday errands so that I could get some extra rest tomorrow if I needed it.
The first stop – heading to my gym to sign up!! When I walked into the gym yesterday I knew immediately that this was where I wanted to be. It felt like home. I was so excited to rejoin – and it was great to see the management/gym team excited to have me back!
Next stop – supermarket. Before heading out I had drawn up a quick meal plan and written up our specific grocery list. I was only shopping to cover meals until Monday so we were hoping the trip would be short and sweet. I had never been to the supermarket on a Friday evening – it was chaos! There were so many people. I am so glad we had a short grocery list. Divide and conquer and we were out of there in 20 minutes. Whew!
By the time I got to the car I was feeling worse – dizzy and drained of energy. All I wanted was to get into my sweatpants and be huddled under a blanket. So that's pretty much what I did.
On Friday nights we usually order our dinner. We get the same simple arugula salad with sliders. During the WLC I just have the burger. This evening, however, I used an indulgence token and ate the bun. I needed the calories and something a bit more substantial. I immediately started to feel better. I knew I had made the right choice. After dinner I had my originally planned indulgence of the week – a lovely slice of a ganache cake. I had been looking forward to it all week. Saying no to everything else and avoiding temptations for this moment was so worth it – love it when that happens!
So, an unplanned indulgence token was used, but luckily I had 2 to spare so it all worked out fine (not that I wouldn't have deducted the point anyway. I needed to eat so I wasn't going to be picky at that point). While I did feel a bit better after eating, I knew it would be an early night for me. I needed the rest.
That's it! Week 1 of the WLC is done. There are a few things I need to work on, but I'm excited moving forward.
WLC Day 7 Diary