I'm not really sure what to call this dish. It's based on a Bangaldeshi dessert my mom makes called gajar halwa (which is basically carrot halwa), however I substituted the milk for coconut milk and cut the process in half (the last half of making halwa involves sugar) and it came out just fine. I mainly made it as a dessert option, but yesterday when I was in a rush in the morning, I grabbed a small pot and had it for breakfast – yum! I think you can play around with some toppings to add a bit of texture – I'd probably go for flaked almonds or even shredded coconut on top. Here's the basic recipe.
Ingredients: 
4 carrots, peeled and grated
1 can coconut milk
1 teaspoon vanilla
1/4 cup date paste
Optional: 1/3 cup of raisins, walnuts, shredded coconut – or anything else you fancy!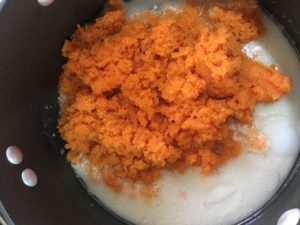 carrots and coconut milk
Directions:
1. Place a medium size pot over low heat and add all the ingredients. Mix well.
2. Allow the mixture to cook until the coconut milk reduces and you get a custard-like texture. Stir frequently during this time to ensure the ingredients don't clump together and the sweetness of the dates spreads. I cooked it for around 15 minutes. By then the coconut milk had completely been absorbed by the carrots.
3. Stir in the optional ingredients (or use as toppings) to your taste.
Enjoy hot or cold!
I think next time I'll add a cinnamon stick to the mix while it's cooking. I haven't tried it yet, but I think it would bring in a nice flavor.