In an unexpected turn of events, I suddenly landed a teaching job at GUST. Although I did want to get back to teaching (both English and jiu-jitsu), I was still adjusting to life back in Kuwait. Still, when I heard about a job opening, I applied and was hired!
As my first day approached, I was excited, but then … as I was lying in bed one night, I thought about the last time I was in a classroom. It was with my brother. We were both teaching English at Kuwait University, and for that semester, he was with me in my class.
I can't write about it any further right now because it's too difficult.
I was lying in bed replaying so many things and as always, the tears started falling.
Then, from behind the sadness came fear. I started to have a panic attack.
What if I'm not ready to be back in a classroom?
What if I have an anxiety attack while teaching?
What if I remember my brother and the tears start falling?
What if I won't be able to cope?
I was so nervous. I was more than nervous. I was afraid.
As I continued to think these thoughts, I suddenly realized, this was going to be the first major thing happening in my life that my brother had no idea about. He knew that D and I were planning on returning to Kuwait. He knew that my best friend had given birth to her second child. He knew everything that was going on in my life … but this … starting to teach again at a new university … this is something he will never know. It hurts so much just to write that. I don't want to keep living a life that he does not know about. I know (I guess) life goes on, but it's just not easy.
————
Preparing for my first class wasn't too difficult. I did feel like I had to dust off the cobwebs from the classroom teaching part of my brain. It was going to be strange having to wear work clothes again and heels! Over the past 3 years I've been teaching jiu-jitsu – barefoot and in a gi! This was definitely going to take some adjustment.
————
On the taxi ride over to work for my first day, all I could think about was my brother. I won't lie, I shed a few tears. I so wanted to share this moment with him. My excitement about starting a new job couldn't really be enjoyed without him. He wasn't around for me to tell him about my first day. He wasn't going to be there to discuss lesson plan ideas or talk about teaching strategies. Having been on the same career path as each other … this was just one more walk that I had to do on my own, without him by my side anymore. It was so, so, so emotionally tough.
————
I definitely had 1st day of school jitters. Alongside my worries and fears, I had the usual questions: what will my students be like? how will they respond to my teaching? will I do a good job?
The good news is, as soon as I started teaching it became completely clear to me — this is exactly where I was meant to be and what I'm meant to be doing. I quickly found my groove and class 1 was a success. I was happy to be back in a classroom. I was happy to be teaching something new and joining a new institution. This was definitely a good thing.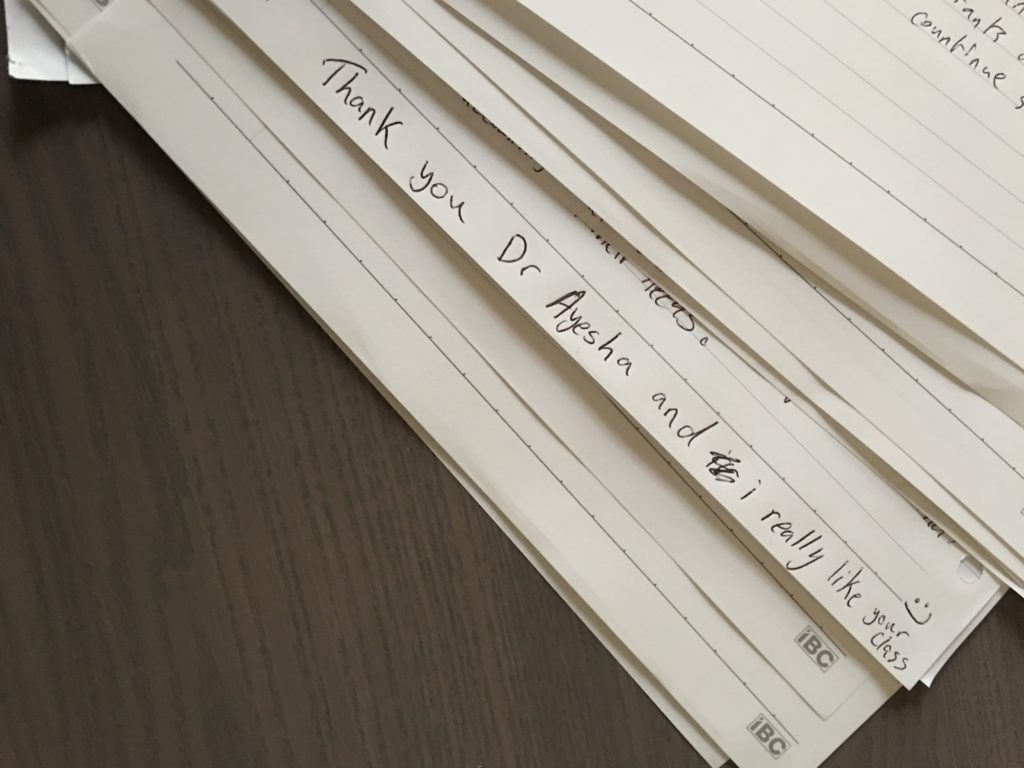 I managed to get through Day 1 without any meltdowns. I did almost have a bit of a panic attack when I looked at my class roster and saw that there were 5 Ahmed's in my class. I don't know if I'll be able to call them by name. There were also 2 boys that reminded me of my brother – something about their posture and mannerisms made me think of him. This was going to be a challenge … Maybe it's time I came out and faced the real world. I have been protecting myself for several months now, but I guess I can't hide away forever (or can I?).
Overall, it was a really good first day … bittersweet, but a good day nonetheless.