Desperate to use up a bunch of carrots that I had in the house I decided to play around with a combination of my banana muffin recipe and my apple cake recipe. Using the limited number of ingredients I had in the house, I came up with this carrot cake.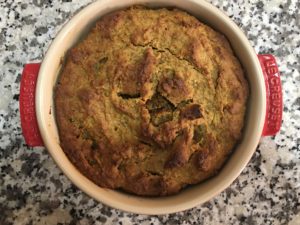 Ingredients:
1 1/2 cups ground almonds
1/4 cup coconut flour
2 teaspoons cinnamon powder
1/2 teaspoon baking soda
1/8 teaspoon salt
2 large eggs, room temperature
1/3 cup refined coconut oil
1/3 cup date paste
1 1/2 teaspoons vanilla
1/2 cup grated carrots
walnuts (optional)
raisins (optional)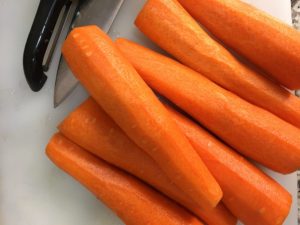 Directions:
1. Preheat the oven to 175 C.
2. Mix together the dry ingredients in a bowl. Set aside.
3. Whisk the eggs for at least 2 minutes. Then add the coconut oil, date paste, and vanilla.
4. Once the wet ingredients are well combined, add in the dry ingredients. Mix until just combined.
5. Fold in the grated carrots. At this point, also add the walnuts and/or raisins if using.
6. Grease or line a baking dish (I used 2 small dishes — this would make 8 muffins). Pour the batter in your baking dish(es) or divide the batter evenly among the muffin tins. Bake for 20 minutes or until done (check with a toothpick).
——————
For the first time ever, I made my own almond flour! It was SO simple. I measured out 1 1/2 cups of almonds (raw, unsalted) and blitzed for 5 seconds in the Vitamix — done!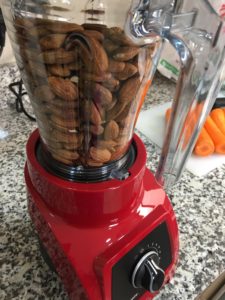 almonds ready to be blitzed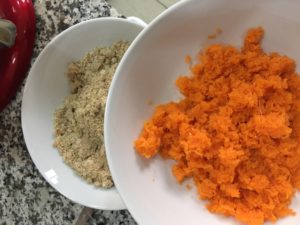 ground almonds and shredded carrots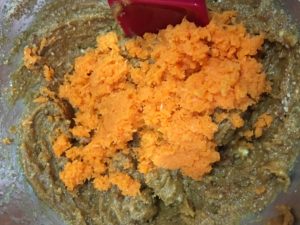 fold in the carrots once the wet and dry ingredients have been mixed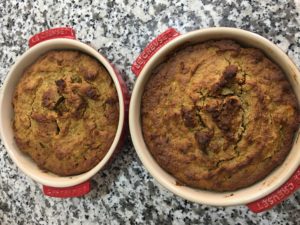 Enjoy!