I woke up early this morning. I knew my first day jitters would get to me. I didn't want to feel rushed and I definitely wanted to feel prepared.
Although I had plenty of time, all I really wanted to do was just sit and watch the clock tick until it was time for me to leave the house. Thankfully I didn't do that. I forced myself to do my entire mobility routine – a routine I set up for myself ages ago – 15 minutes of active mobility, 15 minutes of a set yoga flow. I then took some time to meditate.
It was tough to relax. I kept wanting to get up and go even though I had no place to be at that time. I was just antsy. I was fighting myself all morning. One part of me kept saying – hurry up, you're going to be late, forget everything, just get ready and go. The other part of me was saying – relax, you have plenty of time, do the things you said you were going to do, mobilize, meditate, shower, eat.
In the end, my calmer voice won and I managed to do all those things and still have time to just sit before my taxi arrived to take me to work (I'm not driving yet, and not having control of my transport is adding to my anxiety).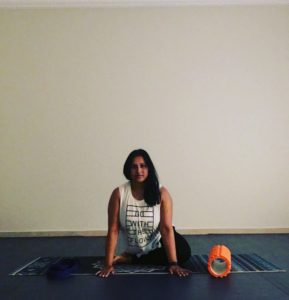 morning mobility done
I had originally planned to make a smoothie for breakfast, but I opted for an omelet with some veggies left over from last night's dinner. It was filling and not too heavy. Since I teach late morning/early afternoon I knew that I wouldn't be able to have lunch at any reasonable/traditional time so it was best for me to have a breakfast that would sustain me. I took some of the carrot cake (will post the recipe tomorrow) that I had baked yesterday just in case I got hungry at some point during the day.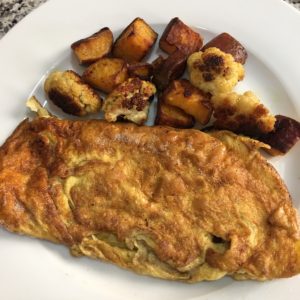 plain omelet with a bit of sweet potato and cauliflower I had cooked last night
My first day of work went great! I got my email address, my ID card, and an office. My students were pleasant. It's been 4 years since I've been in a classroom – it felt good to be back. Within 15 minutes of being there I felt like I was back in my groove. There really is nothing I love more than teaching/coaching.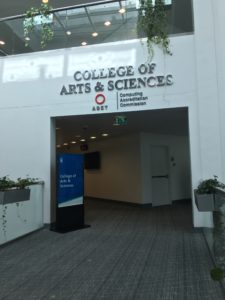 heading to my new office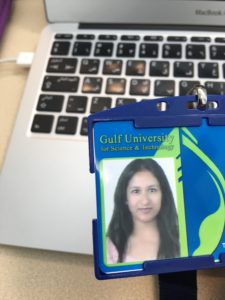 my new work ID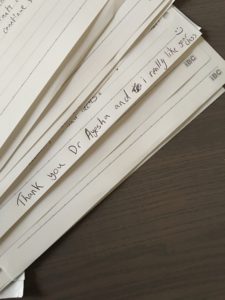 I guess Day 1 went well 🙂 
The rest of the day went by quickly. Despite being tired D and I had promised ourselves to drill a particular jiu-jitsu move, so we got in a bit of mat time. I didn't feel like that was really enough to count as exercise although it was 20 minutes, so I did a short at-home circuit and used resistance bands after a long time! I'm glad I forced myself to do it (seems to be a trend here).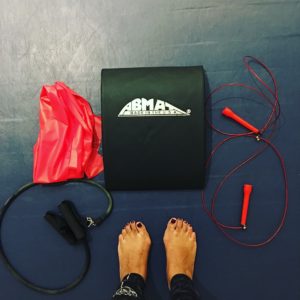 I haven't been using these tools as much as I should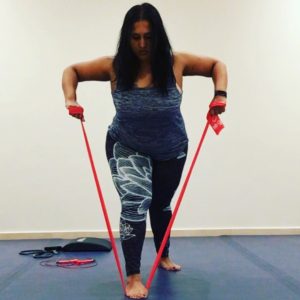 I can feel and notice the impact of not lifting for the past few months. I need to get back to resistance training ASAP! Until I join a gym, resistance bands will have to do.
On Mondays and Wednesdays D usually grabs a salad for us from a local fresh salad bar. Today he did the same though I sent him with a new combination for me. We used to have a southwestern style chicken salad (including corn, kidney beans, cheese, and a few tortilla chips). That definitely did not comply with Performance – so I had to alter my salad ingredients. My salad had arugula, cucumber, tomato, carrots, broccoli, beet, avocado, and grilled chicken. I didn't miss the cheese or other stuff, and I'm relieved that I can still have a compliant salad from outside twice a week.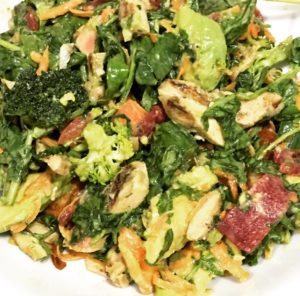 my dinner salad – very filling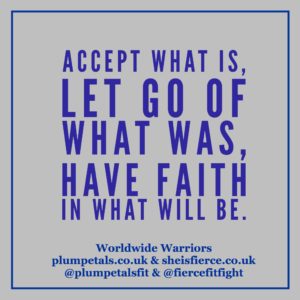 everything that should be happening is happening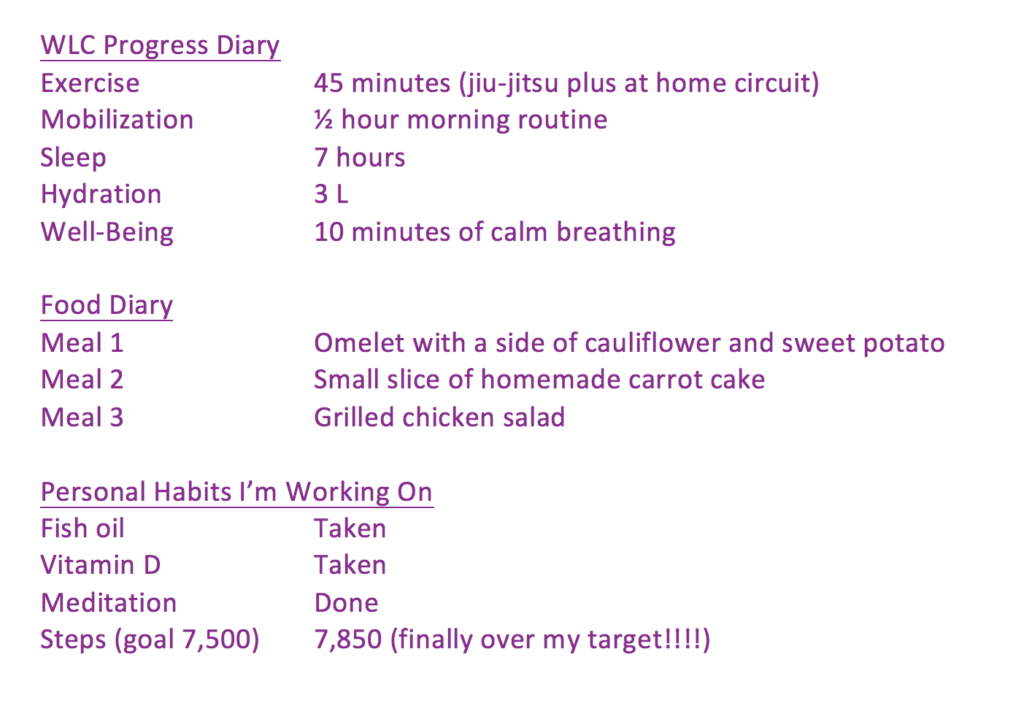 WLC Day 3 diary