It's been just about a month since I moved to Kuwait from London. The last few weeks have been busy settling in, and to be honest, food/cooking/my kitchen have been lowest on my priority list. However, now that I'm much more settled, I know it's time to start stocking those shelves and actually putting food in my fridge!
In a way, I feel lucky that I have a fresh start. The opportunity for things to start piling up in my pantry hasn't happened yet. In fact, the cupboards and fridge are pretty much empty. Not being mobile has limited my exploration of what's available in local supermarkets; however, I have managed to find a great online supermarket that delivers fresh, organic local produce – SCORE!
As I get ready to not just prepare for the WLC, but also set my house up to be a healthy household, I really got to thinking – what can I do to best set myself up for success. The definition of success varies for each person, so if you're doing this, then make sure to figure out what success looks like to you. For me, right now, success looks like habits that can be sustained. When stocking my pantry, I don't want to just stock for how I will eat during the 6 weeks of the WLC. I want to make sure that the weeks off the challenge also contribute to my wellbeing as well as my enjoyment of food, food prep, and eating in general.
Sifting through a well-stocked fridge/pantry can be quite a task, particularly when there are several mouths to feed (each of which has different tastes and desires).
Start with the right mindset. This is not about restricting yourself or denying yourself certain foods. It is about eating in a way that respects your body and helps it work efficiently. Frame your healthy lifestyle habits in a positive way – I am making healthy changes because I LOVE my body. I am eating cleaner foods because I want to have more ENERGY and live a HEALTHY life. I am taking the time to make myself and my life a priority because I am WORTH it. What I eat, how much I move, and the thoughts in my mind are all in my CONTROL so I will shape them with positivity, optimism, and enthusiasm.
You get the picture.
So, let's get to stocking your pantry.
Usually the first thing anyone will say is – get rid of foods you shouldn't be/don't want to be eating. However, I think the first step has to do with reflecting on what you want to achieve and setting intentions on how you will go forward. With that in mind, here are my preparation steps:
Step One. Have a Meeting.
Take some time to sit down and figure out what it is you want to achieve. What are your goals? Why are those goals important to you? What steps do you need to take in order to make those goals a reality? Write your answers down and keep them some place close so that you can see them often so as never to lose sight of the bigger picture.
If there are several members in your household, and not all of them on the same page as you are in terms of making changes to what they eat, then hold a household meeting. Tell them what you want to do/eat and why and ask them to support you. If you are tempted by foods, then tell them. Make some sort of agreement about what foods will be purchased and what foods need to be avoided.  Get a list of foods that they will not compromise on. Remember, what they do does not have to equate what you do. Will it take more effort and prep time? Possibly, but that doesn't mean you can't stick to your plan. If you don't get help or feedback from others in your household – then just do what suits you. They'll find a way to fall in line soon enough!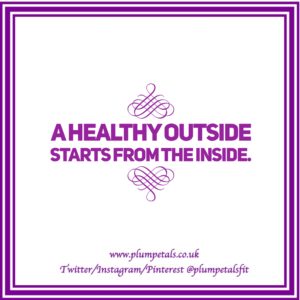 Step Two. Create your list.
Whether it's a menu, a general pantry list, or a recipe and ingredient list, write down what foods you want to stock in your house. Make the list according to what you do/don't want to be eating as you make this change.
Step Three. Eliminate.  
Before you start putting things into your pantry, start eliminating foods that you know you shouldn't have there. [For the Whole Life Challenge, print out your nutrition chart and get rid of foods that aren't on that list.] I know it feels bad to throw away food, but having unhealthy food in your body also feels bad. Throw away whatever you cannot donate to your local foodbank.
Step Four. Consult your list and go shopping.
Now that you've gotten rid of all the foods you have chosen to eliminate from your diet (yes, it is your choice), it's time to start shopping!
Most grocery stores have healthy, fresh, and whole foods around the periphery of the supermarket. So, try to stick to the periphery. Avoid aisles that have foods that tempt you. Buy only what is on your list. [This also helps reduce waste.]
As you pick up your ingredients, if they are packaged, take a minute to glance at the ingredients. When I first started paying attention to food labels, I was so shocked to find out that foods like smoked salmon and canned beans had sugar in them. Seriously? It took some time to find packaged foods that didn't have additives, preservatives, and other ingredients I was trying to avoid. [My first shop when doing the Whole Life Challenge for the first time took just over 2 hours … but my subsequent shops were a lot quicker because I already knew which brands were appropriate for the way I wanted to eat.]
whole life challenge nutrition lists – get yours here
———————
I have two basic grocery lists. List 1: Foods I keep in stock. List 2: Foods I buy on a weekly basis.
This is my basic pantry list: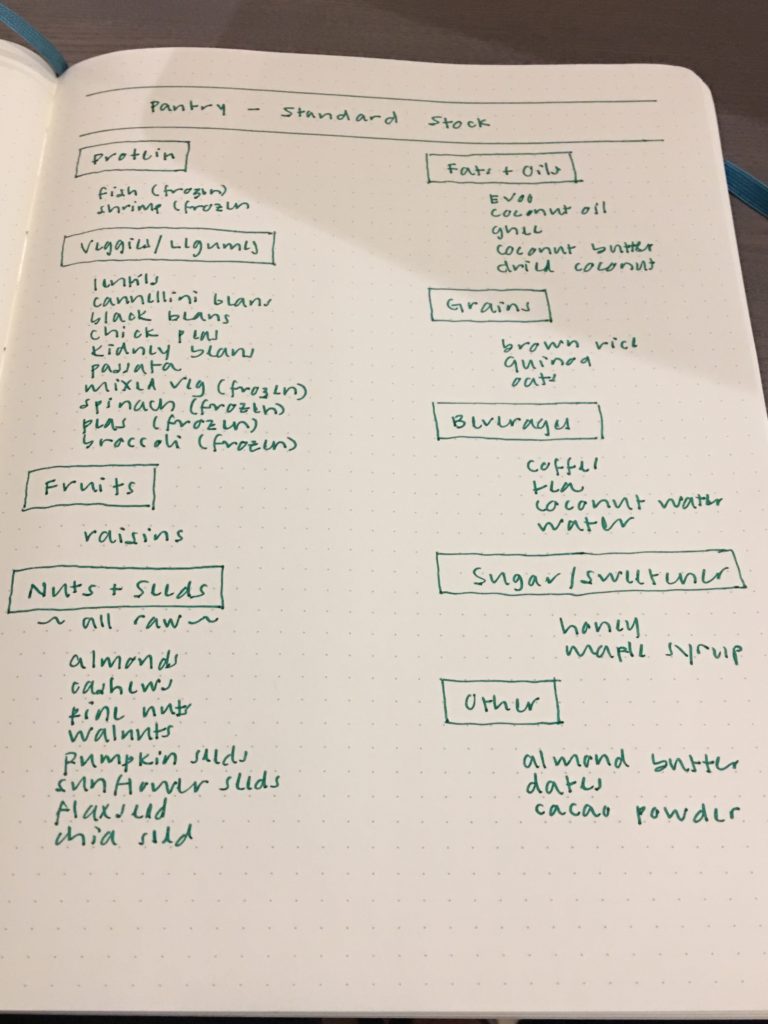 I like to keep some frozen vegetables and fish on hand in case of emergencies.
Examples of foods I buy on a weekly basis:
fresh fish
olives
avocados
bananas
apples
sweet potato
aubergine/eggplant
zucchini/courgette
carrots
cucumbers
mushrooms
string beans
bell peppers
I've been doing the Whole Life Challenge since 2012 and I'd love to share my experience with you and help you make the best of your challenge experience. To join my team the Worldwide Warriors, follow this link.