Creamy, hearty, and tasty — what more could you ask for when it comes to a healthy meal? This cauliflower soup is relative easy to make – the chopping and roasting takes a bit of time, but once that's out of the way, it doesn't take too long at all to put it all together.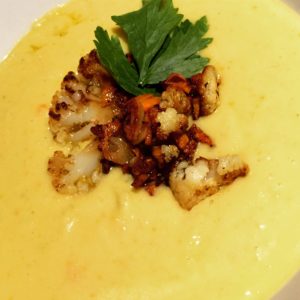 Ingredients:
1 large head cauliflower, chopped into large chunks
3 carrots, peeled and chopped into large chunks (save 3-4 chunks to the side)
1 large onion, chopped
4 cloves garlic, peeled (save 1 garlic clove to the side)
1 1/2 tablespoons extra virgin olive oil
2 cups of water
1 teaspoon cumin powder
1 teaspoon dried parsley
1 teaspoon turmeric powder
1 teaspoon salt
1 cup of coconut milk
Directions:
Preheat the oven to 200°C.
Place the chopped cauliflower, carrots, onion, and garlic in a large bowl and coat with the extra virgin olive oil.
Turn the vegetables onto a baking sheet and bake for 30 minutes.
Once the vegetables are tender, remove them from the oven and put them in a large soup pot. Add the 2 cups of water and spices (alternatively you can use a cube of vegetable stock to replace the spices).
Bring the mixture to boil and then allow it to simmer for 5-10 minutes – until the vegetables are soft.
(Optional) As the soup is boiling, finely chop the chunks of carrot and garlic clove that you kept aside. Sauté them in 1 teaspoon of EVOO until they're crispy – you can use this to garnish your soup.
Stir in the coconut milk. Mix well.
Blend the soup. You can do this either by using an immersion blender after removing the soup pot from heat or you can allow the soup to cool and then blend the soup in small batches.
Once the ingredients have been pureed, taste and adjust the seasoning accordingly. If it's too thick, you can add more water and stir again.
Garnish with the crisped carrot and garlic.