I've been doing the Whole Life Challenge since 2012. For the first few challenges I used to always feel a bit disgruntled – why are they starting it on a Saturday?! Why can't it start on Monday — Monday is good. It's the start of a new week; I have a set routine … I can do Monday. Despite my silent temper tantrum, nothing changed and as challenge after challenge went by, I got used to the idea of starting on a Saturday. Even though Saturdays are my 'lax' days when I refuse to step foot in the kitchen, I've come to incorporate the challenge parameters into my weekends. Plus, it always feels great to know that you were able to survive Day 1 of the challenge even though it did fall on a weekend day.
Given that we don't start the challenge until next weekend (update: April 14, 2018 – there's still time to register and you can do so here) I thought, what if the challenge started this Monday – how would my weekend change to help me get prepared? It is with that in mind that I'm writing this post.
Here's Phase 1 of my preparation:
Materials needed:
a notebook and pen
determination
Saturday:
Write down my goals/vision/promises to self for this round of the Whole Life Challenge.
Choose which nutrition level I want to play at and print out the nutrition chart. Carry it with me over the next few days as I grocery shop/eat out.
Clear out my pantry and fridge of any non-compliant foods [donate what can be donated and throw out the rest].
Figure out my general routine/schedule.
Get my family and friends on board. [You can read this post of mine that has some suggestions on how to cope with socializing while on the WLC.]
Big goal: Figure out what lunch I want to have for the work week.
Sunday:
Set up my meal plan and buy groceries accordingly.
Calculate the minimum amount of water I need to drink and sleep I need to get according to the Whole Life Challenge.
Big goal: Prepare my lunch for the work week.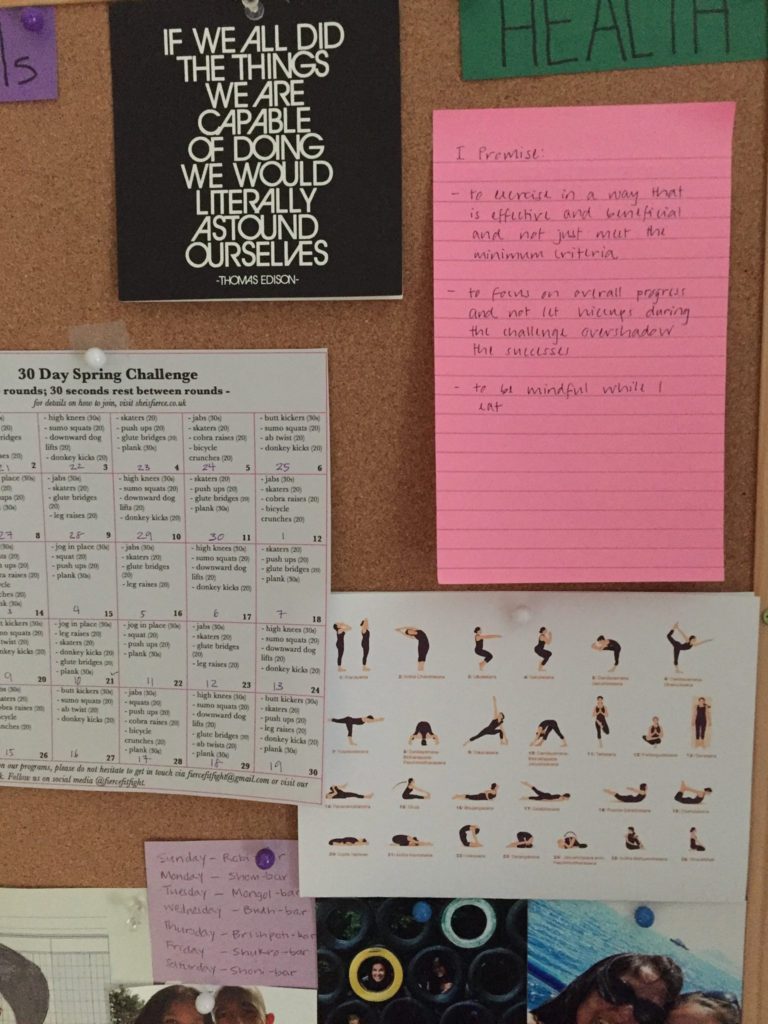 I wrote down my promises to myself on the bulletin board I have in front of my desk.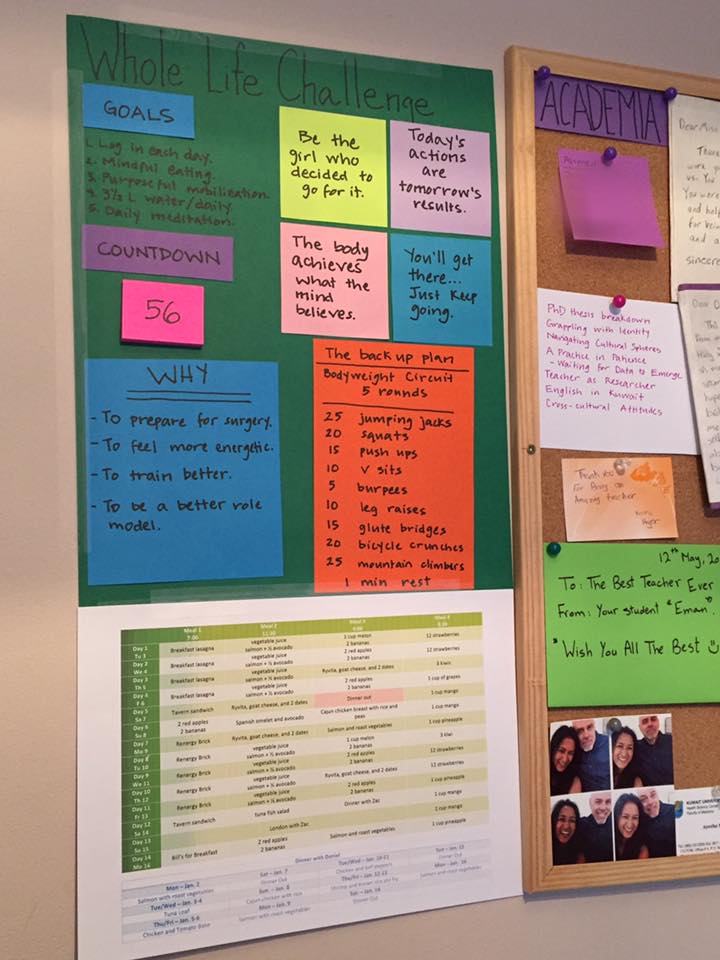 last challenge I made this vision board with my goals and other motivating notes
Monday: Even though the challenge hasn't begun – I start my routine:
Wake up 10 minutes earlier to start my day. Note how much sleep I got (I also write down my quality of sleep.) Get in my mobility. Start drinking my water (and keep track).
Start eating according to the nutrition level that I had chosen – and write it down. For any non-compliant food/drink, I underline it.
Get in my workout.
At the end of the day, reread what I've written in my notebook and write a sentence or two of what could be done better. [You can even give yourself a WLC score for the day.]
Tuesday:
Wake up at my new start time. Note my sleep; do my mobility; start drinking my water.
Again, eat according to my nutrition level and note down any foods that would not have been compliant.
Get in my workout.
Again, at the end of the day, reflect on how my day went and make notes on how I could have made my day more WLC-compliant.
Big goal: Start thinking of substitutes for those non-compliant foods.
Wednesday:
Same as general habits as above.
Big goal: Set aside 20 minutes to either go to the grocery store and investigate compliant foods (from spices to sauces to prepared meals) OR investigate local restaurants and their menus to see what would be compliant or could be modified to be compliant while on the WLC. [You can read this post of mine about planning restaurants.]
Thursday: It's almost go time!
Same general habits as above.
Create my meal plan for Week 1 and start a grocery list.
Big goal: Figure out and write down what I'm going to eat over the first weekend.
Big goal #2: Go back and look at my notes through the week and figure out what my compliant substitutes/exchanges would be for parts that I underlined in my reflections.
Friday:
Same general habits as above.
Make sure my fridge and pantry are stocked with compliant options.
Put up your meal plan some place where you can see it and refer to it whenever needed.
Complete your Whole Life Challenge profile and pre-game assessments.
Take 'before' photos and your measurements.
Figure out what your baseline workout will be and when you will be doing it.
Make sure you've signed up with the Worldwide Warriors for guidance, support, and encouragement throughout the Whole Life Challenge! 🙂 [You can join us via this link: http://www.whole.lc/wlc1709/pt/warriors]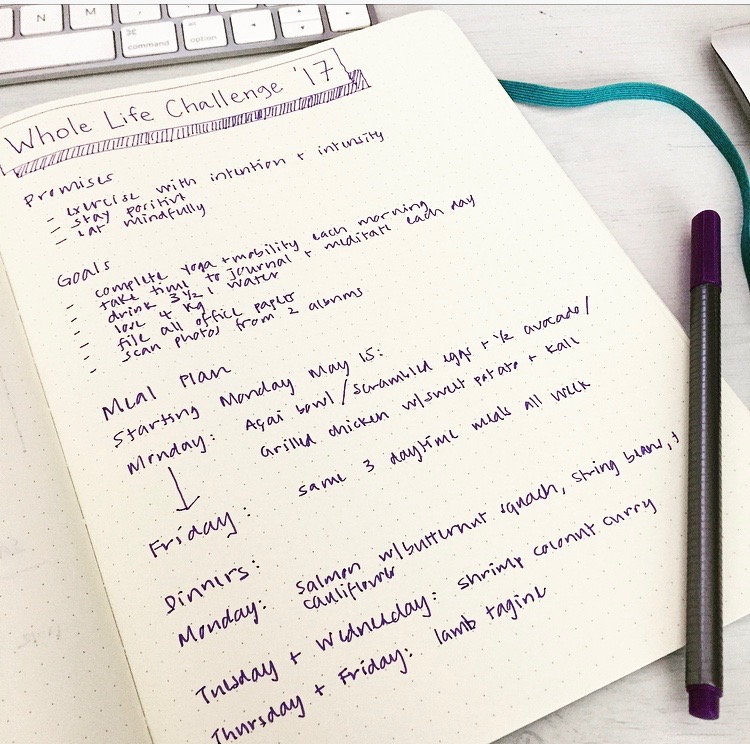 Links to recipes for the meals I've listed in my meal plan are:
Daytime meals:
Meal 1: Açai bowl {though this has been modified as I only use 1 banana and 1/3 cup of red grapes}
Meal 2: scrambled eggs (2 whole + 1 white) and 1/2 an avocado {no recipe here}
Meal 3: grilled chicken (3-5 oz.), baked sweet potato, and kale {no recipe, but here's a photo}:
Evening meals:
Monday: Salmon with butternut squash, string beans, and cauliflower
Tuesday & Wednesday: Shrimp coconut curry
Thursday & Friday: Lamb tagine
Still need a team? Look no further! The Worldwide Warriors would love to have you! To join our team, follow this link: http://www.whole.lc/wlc1804/pt/warriors

Join the Worldwide Warriors – Together We're Stronger