I've recently been on a Mediterranean food kick and this dish of baked fish with a side of tahini sauce (plus a side of a grilled aubergine salad) was a big hit!
Ingredients:
1 whole fish (around 1 kg), scaled and cleaned
3 garlic cloves, minced
3 teaspoons harissa spice
3 tablespoons tomato paste
4 tablespoons of extra virgin olive oil, divided
4 plum tomatoes, sliced
1 onion, medium, thinly sliced
1 lemon, thinly sliced
a few sprigs of fresh thyme and rosemary
sea salt and black pepper to taste
For the Tahini Sauce
1/3 cup pure tahini paste
1 lemon, juiced
1 garlic clove, minced
2 tablespoons chopped parsley
1/2 cup water
dash of sea salt
Instructions:
Preheat the oven to 200°C.
Wash and pat dry the fish. Then make 2 diagonal slashes on each side of the fish with a sharp knife.
In a small bowl, whisk together the minced garlic cloves, harissa spice, tomato paste, and 2 tablespoons of the olive oil.
Divide the harissa paste and spread it inside the cavity of the fish and on both sides. Set the fish aside.
In a separate bowl, mix together the thinly sliced onions and tomatoes with 1 tablespoon of olive oil. Season lightly with salt and pepper. Once the onions and tomatoes have been coated well, layer them in a baking dish. Bake in the oven for 20 minutes.
After 20 minutes, take the dish out of the oven and add the sliced lemon. Lay the marinated fish on top of the vegetables along with the sprigs of thyme and rosemary. Drizzle with 1 tablespoon of olive oil. Bake uncovered for 25 minutes.
While the fish is baking, make the tahini sauce. Mix together the tahini, lemon juice, garlic clove, and parsley in a small saucepan. Stir in the water and sea salt. Cook gently until smooth and heated through. Serve in a separate dish alongside the fish.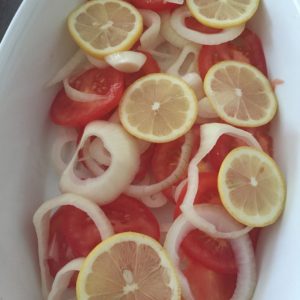 first layer the onions and tomatoes and bake — then add the sliced lemon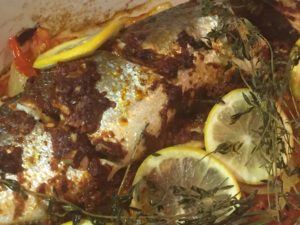 the fish comes out flaky, moist, and flavorful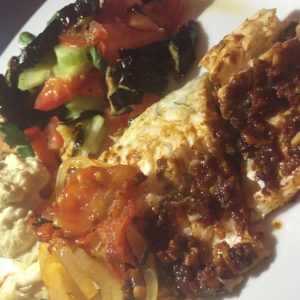 serve with the tahini sauce and a salad of your choice