I went to the gym today!! Ever since last week I've been challenging myself to move just a bit more each day. From focused breathing exercises to daily mobility practice to walking more each day, my main goal was to just do a little bit more than the day before. It all led to me feeling pretty good this morning and deciding to go to the gym.
I knew that once I got there I would have to take it easy. Actually, it didn't take long for me to realize that I still had a ways to go in terms of recovery. I warmed up a bit and then got on the treadmill. I found that going faster than 4.5 was tiring/a bit uncomfortable. I'm all for pushing comfort zone boundaries, but I didn't want to do it so soon after surgery! In any case, my goal for the day was to walk for 30 minutes. Seeing as it was a bit more difficult that I anticipated, I walked for 15 minutes and then decided to do some resistance training using the weight machines.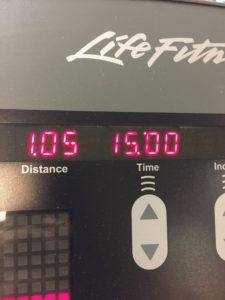 can't believe it took me 15 minutes to walk 1 km!! oh well – gotta start somewhere!
Given that I hadn't worked out in a while, starting off with the machines was good for me. It was controlled and safe – just what I needed to start to nudge my muscles in an attempt to revive them! I kept it relatively light – again, not willing to take any unnecessary risks.
After about 30 minutes on the machines, I got back on the treadmill and walked for another 15 minutes. Still slow and steady, but just a touch faster than my first round.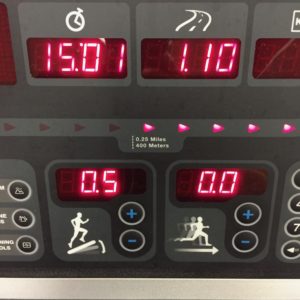 ok – just a touch further on my 2nd go – already improving! awesome!
My only goal at the moment is to try to do a bit better than my last attempt. Holding back is challenging though as is pushing out thoughts that are focusing on how much strength and endurance I've lost. The fact that I'm in the gym 2 weeks post-op is great – I need to remember that. After all, just last Friday I was celebrating having walked 4,000 steps and today I got just over 9,000! Progress is progress!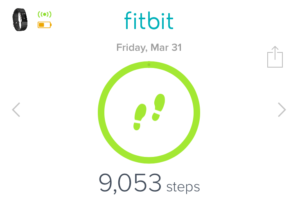 continuing to step forward
On top of everything, I also went back to jiu-jitsu today!! It was so good to be back. Of course I'm not on the mats yet, but just being there with my teammates and taking notes as I watched the lesson was great.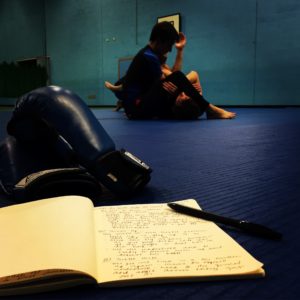 back at jiu-jitsu — watching from the sidelines
Now it's all about consistent effort, keeping it clean in the kitchen, and staying positive.