Before undergoing the UFE procedure, I was told that although it may seem like a minor surgery externally (it involves a small incision), it is a major surgery internally. Keeping that in mind, I have been very cautious with my movements.
I didn't move much at all for the first few days post-op. However, by Day 4, I wanted to try to move around a bit more. My goal for that day was to walk 750 steps. It seems incredible to me that such a low number was my goal for the day, but then I have to remind myself that this is not a normal day and I am not in a normal condition. I was thrilled to increase my steps each day, ending the work week at 4,000 steps.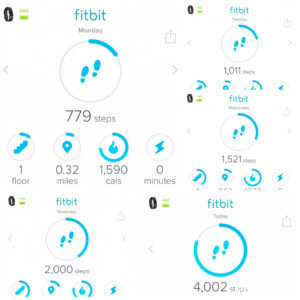 baby steps 779 steps on Monday – 4,002 steps on Friday
Overall, I'm starting to feel better. I feel tired quite quickly and I have waves of pain which are quite unnerving. I am most comfortable standing – though that is most exhausting – or lying down. I am least comfortable sitting, which has been frustrating. Still, I'm happy with how the recovery has been going so far.
I knew that I would be tempted to get back to the gym ASAP, but I've promised myself to wait until at least April 1st before heading back. I'll reevaluate on the first.
In the meantime, I've been doing a lot of deep breathing exercises. I've also started to do some very, very mild stretching which has helped with the stiffness from being so sedentary. Overall, I'm just working on being patient and disciplined. Time heals all wounds, right?