After a nerve-wracking morning of pre-op procedures and of course, all the waiting, I'm happy to report that Thursday's uterine fibroid embolization procedure was a success. I was in hospital over night and was discharged early Friday evening. It was good to be home. I was warned about the post-op pain, but I have to admit I didn't think it would be as bad as it is. The worst part is that the pain comes in sharp waves versus a constant achiness. So, just when I think I am getting comfortable, another surge of pain strikes.
While the surgery went smoothly, the true sign of its success actually won't be be evident for another 3-6 months. The tumors are quite large so it will take time for them to shrink and shred — which is a painful process in itself. I'm just going to have to keep being patient and optimistic.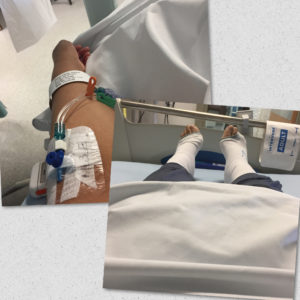 not much of an exciting view from where I lay
My post-op instructions were 3 days of bed rest followed by 7-10 days of mild activity, trying to restrict it to only what is absolutely necessary. After that, I will just have to be sensible and resume activities with caution. In all honesty, I thought I would feel more restless. However, I do feel quite fatigued and worn out. I'm glad the first phase of recovery – bed rest – is over. This morning I woke up feeling a bit hungry – which was a good sign as I haven't had much of an appetite at all. Eating a little something gave me a bit more energy. Movement is still not that comfortable. I'm actually most comfortable standing, but that's also the position that tires me the most. I put on my FitBit this morning just to have a general idea of how much I can pace around the house. I'd like to hit 750 steps — can you imagine setting such a low step goal?! However, I think that's a sensible goal for now. I'll see how I feel at the end of the day. I've been walking around the house very slowly. Again, I'm getting tired quickly, so I don't want to wear myself out and then set myself back before I've even gotten started.
I've felt some improvement each day, so that's a good thing. I haven't been on social media or general messaging/email much over the past 3 days as my mind has felt a bit fuzzy, but today was definitely better. I finally got a chance to reply to messages/emails and it has been nice communicating with friends as being stuck in bed while recovering has been a bit of a drag. Today I've managed to do a bit of reading. Netflix has also been great in terms of keeping me company! Today I also logged on to Gracie University for the first time in 5 days, so that was a nice touch of normalcy to my day too. Even sitting down to blog feels good – though I think I've just about hit my limit it terms of sitting time! I'm just taking it an hour at a time for now. Let's see how this second phase goes!