In an attempt to try something different for lunch, I made these turkey stuffed bell peppers. With four main ingredients – ground turkey breast, sweet potato, passata, and bell peppers – they were quite filling and tasty.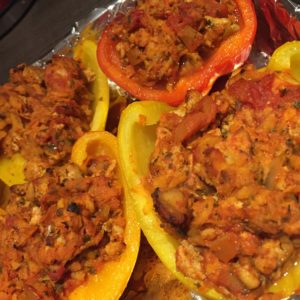 Ingredients
1 lb. ground turkey breast
1 medium sweet potato, grated
1 1/2 cups passata
3 bell peppers, halved and de-veined, de-seeded
1 tablespoon dried oregano
1 teaspoon garlic powder
1 teaspoon cumin powder
1 teaspoon coriander powder
sea salt to taste
2 teaspoons extra virgin olive oil
2 tablespoons of pine nuts, divided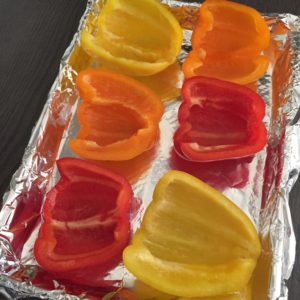 Directions
Preheat the oven to 230°C.
Heat a skillet and add the extra virgin olive oil.
Add the ground turkey and lightly sauté for 3-5 minutes, until just colored.
Add the grated sweet potato and spices and mix well.
Add the passata and cook for another 5 minutes.
Wash and halve the bell peppers. De-seed and de-vein the peppers.
Place the bell pepper halves on a lightly greased baking sheet.
Evenly spoon the turkey mixture into the bell peppers.
Top each stuffed bell pepper with a sprinkling of pine nuts.
Bake the stuffed bell peppers for 30 minutes.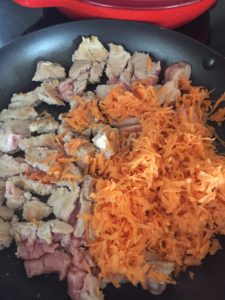 sauté the ground turkey with the shredded sweet potato and spices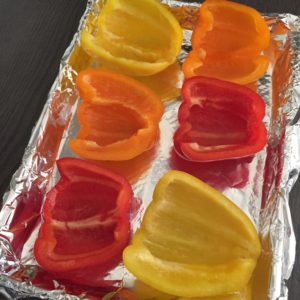 clean out the halved bell peppers and place on a lightly greased baking sheet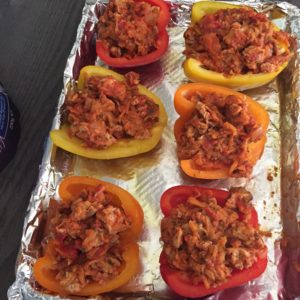 spoon in the turkey mixture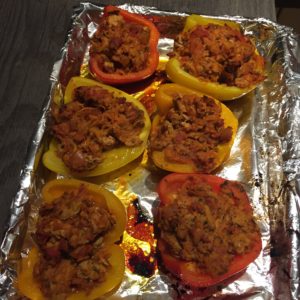 bake for 25 minutes and enjoy!