Another round of the Whole Life Challenge starts soon in less than 3 weeks and I couldn't be more excited! I have a lot of goals for this upcoming year and having a round of the WLC starting on January 21st is a great way to kick it off! I've written more about my goals and what I want out of this round of the WLC in this post. I've even posted a 'vision board' up on my wall to help me keep focused and remind me why doing this challenge is important. One of the components on the board that I'll be changing regularly is the menu sheet at the bottom of the chart. Eating on the WLC is the part that takes the most time and effort, and that's what this post is about.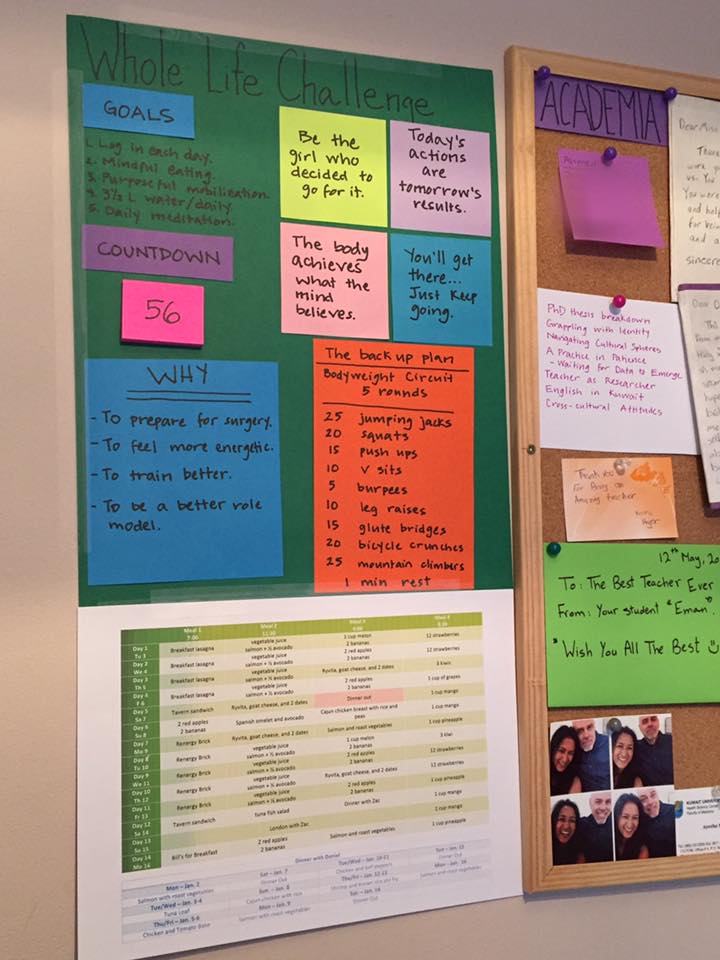 my vision board for the WLC
People are often intrigued about the WLC, but when they hear what they can't eat, they start to panic — if I can't eat that, then what will I eat? The answer is simple — everything else! [Read more about having the right can vs can't attitude here.] [Plus, join the Worldwide Warriors – an official WLC team, run by me 🙂 WLC ambassador.]
There are 3 main levels of the WLC and the restrictions vary depending on what level you're playing at. Performance is the 'strictest' level, while Lifestyle is 'intermediate', and Kickstart is most lenient in terms of what is/isn't allowed. You can read more about the different levels here. However, the basics for all levels — no grains, no dairy, no cheese, no pasta, and no sugary/floury desserts.
As with any change, an adjustment period is needed. If your usual breakfast consists of scrambled eggs and toast, then you'll need to omit the toast. If Tuesday nights are pasta nights at your house, then you'll need to omit or find a substitute for pasta. So as I said, it takes a bit of planning and preparation in order to adjust to the new routine. Trust me, once you do if for a couple of weeks, the conscious effort will soon become a habit and things will start to fall in place. It's amazing, actually. When you realize you are no longer reliant on foods – you don't have to have toast, cheese, or chocolate, you really do start to feel empowered! [You can read more about that here.]
So, to give you an idea of everything you CAN eat while on the Whole Life Challenge, here's a one week meal plan for you. I've linked the foods to recipes wherever possible. [Note: For the last couple of challenges I have been playing on the Kickstart level though mostly playing on the Performance level. I chose Kickstart so that on days that are out of my control I don't feel stressed about food. The addition of some dairy and grains makes it easier for me. I would advise you to set yourself up for success – playing on Kickstart doesn't mean that you aren't taking this seriously or aren't trying your best … it just means that that's the level that's most realistic for you given your circumstances.]
For simplicity and convenience, I keep most of my foods the same during the week. I also make double (triple) portions of some meals depending on my schedule. For example, on Tuesday, Wednesday, and Friday evenings I have jiu-jitsu practice from 8-10 pm and usually don't get home until almost 11 pm – so I keep my eating light. Also, I've labeled the columns 'Meal #' instead of 'breakfast', 'lunch' etc. because I think moving away from 'traditional' concepts of those meals helped me realize how many food options I had. I discovered this during my 2nd round of the WLC when I found myself eating grilled chicken and sweet potato for breakfast – it was delicious 🙂 [Update: I've been eating vegan for the past 6 months now, so I've added my week's menu. ]
Meal Plan (D: omnivore performance)
Weekday breakfasts (same all week)
3 egg muffins + 1/2 avocado each morning 
Weekday lunch (same all week)
chicken and roast tomato salad 
Weekday snack (if wanted)
apple + 1 tablespoon of almond butter
Dinners
Monday: salmon & vegetables
Tuesday & Wednesday: chicken with bell peppers
Thursday & Friday: shrimp coconut curry
Saturday: eat out
Sunday: fish and vegetables
Meal Plan (A: vegan performance)
Meal 1 = smoothie (e.g. blueberry coconut smoothie or açai smoothie)
Meal 2 = 2 dates, 1 tablespoon of almond butter, 1 cup of tea
Meal 3:
Monday, Tuesday, Wednesday = sweet potato soup
Thursday & Friday = grilled portobello caps
Saturday: eat out
Sunday: lettuce tacos
For more support with your food/meal planning, join my Worldwide Warriors team.