I enjoy breakfast, and I'll eat pretty much anything for breakfast — as long as it's quick and flavorful. I've come to realize my main crankiness with breakfast is that I don't like having to start my day off with thinking about what I'm going to eat. It feels like I've barely gotten out of bed and I've already to go to start fretting about my day. So my first task over my Christmas break was to figure out something that won't have me starting my day off with fretting. This breakfast lasagna did the trick. A combination of veggies and protein made it a very satisfying breakfast dish (though I have had it for lunch, dinner, and a snack as well). It did take a bit of time to make – prepping vegetables always takes time, but I made a big 'lasagna' that easily lasted for 6 days. I even froze two portions to see how well it defrosted and reheated — and it worked out just fine!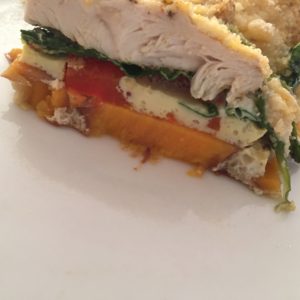 Ingredients
3 medium sweet potatoes, peeled and sliced lengthways
3 red bell peppers, thinly sliced
4 cups spinach
3 chicken breasts, thinly sliced
8 eggs
1/3 cup almond milk
1 1/2 teaspoons salt
2 teaspoons garlic powder
2 teaspoons sweet paprika powder
1 teaspoon cumin
1/4 teaspoon dried oregano
1/4 teaspoon dried thyme
1 tablespoon extra virgin olive oil
1/4 cup ground almonds.
Directions
Preheat the oven to 190°C.
Line a deep baking dish with parchment paper.
Lightly coat the sweet potato slices with extra virgin olive oil and place in the bottom of the dish.
Then layer the red bell peppers.
Add the spinach leaves.
In a separate bowl, mix together the dried spices, except for the salt. Coat the chicken slices with the spices and then layer on top of the spinach.
Whisk the eggs. Add the salt and almond milk. Pour the egg mixture over the layered casserole. Allow to sit for a few minutes so that the mix seeps through the lasagna.
Sprinkle the ground almonds on top.
Bake for 40 minutes. Allow to sit for 5-10 minutes before slicing.
Enjoy!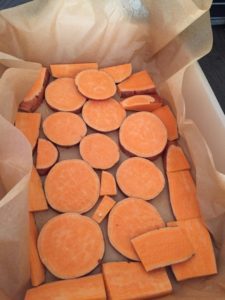 I had a mixture of shapes with my sweet potato slices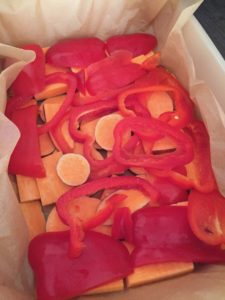 I then layered the bell peppers over the sweet potato slices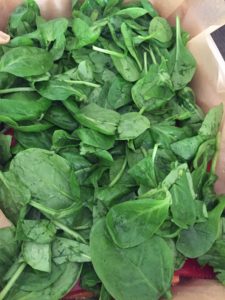 next came the fresh spinach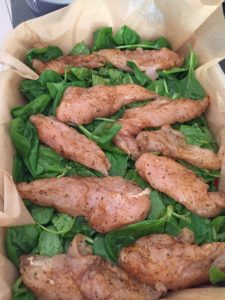 then the spiced chicken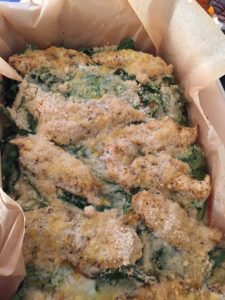 after coating with ground almonds and baking – the lasagna is ready!