With all these ingredients almost always in my pantry, this recipe is definitely one that I'll make again. It's warm and comforting — and, if you do the Whole Life Challenge, it's compliant on all levels! It's paleo friendly too! This can be baked in a loaf pan as well.
Ingredients:
2 cups ground almonds
1 teaspoon baking powder
1/2 teaspoon cinnamon powder
pinch of nutmeg
2 eggs
3 bananas, mashed
3/4 cup butter, softened
1 teaspoon vanilla
1/4 cup date paste
1/2 cup walnut pieces (optional)
1/4 cup raisins (optional)
1/4 cup cacao nibs (optional)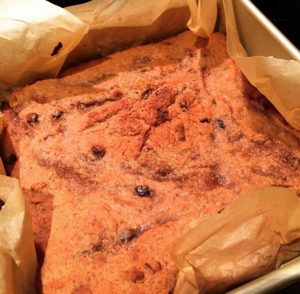 Instructions
Preheat the oven to 180°C.
Line a baking dish (or loaf pan) with baking parchment.
Mix the dry ingredients together in a bowl – ground almonds, baking powder, cinnamon, and nutmeg.
In a mixer, whisk the eggs thoroughly. Then add in the banana, butter, vanilla, and date paste. Mix well.
Add the dry ingredients to the batter and mix until just combined – don't overmix.
If using, add the walnuts, raisins, and cacao nibs.
Turn the batter into the prepared pan and bake for 40 minutes.