The past two weeks have been tough ones for me. I had quite a few challenges to face and my schedule started to get out of hand … plus the end of the year (holiday season) always seems to busier than the rest of the year. In any case, a few days away and a reunion with an old friend has helped me come back with a new perspective and enthusiasm.
I am getting better at balancing taking a pause from my routine and then getting back into it. In fact, I have seen quite a few benefits from being able to step away. For example, after almost 2 weeks of being away from jiu-jitsu class (mainly due to scheduling conflicts), I hit the mats today. The technical portion was good, but what I was most pleased about was my sparring. I felt good on the mats and rather than feel rusty because of the time away, I felt confident … and I left confident, which is always a good thing.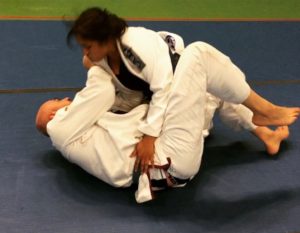 I think this flexible mindset is really important as my days really vary from great to dismal depending on how much pain I'm feeling. I really do try to ignore it and push past it as much as possible, but it's not always easy. I'm constantly having to give myself pep talks and as much as I believe in being positive and strong, sometimes I want to strangle my inner cheerleader — but I don't and I just keep muddling along the best I can.
I've really taken to heart the mantra 'move while you can'. After almost a month away from the CrossFit box I headed there for a session on Monday. It was squat day. I love squats, but I felt a bit apprehensive given that I hadn't squatted heavy in a long time. The workout went well … and I was thrilled by the unexpected surprise of being the #1 on the workout board for the day (among the female athletes)!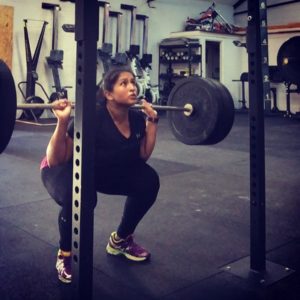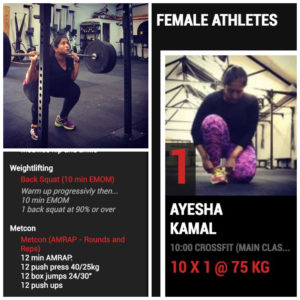 what a thrilling surprise to end the day ranked #1 on the boards
I'm glad I went (as I always am), because for the next three days I could barely move I was in so much pain. It wasn't from the workout (though my quads were definitely sore from the squats). That's the thing. My pain level is unpredictable. I can usually push through, but for those 3 days I couldn't …
In any case, a weekend away and a reunion with a good friend from Kuwait has brought me back home feeling revitalized. My pain has subsided and I'm hoping that it stays away long enough for me to get some good training sessions in before I need to hit pause again.
In other, more exciting, news — I have officially launched my company She is Fierce. Although I have been training women for the past 2 years, I have only just officially launched the website. It's great to finally see it off the ground! Do check it out and follow us on social media (Twitter, Instagram, Pinterest). To help cope with the festivities of the holiday season we're running a 5 week challenge focusing on accountability and providing encouragement and support during the holiday season to ensure we end 2016 strong and start 2017 feeling confident! To read more about the challenge, click here: http://www.sheisfierce.co.uk/blog/the-days-in-between/. You can join at any point so don't worry if you miss Day 1.
Also, my first article in Freeroll Magazine (a jiu-jitsu magazine) came out on December 1st! I'm so excited to be a contributor for the magazine. Even though my article is from a jiu-jitsu practitioner's perspective,  the concepts I write about can be applied to anything you practice.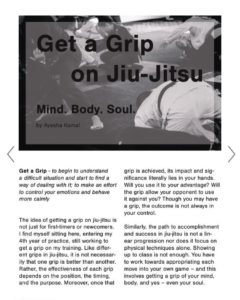 So, as always, I try to take everything in stride and keep moving forward. I just have to keep in mind that pauses are ok — because sometimes they lead to progress.