I love Thanksgiving! It's my absolute favorite celebration because I love cooking for my family and friends … and there is truly so much to be thankful for. While I love all the holiday's fixin's – stuffing, green bean casserole, pumpkin pie, pecan pie, and so on – it usually marks the starting point for why I begin almost every new year with the resolution to 'lose weight'! [If you can relate to this, check out The Days in Between a short 5 week challenge that will help you stay accountable over the holiday season.]
Over the past few years, Thanksgiving day has featured a healthy Thanksgiving dinner (on the actual Thursday). Since I've lived in a country that doesn't celebrate Thanksgiving since 2001, my actual Thanksgiving celebration has been held on the weekend. While I still incorporate a few of the traditional 'naughty' favorites, My menu has increasingly become healthier … and just as tasty! Below are a few recipes for two simple turkey dinners as well as what I did with some of the leftovers!
Thanksgiving Dinner
Roasted turkey over baked vegetables with a mushroom and pea garnish.
Turkey
1 3 lb turkey breast with skin
2 tablespoons butter, melted
1 clove garlic, minced
1/2 teaspoon oregano
1/2 teaspoon thyme
1 teaspoon smoked paprika
salt to taste
Preheat oven to 175°C
Mix the butter with the spices and seasoning.
Place the turkey breast (skin side up) in a roasting pan. Loosen the skin and rub 3/4 of the butter and spice mix both over and under the skin.
Cover the turkey breast loosely with aluminum foil.
Roast for 1 hour.
Remove turkey breast from the oven. Baste and coat with the remaining butter mixture. Bake for another 15-20 minutes. Check that the turkey is done (juices run clear and meat thermometer reads 75°C at the thickest part).
Allow turkey to rest for 15 minutes before slicing and serving.
Baked Root Vegetables
3 carrots, peeled and diced
3 parsnips, peeled and diced
2 sweet potatoes, medium, peeled and diced
1 large onion, sliced
1 swede, small, peeled and diced
1 teaspoon sea salt (or to taste)
3 tablespoons extra virgin olive oil
mix of 1/2 teaspoon each of rosemary, oregano, and thyme
Heat oven to 220°C.
Dice the vegetables approxmiately the same size.
Coat all the vegetables with the EVOO, herbs, and salt.
Put all the vegetables into a roasting tin. Bake for 45-50 minutes (until tender). Halfway through the baking (around 25 minutes in), gently turn the vegetables, and then return to the oven for the remaining baking time.
Mushroom and Pea Garnish
1/2 cup red onion, finely diced
2 cups of mushrooms (use your favorite kind), also diced as small as possible
1/2 cup peas, thawed (I used frozen)
1 tablespoon of extra virgin olive oil
1 clove of garlic, minced
sea salt to taste
Heat a small skillet. Add 1 tablespoon of extra virgin olive oil.
Add the diced red onion. Sauté for about 5 minutes. Then add the salt and garlic.
Add the diced mushrooms.
Sauté until the mushrooms and onions start to brown (around 8 minutes).
Add the peas and sauté until the mushrooms and onions become crispy (around 5 minutes).
Put all the components together and enjoy!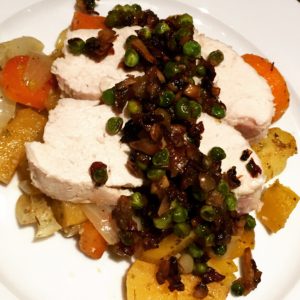 roasted root vegetables with turkey breast (skin removed) and garnished with mushrooms and peas
Thanksgiving Dinner Plate 2
This dinner has a different mix of vegetables — steamed carrots and string beans with roasted sweet potatoes and oven roasted turkey breast over a parsnip mash.
Prepare the turkey breast as above.
Trim the string beans and steam.
Peel and dice the carrots and steam.
Dice the sweet potatoes and coat with 1 tablespoon of extra virgin olive oil and season with salt (to taste). Bake in a preheated oven (220°C) for 35-40 minutes.
Parsnip mash: 4 large parsnips, peeled and diced into chunks, 1 1/2 tablespoons of butter, and 1 teaspoon ground cumin. Bring a pot of salted water to boil. Add the parsnips and cook for 15 minutes, until tender but not mushy. Drain the parsnips and then return them to the pan. Start mashing the parsnips and then add the butter, cumin, and more salt if needed (even more spices if you'd like). Keep mashing until smooth. The generous dose of butter made this mash super yummy (and still WLC compliant) 🙂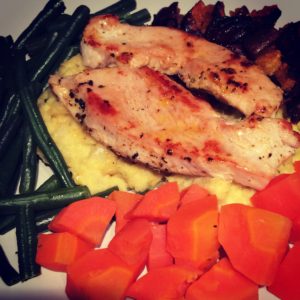 turkey breast over a parsnip mash with roasted sweet potatoes and a side of steamed green beans and carrots
Thanksgiving Leftovers
Turkey Potato Patties
This was a great way to take care of those leftover roasted potatoes and turkey. Since everything was all pre-cooked, I just had to prepare the patties, coat with some egg and almond flour, and fry.
Ingredients
roasted potato, mashed
turkey, shredded
2 eggs
3/4 cup almond flour (quantity will depend on how much of your leftovers you want to use)
extra seasonings to taste
extra virgin olive oil
Directions
Mash the roasted potatoes – add some extra seasoning if you like. I added 1/2 teaspoon of cumin, paprika, and garlic granules.
Shred the turkey.
Start forming a patty out of the mashed potatoes. Add some shredded turkey and then cover the turkey with more mashed potato. Make sure that the turkey is completely covered by the mashed potato.
Lightly dip in whisked egg.
Lightly coat with almond flour.
Heat a skillet. Add some extra virgin olive oil – just enough for frying. Fry each side for 3-4 minutes, until the coating has browned.
Enjoy!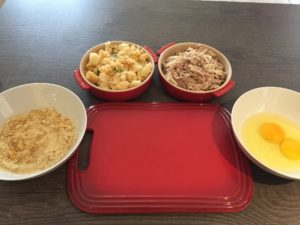 ingredients ready to be mixed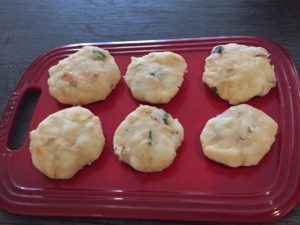 shaped into patties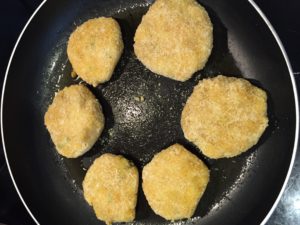 coated and fried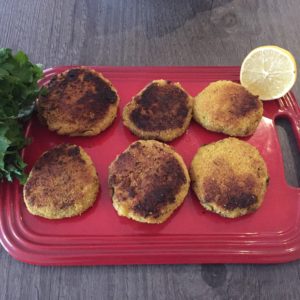 ready to eat