My lunch for the past 2 weeks has been one of the simplest salads I've made in ages, but I can't get enough of it! It's so simple that I wasn't planning on sharing the recipe, but it's so good that I've changed my mind 🙂
Ingredients:
20 vine cherry tomatoes, halved
1 cucumber
2 bell peppers, (I used 1 red and 1 yellow)
2 cans of tuna fish, in water, drained
1/4 cup of raw pine nuts
3 avocados
salt to taste
2 teaspoons of extra virgin olive oil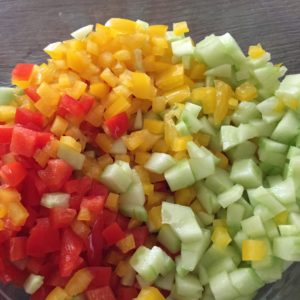 veggies are prepped
Directions:
Preheat the oven to 180 C.
In a small baking dish, coat the diced cherry tomatoes with EVOO. Sprinkle some salt over the tomatoes. Bake in the oven for 35 minutes.
While the tomatoes are baking, peel and finely dice the cucumber. Also finely dice the bell pepper.
Combine the drained tuna fish and vegetables in a bowl. Add the cherry tomatoes when they're ready. Toss all the ingredients together.
Each day serve a portion of the salad, add slices of 1/2 an avocado and sprinkle 1 teaspoon of pine nuts over the salad.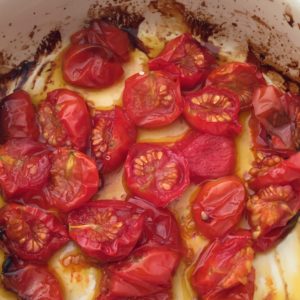 roasted cherry tomatoes
As I said, this salad is so simple it really didn't need a recipe. It's a winning combination for me. I love the freshness of the vegetables and the crunch of the pine nuts. I found that the tomato juice from the roasted tomatoes added enough flavor for me so I didn't need any extra dressing, but of course add some if you feel the salad is too dry.
Enjoy!!