Earlier this year I traveled up to South Woodham Ferrers to attend a day of jiu-jitsu seminars given by Professor Allan Manganello, hosted by Team Pedro Sauer UK. It was great to hear that he was back again to host another day of jiu-jitsu seminars.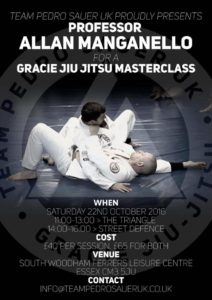 D and I made the 1 1/2 hour drive north on Saturday morning. It was nice to be greeted by familiar faces and of course meet a few new people as well. Of course it was wonderful to see Professor Manganello again and catch up with how our teaching and training was going.
The first seminar featured triangle chokes — but rather than focus on the choke itself we concentrated on the more important elements of how to strategically wear down our opponent by countering his various defensive reactions in order to smoothly transition to finishing the entire choke. The saying 'position before submission' came to mind as we worked on countering attempts to posture out of a triangle set-up position or prevent them from slipping their head out or stacking you on your back. It was great to review these techniques under the expert eye and guidance of Professor Manganello.
The second part of the seminar featured various self-defense techniques. As exciting as grappling in class with other jiu-jitsu practitioners is, the essence of jiu-jitsu is self-defense … and that means knowing how to defend yourself against an unexpected, probably unskilled opponent. From learning how to manage the distance to strategies related to stopping an altercation to ground defense techniques we covered many potential scenarios of attack.
My favorite moves of the seminar were the knife defense and the guard get up. When you're in a street fight there is no predictability, but if you learn to read the signs and manage the distance, at least you have a fighting chance of survival.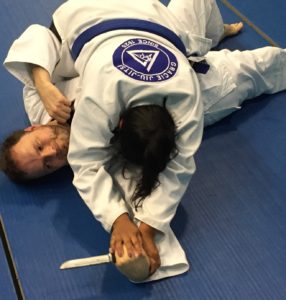 knife defense – isolate the arm, maintain pressure, and disarm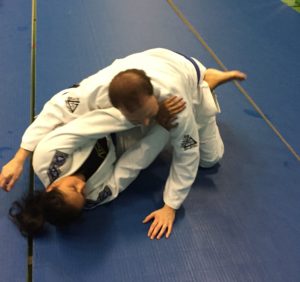 guard get up
I've taught different variations of the guard get-up before; it was great to see a new variation
Any chance to expand interaction with the jiu-jitsu community is a good one. Once again, another great seminar series – can't wait for the next one!