When I first saw the title 'Social Media Blackout' as our Lifestyle Practice for the week for the Whole Life Challenge, I thought — ok, surely they mean just blocking off a certain period of time each day when I won't use social media. However, after watching the explanation video it became clear — no social media AT ALL for 7 days. Nothing. No quick glances. No posts. No interactions. A complete blackout for one week.
My first thought was, 'No way. I can't do it.'
It was immediately after I thought that that I realized — I have to do it.
I used to be plagued with concrete thoughts of things I must do/can't do/shouldn't do. Although I think boundaries are good and setting parameters for yourself is good, there is such a thing as limiting yourself too much. Moreover, living by absolutes at all times may not always be the best thing for you. Plus, how will you know what you can achieve if you don't try … and unless you try something new, how do you know that it won't positively affect your life?
A one week social media blackout – yes, I will definitely try this.
So below is my one week 'dairy' of my reflections about not being on social media:
Friday, Sep. 30 11:59 pm — last quick posts on Facebook, Instagram, and Twitter and glances through the feeds before signing off. I then moved all the apps to the last screen of my iPhone so that I wouldn't see them on my home screen whenever I unlocked my phone.
Saturday, Oct. 1 — My alarm goes off and I look at my phone. I realize that I forgot to turn off the notifications for Instagram and all the 'likes' from the last photo I posted the previous night were showing up on my screen. I quickly re-locked the screen to clear the notifications and then went to settings and made sure all my notifications were off. I then went about my day. I had a busy Saturday and didn't really notice not being on social media. I did realize that I would glance at my phone whenever I was at a traffic light — that is not a habit I want to have and I was dismayed that I did it so often. First note to self: No more glances at the phone while at the traffic light. There is nothing so important that can't wait 30 minutes (or 7 days!). That evening D asked me how I felt not checking social media. Without hesitation I responded, 'I have a lot less mental clutter.' Realization: Even though many positive, wonderful stories are shared via Facebook, lingering thoughts about them infiltrate into my day. It's not necessarily a bad thing, but it's also not necessarily something I need all the time. Not having other people's thoughts/reflections in my head gave me more space for my own. 
Sunday, Oct. 2 — Going without social media went a lot better than I thought it would. Another busy day definitely kept me distracted … but actually, now that I think about it, not being on social media actually kept me focused on the things I needed to get done versus distracting me. Now that's a new perspective! Realization: I'm tackling the things I need to do because they need to get done, not because I need to distract myself from social media. It's spending time scrolling through my phone that is distracting me from the things I need to get done.
Monday, Oct 3 — I don't know what's going on in the world of my friends. So far only one MAJOR event has happened, but because it was related to my best friend, I knew about it before the world of social media did. Realization: The truly important things will be communicated with you on a much more personal level than a group broadcast. 
Tuesday, Oct. 4 — I am loving the freedom from my phone. I mean, I still have my phone with me at all times because I use it to text message friends and family, I use the alarm clock and timer, and I play my music off my phone. However, not seeing notification signs on my phone has definitely limited amount of scroll time I spend. Realization: Just because I have my phone with me doesn't mean I have to be ON my phone at all times. 
Wednesday, Oct. 5 — I spent a lot of time waiting in the doctor's office. Normally I would have been on my phone, but I was quite happy to disconnect from the world. I had taken my journal with me and it allowed me to jot down my thoughts and feelings. I know that I probably would have checked Facebook while waiting had I not been on this blackout, but I didn't and it was nice not to be distracted by other people's business. It was just me and my thoughts. Realization: Sometimes time is better spent scrolling through my own thoughts than other people's. 
Thursday, Oct. 6 — For the first time in five days I missed social media mainly because I hit a PR in CrossFit and I wanted to share it on my Facebook page and Instagram. I also wanted to send a tweet to my CrossFit gym because I had super-supportive teammates around me who helped me hit my PR and I wanted to acknowledge that great atmosphere. I guess it'll have to wait until Saturday. I did blog about it though. I guess that's another thing being off social media has made me do. Instead of short posts via Instagram and Facebook, I have blogged more, which is something I have slacked off on over time. Realization: Taking the time to write meaningful and more reflective blog posts versus short social media posts has felt more cathartic and has reminded me of how much I enjoy blogging.
Friday, Oct. 7 — I didn't even think about social media today. Not even once. Realization: For a new habit to set in you've got to give it a go and give it your all. You'll be surprised at what you can achieve if you put your mind to it! 
So now that I've detoxed from social media for a week and definitely felt better for it, what's the plan forward?
I'll limit the time I spend on social media. I'll check my pages twice a day and then just let them be. The main thing that I felt I missed was wishing people on their birthdays/special occasions. For the future I'll be sure to write important birthdays down along with the person's email address/contact info so that I can send them a birthday greeting.
I am a big fan of social media. I think it's an easy way to connect with friends all around the world and it's a great place to keep up to date with events and groups that I'm interested in. That being said, I have definitely seen the value and reward in limiting my time online. I hope I can keep it up in the future!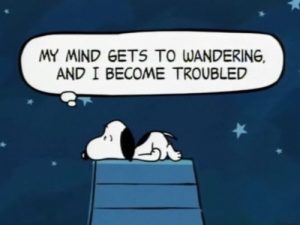 how I often feel after reading posts on social media