My time in NYC was much shorter than I would have liked and although there were many people I wanted to connect with and things I wanted to do, when I found myself sitting in my hotel room with nothing to do until later that afternoon, I thought I would look up Marcelo Garcia's academy. When I found out it was just a few blocks away from my hotel, I knew I didn't have a choice but to go.
I won't like – I was nervous! It was my first time stepping into a non-Gracie affiliated academy on my own. I had always visited schools with either Daniel or one of my other trusted training partners — but this time, I was going solo. I think it was a good test for me and a good opportunity to stand on my own jiu-jitsu merit. After all, in the end it is my own game; my own journey.
I walked down W 26th street until I saw the sign: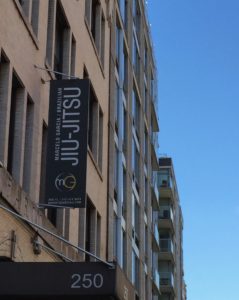 Although I know I could have taken the stairs up to the 3rd floor, but my heart was pounding so much with anticipation that I took the lift. The entrance itself to the school is inconspicuous – just a grey door with not much signage. As soon as I opened the door, however, it was a whole new world.
I was immediately greeted by the sound and sight of jiu-jitsu. On the wall were accolades and to the left of the entrance was a place to leave your shoes. Immediately before the mats was a small reception area that sold the academy's merchandise as well as water and other items.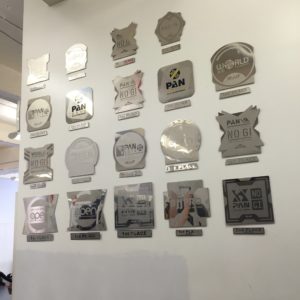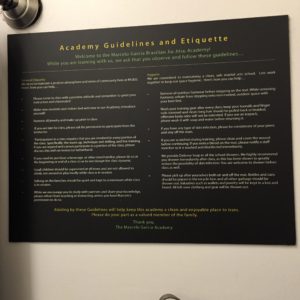 I was warmly greeted by the staff and given a risk waiver to sign. I paid $40 to join the no-gi session that was going to be starting soon. They showed me to the women's locker room and told me I was welcome to watch the current gi session that was going on until the no-gi class started. They said photographs were allowed but no video.
I got changed into my no-gi gear, again my heart pounding. Not only was I new, but I was also clearly an outside with a bold Gracie Jiu-Jitsu printed rashguard now on my back … but this is who I was so there was no need to hide it or put myself on the outs. Anyway. I got changed and I stepped back on the mats, taking a set on one of the ledges by the window to watch the gi sparring.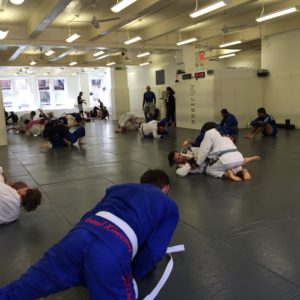 While I was watching, Marcelo Garcia came in. He was greeted with big hellos, but what I liked best was that he went around to every person who was sitting and watching the class and shook their hand and said hello – even me.
At 12:30 the no-gi advanced class began. We started with jogging a few laps around the mats and then everyone took turns commando crawling and then forming a bridge … omg it was tough. I've done this before in our kids class, when the bridge is usually no more than 12 people … but there were 60 people on the mats here!! And we did this exercise twice!! I was completely shattered by the end of it — but people were encouraging so whenever I felt like slowing down (or stopping!!) I heard – keep going, don't give up, you can do it – which was nice. After the bridge exercise we did some basic rolls and shrimping drills. After that we had a quick water break, and then it was time for the technique.
It was great that Marcelo was teaching the class – what an opportunity and an experience. He covered some back taking strategies from standing. His instructions were clear and when my partner and I had a question, he came over to us, gave us some more direction, and then watched us as we each completed the technique again before moving on to help others.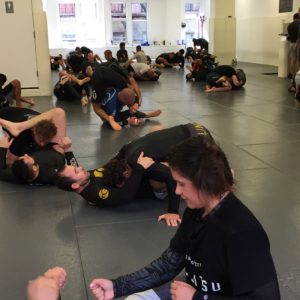 After the technical portion was over it was time to spar. I sparred for 4 rounds out of the 5. It was really interesting to see how the techniques and strategies that I had been learning came into play when rolling with people who had no idea what my game was nor did I know what their game was. It was definitely a good test for me. The people I sparred with were excellent (blue, purple, and brown belts). What struck me most about their sparring was that they were not clingy or forceful. Although powerful with every move, they flowed really well. They seemed to see connections quickly and move from one position to another without hesitation and with good conviction — it was definitely something that I was going to keep in mind as I moved forward with my own sparring practice.
The one hour went by quickly. Overall it was a great experience. The Academy itself was clean and well maintained. The staff and members were friendly and welcoming. I didn't feel like I was being smashed on the mats at all. After class everyone went up to Marcelo Garcia and shook his hand – I did the same and I thanked him for the welcome and opportunity to visit and train for the day and then of course got a picture with him.
I would definitely go back and visit again, especially now that I know what to expect. I was hoping for a bit more technical instruction – after all, this was the opportunity to learn from Marcelo Garcia himself! However, with 15 minutes of warm-up and 30 minutes of sparring, only 15 minutes were dedicated to learning and drilling the new techniques. I would have definitely wanted more time, but I guess there's only so much you can cover in an hour! That being said, even if I didn't learn several new specific techniques, I did learn a lot. I learned about myself, my own game, and what new strategies I wanted to implement as I continued forward. Overall, excellent experience – I'm so happy I swallowed my nerves and took this opportunity! It was a great way to end my trip to the Big Apple! Until next time NYC!

a panorama of the academy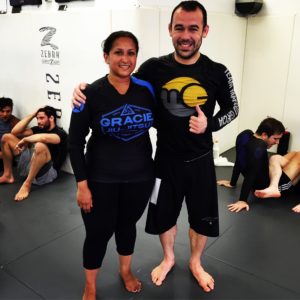 me and Marcelo Garcia (NYC September 2016)