After I wrote about Bob Harper's 10 minute morning EMOM workout yesterday, I haven't been able to stop thinking about it. I just loved the idea of starting the morning off with a quick 10 minute workout that I can do at home with no equipment. With the Whole Life Challenge (which has a minimum daily exercise requirement of 10 minutes) beginning soon, [to learn more about the WLC and join my Worldwide Warriors team, sign up via this link] and with my general morning routine needing a bit of a boost, I thought it would be a perfect time to have some jump-starting exercises at hand.
Yesterday's EMOM was tough. I realized that I could either try to squeeze lots of reps in, but not in good form, or go for fewer reps with perfect form. I chose the latter. As each minute went by, the reps decreased, but I pushed through. The point of these short workouts is to challenge you. If you're only going to workout for 10 minutes, then it better be with all out effort.
So, my new plan is to try and do one 10-minute EMOM at least 5 mornings a week. Let's see how it goes.
I've already added an EMOM playlist to add to the several playlists on my phone (but music is important to me!).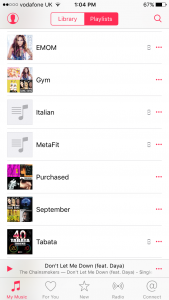 I also downloaded an interval timer. I just picked a free app (called IntervalTimer). It's quite good. You can set your preferences of duration, how many intervals, and the duration of each interval. It plays your music in the background and sounds a buzzer when each interval ends. You can color code your intervals (always a bonus in my book)! It includes a warm-up and cool down portion as well. It's simple and functional, just what I wanted.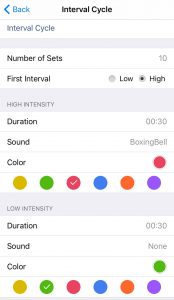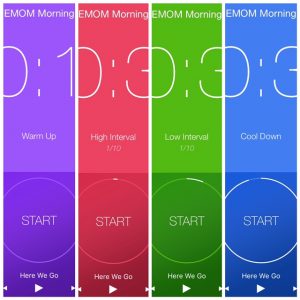 I put together a list of different EMOM combos. I'll try them out as listed first and then modify as needed. They're all bodyweight exercises and don't need any additional equipment. If you try them and/or come up with your own EMOM workouts, please share them in the comments below!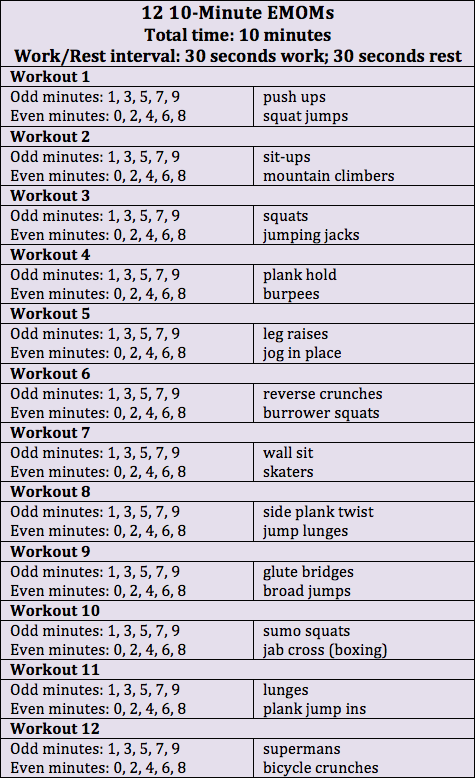 Still looking for a Whole Life Challenge team to join? The Worldwide Warriors would love to have you! You can join us via this link or click on the image below.