I've had a rough week, but after forcing myself to get back to training, things are looking up.
Working out always helps. Sometimes I scold myself and feel really, really guilty for missing a workout. However, other times I just take it in stride. It's ok to have off days as long as you get back to work as soon as possible. For me, I think taking a few days to process everything that's been going on was good for me. I needed a break – not so much a physical break, but a mental one. I needed to let out the things that were bothering me and weighing me down so that I could pick myself up again and restart.
My first goal was to make it to CrossFit this morning. Once I was there I told myself – being here is not enough, you've got to push. The workout of the day wasn't too bad: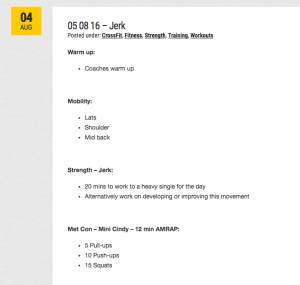 We warmed up with 10 minutes of skipping practice. Even though I hadn't jumped rope in over a week, I found my stride rather quickly. I managed to string several double-unders together including 2 sets of 12 consecutive double-unders! That's my best run up to date!
Next we focused on Push Jerks. It had been a while since I worked my upper body, but I knew my technique was good. The last time I did Push Jerks, I ended at a 38 kg rep. Since that day I regretted not trying 40 kg. So today, I was determined to hit 40 kgs. After a few reps at that, including trying some Split Jerks at 40, I decided to give 43 kg a go – and I succeeded! More than a physical accomplishment, I knew I needed to hit that number to start building my mental strength back up again. That's the beauty of weight-lifting for me. There's a quantifiable measurement of progress. Sure technique, timing, mindset, and many other factors go into your performance, but at the end of the day, you have a specific number you can write down — and today, for me, that number was 43.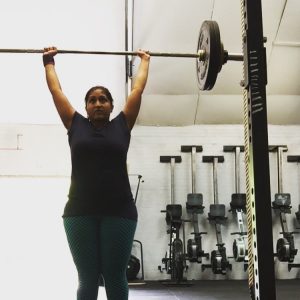 I love bodyweight MetCons because they remind me of how much work I have to do on basic movements. I may be able to lift heavy, but I still struggle with perfect push ups. Instead of letting it frustrate me, I see it as a challenge. I managed to complete 9 rounds of the MetCon and do 28 reps. I can't believe I couldn't squeeze in 2 more squats to mark 10 complete rounds … still, that's something I'll keep in mind for the next time this workout comes around.
Already I felt like I was in a better headspace. I was seeing things as challenges and benchmarks instead of failures and disappointments.
After a productive afternoon, I had to start mentally preparing for jiu-jitsu class at night. I wanted to go and I was looking forward to training — but Friday night's are no gi nights. On days like today when I am bloated beyond belief, no gi nights are not fun. Even though nobody is looking, I feel self-conscious, and when I feel self-conscious, my training is affected. I just have to shake it off and push through. It's the only way. I may never find a proper solution to my condition that will allow me to train comfortably, so I've just got to make do.
As we pulled up to class, I told D that I was in a lot of pain. He asked me why I came to class in that case to which I replied – I need to push through it. If I was in pain due to an injury that would have been one thing, but this was just pain. If I caved and allowed myself to just stay hidden under a blanket whenever I was feeling pain, then I would never make it out of the house. It wasn't going to control me — and that's why I showed up to class that day.
This mental battle is a tough one to fight. I think for the most part I do well staying strong and positive. It's just that when I do feel weak and negative, the emotions are overwhelming and it really is tough to battle my way through … I'm still working on it.
Overall, class was good. I had a few good rounds of sparring. As always, I learned a lot and I look forward to the next session on the mats.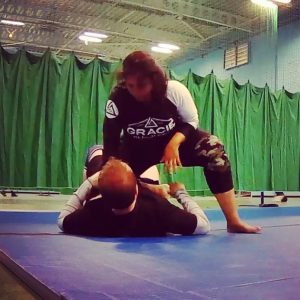 All in all, a day that could have been spent hiding under the covers was one that was spent setting a new personal record for my push jerk lift and having a good night of learning and sparring on the mats. I'm so glad I was able to turn things around.