I had never baked a whole fish before. I'm so glad I tried it! The simple flavors of this dish has made it one of my favorites.
Ingredients
2 fillets of sea bass, head off, skinned, and gutted.
2 cups of cooked brown rice
1 cup of frozen peas, thawed
4 tablespoons of butter
4-6 garlic cloves
1 lemon, sliced into wedges
salt to taste
3 teaspoons extra virgin olive oil
1 tablespoon chopped parsley
2 teaspoons cumin
a dash of white pepper
1 teaspoon of garlic powder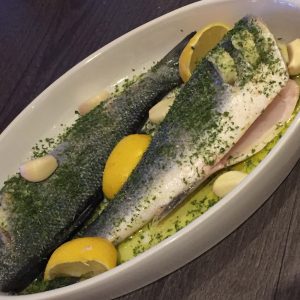 Directions
Preheat the oven to 180 C.
Lightly coat the bottom of a baking dish with extra virgin olive oil.
Make two slits in the fish and put 1 tablespoon of butter in each slit.
Place the fish in the baking dish. Season with salt.
Place the garlic cloves and 4 wedges of lemon in the baking dish along with the fish. Sprinkle the parsley over the fish. Place dish in the oven to bake for 20 minutes. (When there was 5 minutes left of baking time, I turned on the top grill of the oven as well just to give the top of the fish a bit of color.)
As the fish is cooking, prepare the rice. Heat a skillet and then add 1 1/2 teaspoons of extra virgin olive oil.
Add the rice and peas to the oil. Season with salt, white pepper, garlic powder, and the cumin. Mix well. Remove from heat once the peas are cooked through and the mixture has been evenly combined.
Serve the fish over the rice. Squeeze a bit of the remaining lemon over the fish. Enjoy!