I first did the Whole Life Challenge back in 2012. At that time, I was living in Kuwait. I was finally at that stage in my life where I was taking my health more seriously. It wasn't about trying to find a quick-fix diet. It wasn't about spending endless hours at the gym trying to burn off the calories I just ate. No. This time, I wanted to do it right. I wanted to find a way to workout effectively and efficiently. More importantly, I wanted to learn how to get my eating habits on track.
I heard about the Whole Life Challenge via a blogging friend. She said she was doing it with her CrossFit box. There was nobody in Kuwait who was doing it at the time, but my virtual friend invited me to join through her.
It was the best decision I ever made. [Read my 1st progress post here.]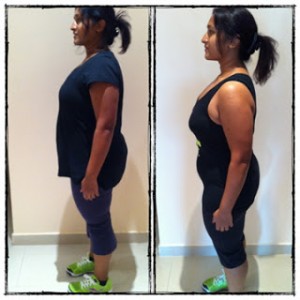 Progress Pic: WLC 2012 (Day 1-Day 56)
Below I'm going to list a few links that are about the Whole Life Challenge and my experience over the years, but before I get to that I just want to summarize where I am at the moment.
It's May 2016. I now live in London. I mainly work from home (teaching English/doing academic research/writing/editing). I am also a personal trainer/coach. The main focus of my personal training is on self-defense. I am a certified Gracie Jiu-Jitsu instructor, and I teach at Watford Gracie Jiu-Jitsu 2-4 times a week.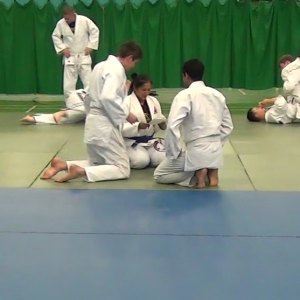 on the mats – teaching jiu-jitsu
My workouts: CrossFit 2-3 times a week; Jiu-Jitsu 2-3 times a week + as much stretching as possible. Between my own training and coaching others, I have no rest days. My lightest day is a Monday which is when I have a mild/moderate intensity workout in the mornings – usually 30 minutes basic body weight training plus mobilization/yoga – followed by teaching a Bullyproof class (kids aged 5-7) in the evenings.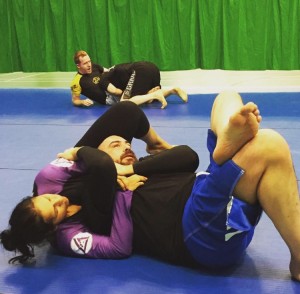 jiu-jitsu sparring is definitely a full-body workout, particularly when you take on bigger, stronger opponents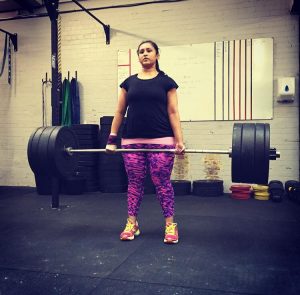 back to CrossFit after a 3 year break — 4 months into training and I'm happy with a progress in my strength
(90 kg deadlifts pictured above)
My eating habits: Even when I'm not doing the WLC, I would say I stick to the challenge parameters (Performance level), 85% of the time. I've found my groove when it comes to planning/prepping/cooking so I try to stick with it as much as possible. It does take a lot out of me. I find myself constantly thinking about food. It can be exhausting. Now, instead of cooking everyday, I do 2 monster prep/cooking sessions each week (4-5 hours each session – including prep time, cooking, cleaning up and putting everything away). It works for me. Now I aim to cook 3 dinners a week. Something for Monday; then the same meal Tuesday, Wednesday, and Thursday; then another dish for Friday, Saturday, Sunday. It doesn't always workout to this exact schedule, but it's what I aim for. As much as I would love to have a freshly cooked meal each night — it just isn't possible each week.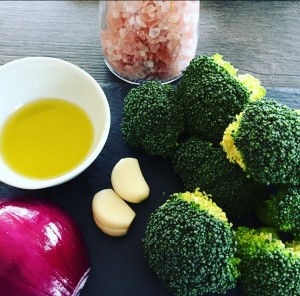 meal prepping
My current struggles:
My weight. I sit about 5 kg (11 lbs) heavier than when I finished my 1st WLC back in 2012. In total I sit about 10 kg (22 lbs) heavier than where I would like to be. Getting past the weight gain plateau has been tough. That being said, I know it's not about the number. It's more of a dress size/fit that I have in mind. Plus I have some measurable fitness goals that I'm aiming for. Overall, I am happy to see an increase in my fitness and a decrease in my body fat % — but still, I still need/want to lose weight. [I also have a few health issues which interfere with my physical fitness/weight. You can read about that here.]
Timing my meals. On several nights of the week, I finish training at 10 pm. I don't get home until almost 11 pm. I used to eat dinner after I got home, but I found that I didn't feel good. My sleep wasn't restful. I now eat before I go to teach/train. This means sometimes I eat my last meal of the day at 5 pm. By the time I get home I am often really hungry. I know that I could eat something small, but honestly, I think an apple or something just before bed isn't going to make that much of an impact … I'm still trying to figure out a solution to my meal times during the week.
My sweet tooth. When I'm not on the WLC, my biggest challenge is chocolate/dessert. If it's not in the house, then I'm fine … but if it is, then it's tough for me.
My portion sizes. I do believe that if you eat healthy, then you don't need to count calories. However, now (particularly after logging in my meals and portions through My Fitness Pal), I do feel like I'm eating too much. I need to at least be aware of my portions … and if I am still not losing weight, then maybe I need to go back to counting calories. I'm not sure yet, but it's something I'm monitoring.
Mindless eating. I'm not talking about snacking. Nowadays I rarely snack at all. I just have 3-4 proper meals. For me, mindless eating means having a few dates for breakfast before I bolt out the door … or (and this is my worst eating habit) standing at the kitchen counter and eating my meals. I have been trying to kick this habit, but I haven't been successful yet. I'm getting better, but I have a lot of room for improvement. [I'll be writing more about this in a separate post.]
Sitting. My schedule is weird. Parts of my day are crazy active — in fact, some mornings I have a killer CrossFit session followed by an intense jiu-jitsu sparring session in the evening. I am definitely not an inactive person overall. However. I find myself sitting at my desk for several hours a day. When I'm at home working on my research/writing/editing, hours can go by without me having moved away from my desk. I don't like this at all. It reminds of when I was doing my PhD. I need to find a way to move more. It's tough though. When I'm on a roll with my writing, the last thing I want to do is get up from my desk. However, I know I can't spend endless hours sitting. I need to find a solution.
So this is where I stand as we approach the next round of the Whole Life Challenge (starting May 7, 2016). Overall, what I want to achieve is consistency with my good habits. I have many that are anchored in place. Each time I do the WLC my main aim is to anchor another good habit in place. If I can do that, then I consider that round of the Whole Life Challenge a success.
I am happy that the Whole Life Challenge is a constant in my life (and I'm really happy to be an ambassador for the challenge). The nutritional guidelines (especially at Performance level) work best for me. I have recently been doing the challenge at the Kick Start level. I still mainly stick to a Performance style of eating, but during times when I travel or I end up eating out, I find that the Kick Start parameters are really accommodating.
Edited:
If you're interested in doing the Whole Life Challenge, the next round starts on April 13, 2019 and will run for 6 weeks. I'm leading the Official WLC Team – Worldwide Warriors. Our group has members from all over the world who are looking for support as they embark on this challenge. You can sign up for my team via this link.