If zucchini noodles are zoodles — is it ok to call butternut squash noodles … boodles? I wasn't sure, but I went with it anyway. I've made zoodles before, you can find my recipe here. I used a simple spiralizer and I was quite happy with the result. Today, however, I was shopping at Marks & Spencer foods and I saw zucchini already spiralized … and right next to it, spiralized butternut squash!! I couldn't resist. I had to try them both. Not having to spiralize the vegetables definitely made things a lot easier. I also bought some ground turkey breast so I decided to make some meatballs. The combination made for a delicious lunch!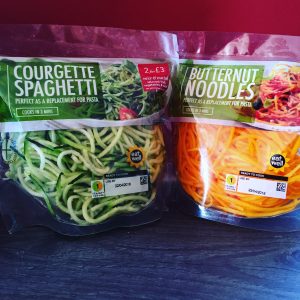 already spiralized vegetables – what a time saver!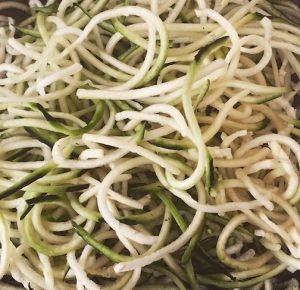 spiralized zucchini
Ingredients
Vegetable noodles
2 cups of zucchini noodles (zucchini spiralized)
2 cups of butternut squash noodles (butternut squash spiralized)
2 tablespoons extra virgin coconut oil
2 teaspoons garlic granules
1 teaspoon oregano
salt to taste
Directions:
Heat a skillet and add coconut oil.
Add the vegetable noodles and the garlic, oregano, and salt. Sauté until slightly tender (around 5 minutes).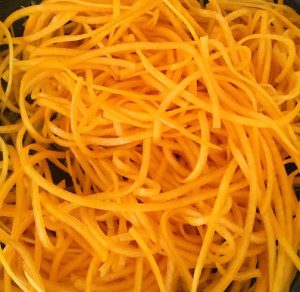 spiralized butternut squash
Turkey Meatballs
1 tablespoon extra virgin coconut oil
500 g ground turkey breast
1 egg
1 cup onion, finely diced
1 cup almond flour
1 teaspoon garlic granules
1 teaspoon oregano
1/2 teaspoon paprika
salt to taste
1 teaspoon chili flakes (optional)
Directions:
Preheat the oven to 200°C.
Whisk the egg.
Add the salt, chili flakes, oregano, and garlic granules to the egg and whisk again.
In a large bowl, mix the almond flour with the ground turkey.
Add the egg mix to the turkey mixture.
Shape into meatballs.
Heat a skillet and add the extra virgin coconut oil. Lightly fry the turkey meatballs – around 4 minutes on each side – until they are slightly brown.
Place the meatballs on a baking sheet and bake in the oven for 15 minutes, remove from the oven, turn each meatball and put in the oven again for 15 minutes.
While the meatballs are baking:
Lightly fry the vegetable noodles in the oil that you fried the turkey meatballs in.
Add the spices and mix well. Do not overcook.
When it's all ready, enjoy!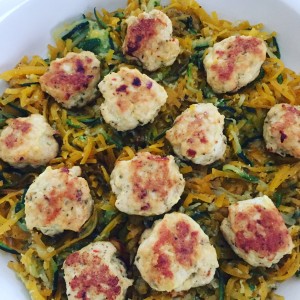 That's lunch for the week sorted!