How cool is it that Professor Allan Manganello is giving a seminar here in the UK when I met him a couple months ago at the Gracie Academy headquarters in Torrance, CA during the Instructor Certification Program seminars?! It was definitely an opportunity I did not want to miss!
I picked up my training/teaching partner Fabrizio early morning and we headed up to South Woodham Ferrers. It was great to meet several members of Team Pedro Sauer UK – and they hosted a great seminar. Everyone was super warm and welcoming, and as always for me it was great to meet other female jiu-jitsu practitioners here in the UK.
The seminar itself was excellent. We learned some terrific armbar transitions and worked on a few details to tighten up our chokes. We also reviewed various street self-defense techniques.
All in all it was a great day of jiu-jitsu seminars.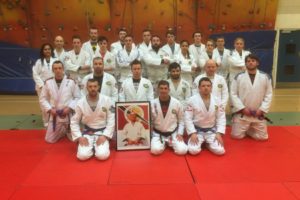 Seminar attendees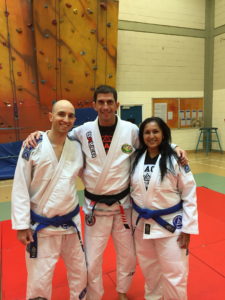 Fabrizio and I with Allan Manganello