I was really surprised today when my name was called up for promotion in jiu-jitsu class today. I had not expected it at all.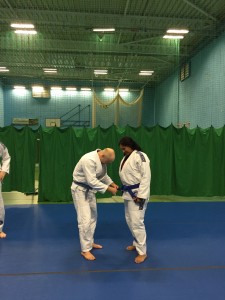 It's hard to explain how I felt about the promotion. On the one hand, I was thrilled. I've been really committed to my training and I'm loving the process. At the same time, I felt a bit of anxiety … maybe anxiety isn't the right word to express my emotions, but it was definitely a feeling that got my heart racing. I want to make sure I live up to what that second stripe represents. Exactly what it represents is open to interpretation I guess … maybe that's what makes earning a promotion a little nerve-wracking. In the end, I left class that day feeling determined to work even harder at improving my practice. Anything that amps up your determination and drive is a good thing in my books!
The bonus of the night was that Daniel earned his 2nd stripe as well! We started this journey together and we continue to push each other to progress and grow. It's been exciting … and now we're a 2-stripe household 🙂 As always, I feel so blessed to have him as a training partner and to be surrounded by a great team at Watford Gracie Jiu-Jitsu – as well as the Gracie Jiu-Jitsu community around the world.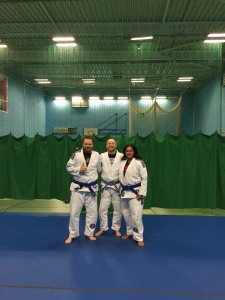 Daniel & I with Ben, head instructor at Watford Gracie Jiu-Jitsu