I played around with this recipe yesterday, and I was quite pleased with how they turned out. I stored the leftovers in a tupperware box and reheated them this morning. They still tasted fine, but they were definitely better fresh. Perhaps next time I'll store the batter and then cook the pancakes the following morning instead of having them pre-made (it did save time and washing up though). It makes a nice change from the banana pancakes I normally have. {This recipe is compliant on all levels of the Whole Life Challenge.}
Ingredients
6 dates, pitted
3 eggs
2 tablespoons coconut oil
1/3 cup coconut milk
1/2 teaspoon vanilla
1/4 cup coconut flour
pinch of baking soda
pinch of salt
butter for frying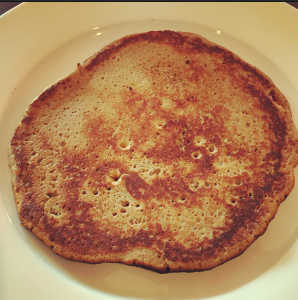 wlc breakfast – day 1: coconut pancakes
Directions
Soak the dates in boiling water for about 5 minutes. Puree to make a smooth, slightly liquid paste. Add water as needed.
In a bowl, combine the coconut flour, baking soda, and salt.
Whisk the eggs.
Add in the coconut oil, date paste, and vanilla. Whisk well.
Whisk in the coconut milk.
Fold the dry ingredients into the liquid mixture. Mix well, but not so much that it's over-blended.
Add butter to a hot skillet and portion out the pancake batter. I used a 1/4 cup measuring cup.
Enjoy!
This recipe made 8 decent sized pancakes.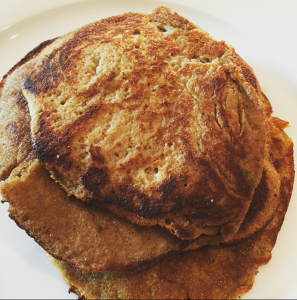 a stack of coconut flour pancakes