I was talking to a friend a few days ago and she said that she loved having gravy on her protein. As soon as she said that it had me think back to Thanksgiving, and it made me realize that although I had turkey, I didn't try any of my gravy. For some reason, just the thought of that gave me crazy cravings for gravy. However, with the whole life challenge coming up in a few weeks, I thought I would try making a compliant dish. It was quite a bit of work (the truth is, I made too much), but I was happy to be able to enjoy a compliant chicken and gravy meal. I made the gravy in my slow cooker and roasted the chicken in the oven. {WLC compliant on all levels}
Ingredients
For the gravy
2 tablespoons butter
4 carrots, peeled and diced
2 onions, diced
4 cloves of garlic
1 medium sized cauliflower, chopped
1 tablespoon of tomato paste
1/2 cup water
2 bay leaves
1 teaspoon of each of the following spices/seasonings
salt
thyme
parsley
turmeric
oregano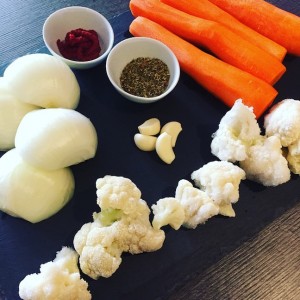 veggies and spices for the gravy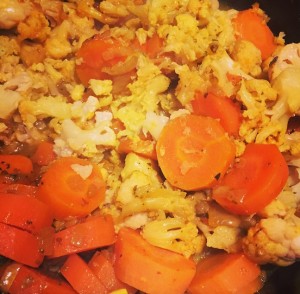 vegetables after being in the slow cooker for 4 hours
For the chicken 
4-5 lb chicken
2 tablespoons of butter
juice from 1/2 lemon
2 teaspoons garlic granules
1 teaspoon salt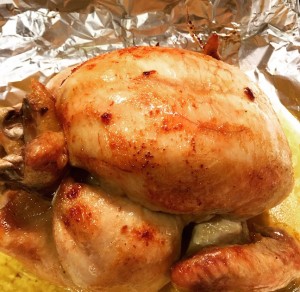 this 5 lb chicken lasted us for several days – will definitely keep that in mind for future food prep
Directions
Chop the vegetables.
Melt the butter in a heavy pan.
Add the chopped onion and minced garlic; sauté until soft and slightly brown (about 5 minutes).
Place the onion mix, remaining chopped vegetables, tomato sauce, herbs and spices, plus half a cup of water into a slow cooker.
Cook on medium for 4 hours.
While the vegetables are cooking in the slow cooker, preheat the oven to 175 C.
In a bowl, melt the butter, add the salt, garlic, and lemon juice. Generously coat the chicken with the mixture.
Roast in the oven for 1 1/2 hours. Cover the chicken with foil for the first half hour and then uncover for the last 30 minutes.
After the vegetables are done, use an immersion blender to puree the vegetables. I also added 4-5 generous tablespoons of the chicken's braising sauce (skimming off the fat from the top) to the vegetable mixture. Taste and add more seasonings as desired.
Carve the chicken and serve with gravy. I also sprinkled a touch of smoky paprika on top before serving.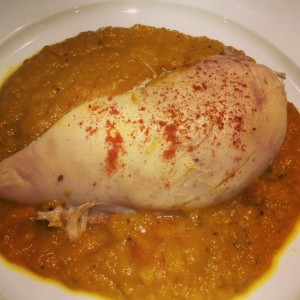 chicken and gravy
not the most picturesque – but definitely tasty