This past week has been really good for me in terms of workouts. If I had to choose one theme to describe this week it would be – Facing my Fears.
Facing my fears has been a common theme throughout my fitness journey. When I was really overweight, I not only hid behind my size, but I also used my discomfort in my own skin to avoid confronting anything that was difficult, uncomfortable, or scary.
As I improved my health and fitness levels, my confidence increased. Some of that increase is linked to just feeling better about myself as a direct result of weight loss. However, most of that confidence actually came in realizing that I could do things that I thought were impossible before. There was a point where I would only reach for 1-2 kg dumbbells for my weight lifting exercises. I had convinced myself that there was no way I could walk on an incline, let alone jog — or that I had no place being in the big weight room … and so on and so forth.
With the increase in my physical strength, I knew that it was finally time to start working on my mental strength … it's something that I still have the most difficulty with today.
This first week of December involved facing a lot of unknowns for me — and anything unknown always fills me with fear and apprehension.
Unknown/Fear #1: Will I be able to find the new gyms? Both the CrossFit & Hot Yoga studios were in areas that I had never driven to before. Although I am a lot more confident with my driving, I'm still really unfamiliar with my surroundings. I made sure to leave with plenty of time to spare. It's a good thing I did! Heading to morning classes meant that I would get stuck in rush hour traffic. A journey that should have taken 25-30 minute was ending up taking an hour. Still, once I tried each route once, I felt more at ease. I've even been able to make the return journeys without using my GPS! Score 🙂
Unknown/Fear #2: Will I be able to survive the CrossFit workout? To say that I was nervous as I headed to the Box would be an understatement! I was not only apprehensive about the workouts but also about the Box itself – would I like the coaches? Would I feel welcome? Luckily, it only took a few minutes to get over that apprehension. Everyone was welcoming and encouraging, which is exactly the type of environment I've been looking for. The next fear had to do with the workout itself. Even though I've been working out for the past year and a half, I haven't been working out with the same intensity as I used to before — definitely not like I used to when I did CrossFit. I was worried that I would totally gas out or not even be able to do the basic lifts. Luckily, that was not the case. The workout really challenged me and left me exhausted, but I managed to get through it. I knew that it was important for me to take this first step and overcome that apprehension of getting back to CrossFit. Now I'm 3 workouts in — I'm sure I'll still feel nervous before each workout (as I used to feel before), but I'm hoping that the nervousness will be followed by satisfaction in knowing I accomplished something difficult.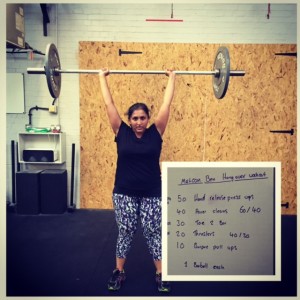 happy to be back at CrossFit
Fear #3: Will I be able to survive Hot Yoga? I love yoga. I'm not very good at it, but I really enjoy it. I do not, however, like to feel too hot. I was really worried that I wouldn't be able to handle the heat. As I walked into the studio, my heart as pounding! The yoga practice itself wasn't too difficult; however, dealing with the heat and the sweat definitely made the practice challenging. More than anything, it was a lot of mind over matter for me. I had to push through my fears. I had to breathe through the discomfort. I know it sounds like I put myself through torture – but that's not true. It was difficult because it was new. However, I got through my first class and really loved it. My muscles felt relaxed, and after just two classes I saw an increase in my flexibility in some poses. It's definitely been good!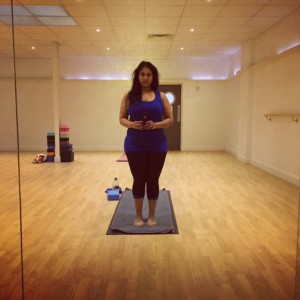 Namaste
Ready to get my sweat on in the Hot Yoga studio.
So this week of training has gone really well for me. My goals for next week — pay more attention to my nutrition & get back to sparring in jiu-jitsu.
Training Log (12/1-12/7):
Tuesday – Dec. 1 — CrossFit (Day 1); Jiu-Jitsu (assisted teaching – lesson 23)
Wednesday – Dec. 2 — Jiu-Jitsu (1 1/2 hours Master Cycle training – half guard top)
Thursday – Dec. 3 — Hot Yoga (Day 1); Jiu-Jitsu (teaching – lesson 7)
Friday – Dec. 4 — CrossFit (Day 2) & Jiu-Jitsu (1 1/2 hours Master Cycle training – half guard top)
Saturday – Dec. 5 — Jiu-Jitsu (assisted teaching all 3 classes)
Sunday – Dec. 6 — CrossFit (Day 3 – Fundamentals Class)
Monday – Dec. 7 — Hot Yoga (Day 2)