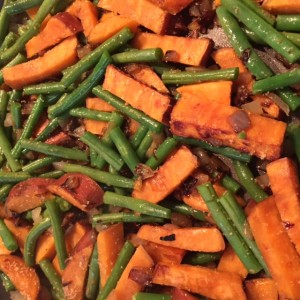 Ingredients:
1 1/2 tablespoons extra virgin olive oil
3/4 cup diced onions
3 cloves garlic, minced
1 inch ginger root, minced
2 medium sweet potatoes, chopped
2 bell peppers, deseeded and diced
1 1/2 cups chopped string beans
4 cod fillets
seasoning to taste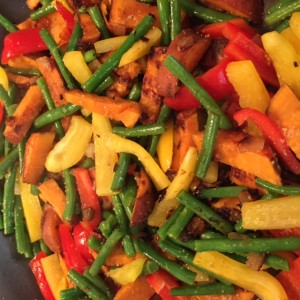 Directions:
Heat a large fry pan. Add the olive oil once hot.
Add the diced onions, minced garlic, minced ginger, and a dash of salt. Sauté until lightly browned.
Add the sweet potatoes. Mix with the onions. Cover the pan for 5 minutes. Stir. Then cover and allow the sweet potatoes to cook for 3-4 more minutes.
Add the string beans. Mix. Cover the pan and allow to cook for 3-4 minutes.
Add the diced bell peppers. Sauté for another 5 minutes – until all vegetables are somewhat soft but still a bit crunch.
Remove from heat.
Meanwhile:
Preheat the oven 180 C.
Lightly coat a baking dish with olive oil.
Sprinkle your choice of seasonings on the fish — I used a cajun spice mix.
Place the cod fillets in the baking dish. Lightly coat with oil.
Bake for 30 minutes.
Add the fish to the vegetables and enjoy!