I had a friend coming over for lunch and I knew I wanted to make something new, but I wasn't sure exactly what to make. I then remembered a delicious concoction my father served one day — avocados stuffed with tuna. It was delicious – how could it not be when the tuna fish was mixed with 3 types of cheeses and who knows what other stuff. Of course I didn't want to make such a heavy, rich version with all that cheese. My much healthier alternative was equally delicious. It's definitely something I'll keep in mind for future meals.
Ingredients:
3 avocados, cut in half and deseeded
2 cans of tuna fish, drained
1/2 red bell pepper, finely diced
1/4 cup green peas
salt and other seasonings to taste (I used salt, garlic, and a dash of white pepper)
2 tablespoons sour cream (or cottage cheese, or Greek yogurt, or just an extra avocado mashed)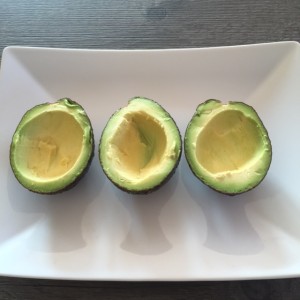 Directions:
Cut the avocados in half. Remove the seed. Scoop out some of the avocado and set aside.
In a bowl, mix together the tuna fish, bell pepper, peas, seasonings, and avocado that was kept aside.
Fold in the sour cream (or whichever other ingredient you chose to use).
Stuff the filling in the avocado cup.
Enjoy!
Whole Life Challenge Notes:
Performance level players: Instead of the sour cream, just mash up an extra avocado and use it to mix into the tuna.
Lifestyle level players: Instead of the sour cream, you can either use an extra avocado or add 2 tablespoons of Greek yogurt to the tuna mix.
Kickstart level players: You can do any of the above or use sour cream or cottage cheese depending on your preference.